Foiling is so much fun and you can create lots of cards in no time. Today I am featuring this Glimmer Hot Foil Club Of The Month for Nov 22. This month we have "Glimmer Edged Stylized Floral" plate and die set and Glimmer Hot Foil Aura. I am excited as I have a lot of cards to share with you today.
Hello everyone,
Today I'm sharing all together 6 cards, all created with the Glimmer Hot Foil of the month for Nov 22. Before I have my hot foil machine out and ready to start foiling I like to cut a few card-stocks and foils and be ready with the glimmer plate. Because once you have your hot foil machine ready and hot it's a lot easier to foil a bunch of images and die cut.
Here is what this plate for this month looks like: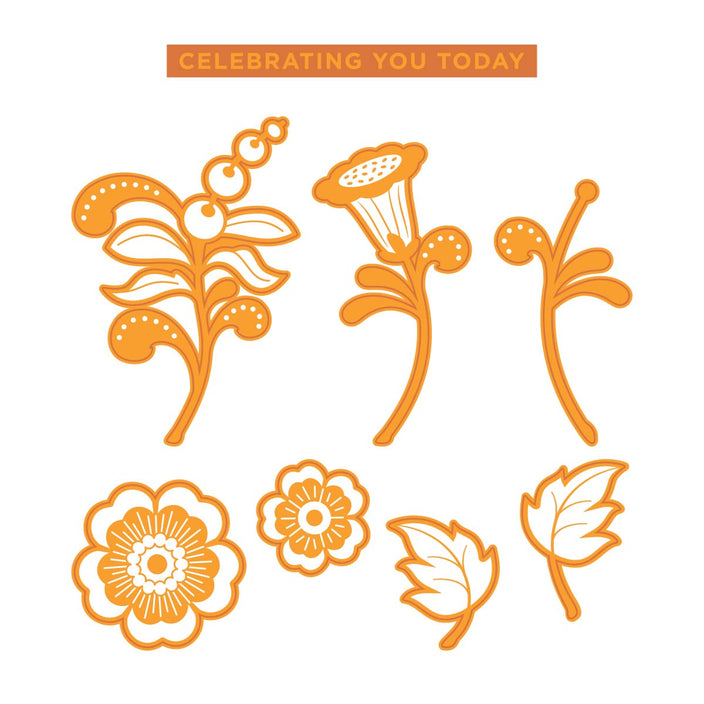 This hot foil plate is just one piece but it creates a bunch of images at once. This set also contains a die that cuts out each individual image all at once. Isn't that convenient? Now you know how I created 6 cards at one sitting. The rest is all arranging these images on your card front.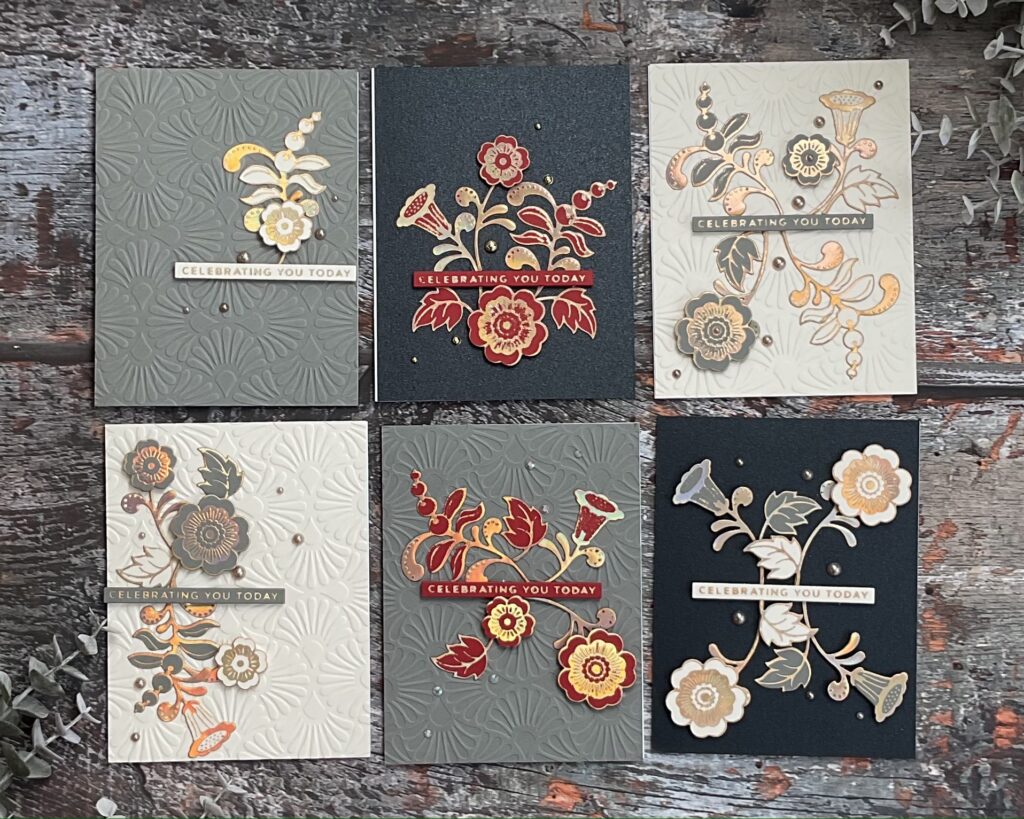 Card Base
Since I was going to create 6 cards; after getting all the images foiled and die cut ready to go on the cards, I cut 6 card bases all at once and then scored and folded. My cards measure 4 and a quarter by 5 and a half inches in dimensions.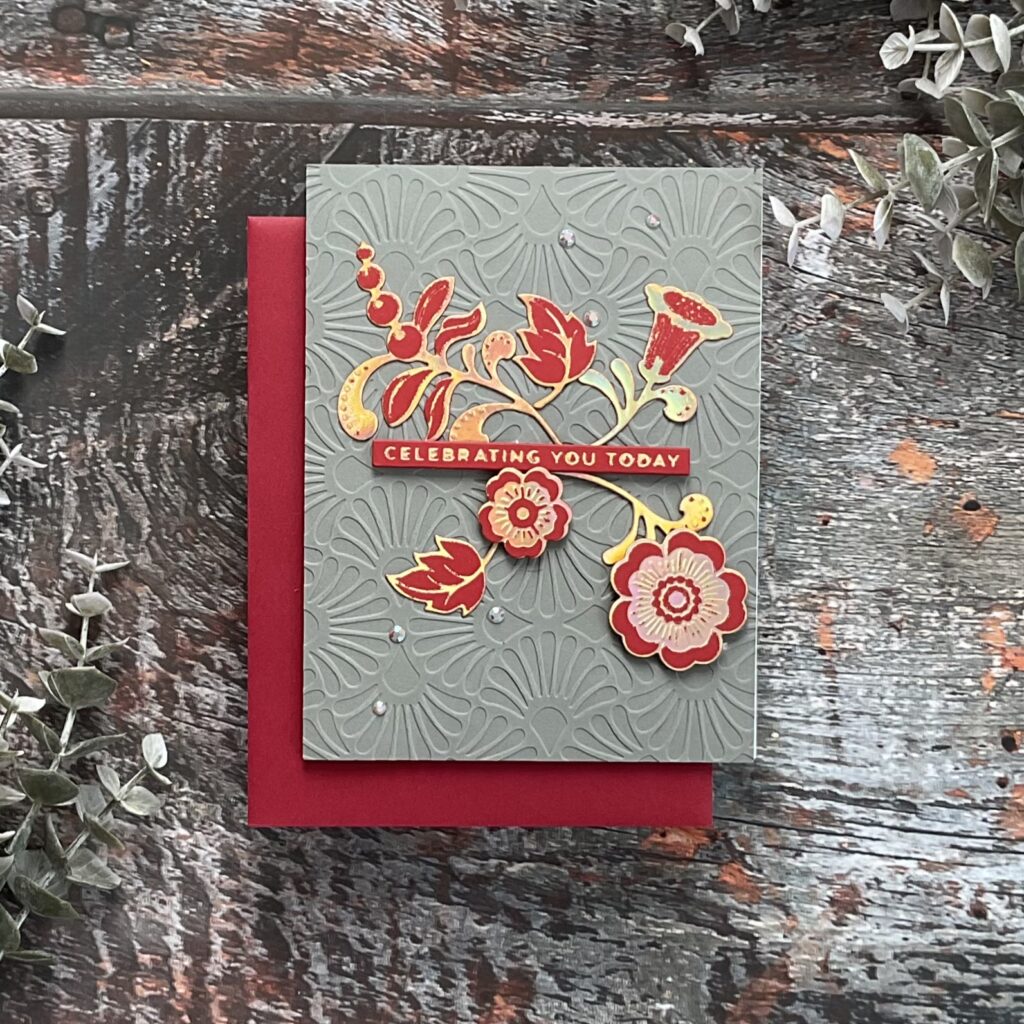 Background
I have three different backgrounds on my cards today. The first two cards have this cream embossed background. In order to create these I used The Embossing Folder of the Month for Nov 22 on Spellbinders on a panel of Portobello Color Essential Card-stock. The other two are embossed Lunar Gray Card-stock and the last two are just Brushed Black Card-stock which is a very pretty shimmery black. I didn't emboss the black panels as they look pretty as is.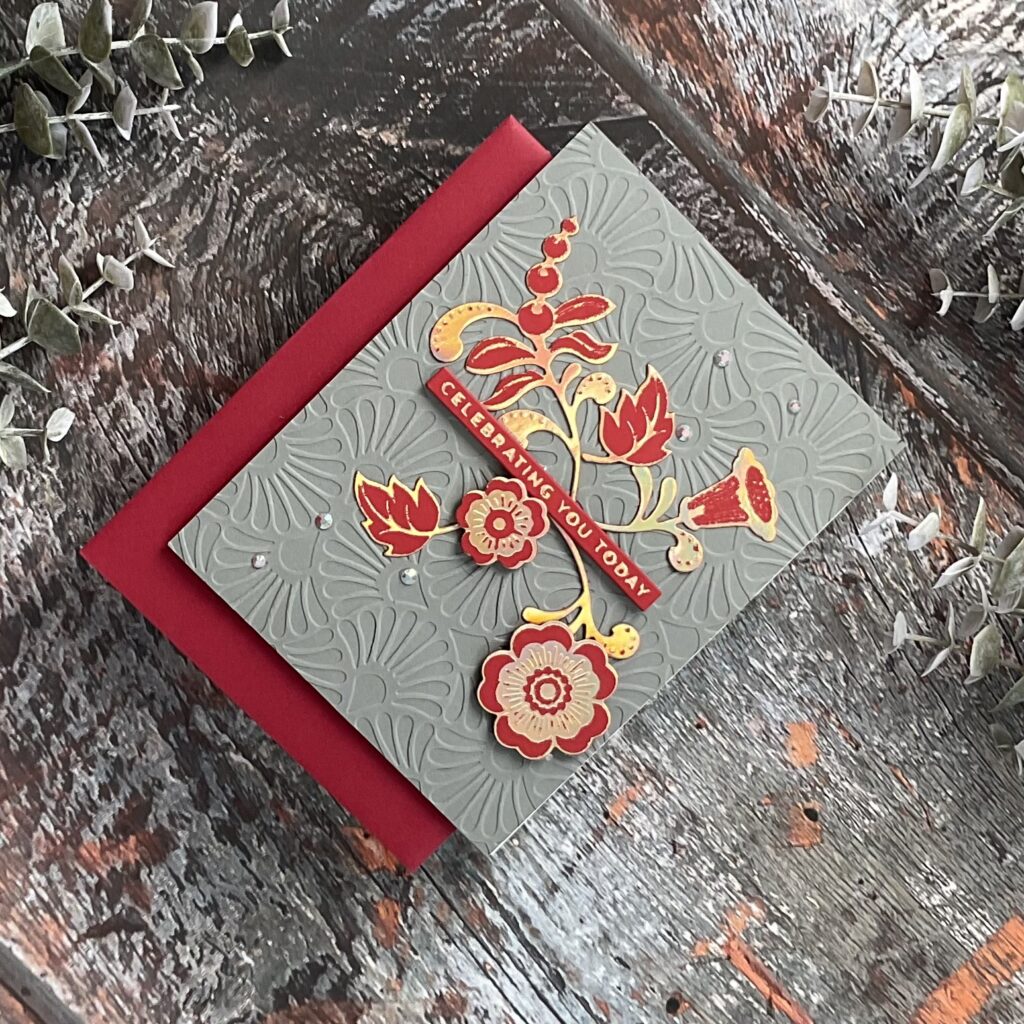 Focus
All my cards today focus on these beautiful foiled floral images . I foiled red, cream and grey card stocks using the glimmer foil of the month foil plate. I used Aura Glimmer Foil on all these cards today.
Then I arranged some floral pieces on each panel mixing and matching the colors. All these arrangements are different if you noticed them. After I was happy with the arrangements I started adhering them on my card panels. I added some with glue and some with foam tape.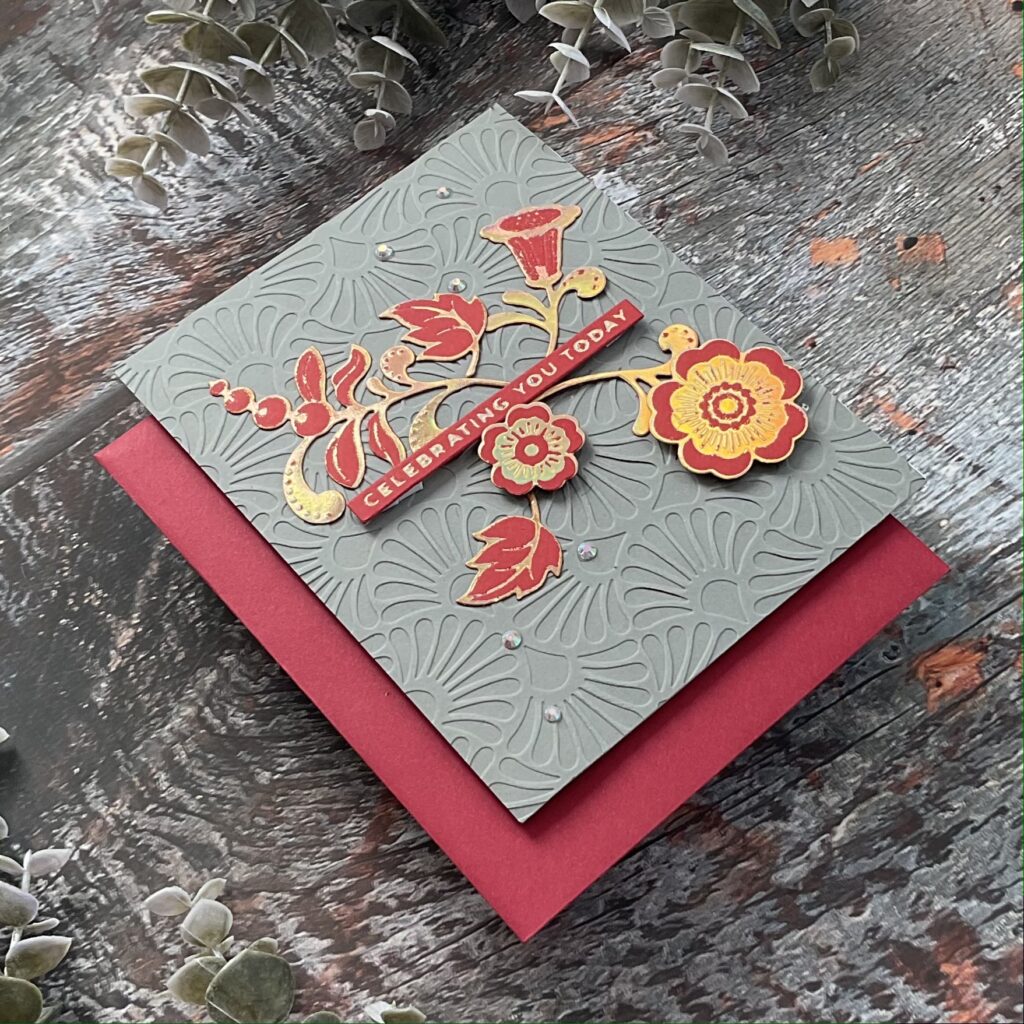 Sentiment
This foil plate set contains one sentiment and also the die to cut it. But you don't have to foil and cut this separately. All the flowers and sentiment is gust one foil plate and one die. That's what I love about this set.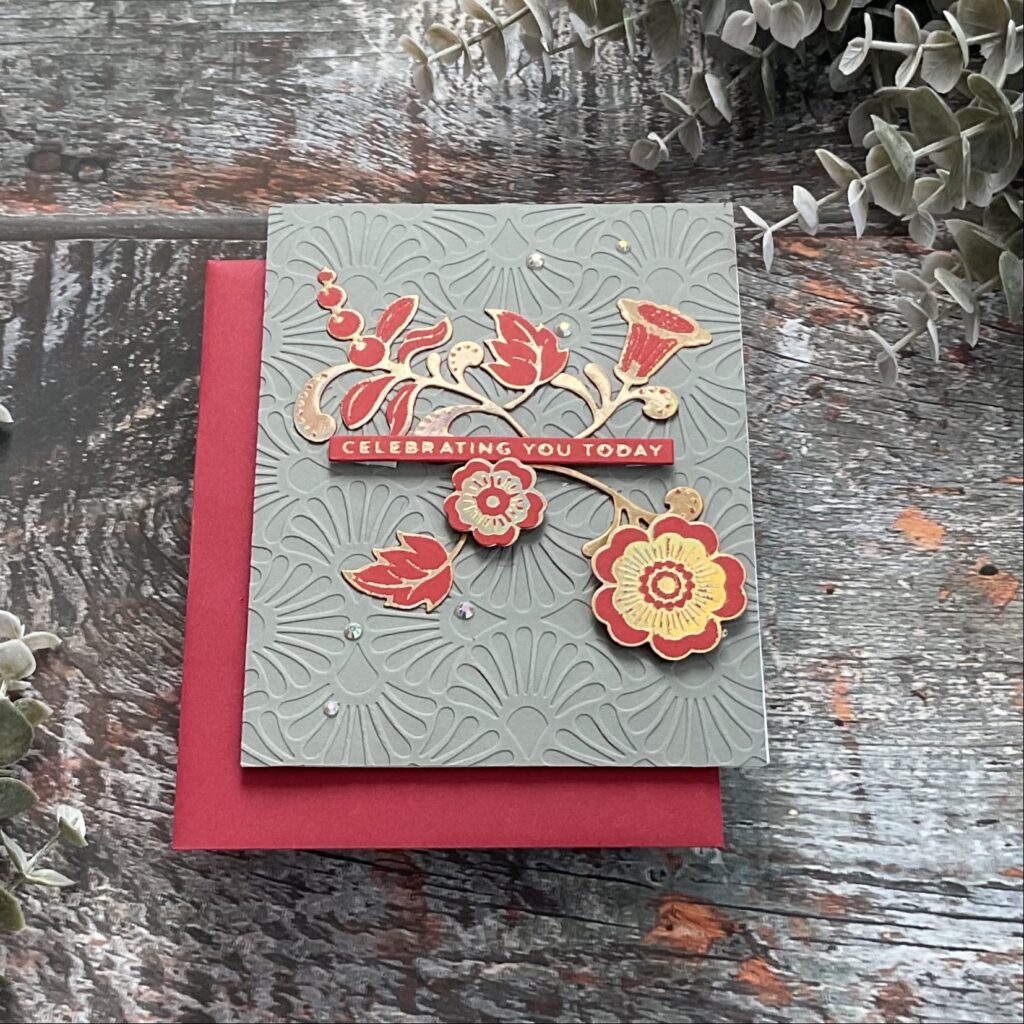 Embellishment
Finally to embellish my cards I added some Fashion Gold Embellishment from Spellbinders.
This finished my cards. It took me about an hour and a half to create all these beautiful cards. Also I don't think too much about the card design. I usually go with whatever feels right to me at the moment when it comes to designing cards. So were these cards inspiring? Let me know. I would love to hear your thoughts about them.
Happy foiling!!
Hugs,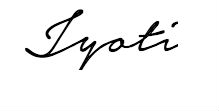 Here are the affiliate links to the products I have used on my cards today. If you purchase these products from these links I get a small percentage commission without costing you anything extra. This will help me keep creating and inspiring.
Supplies: