Christmas Flourish is a fun Christmas Collection of dies designed by Becca Feeken for Spellbinders.
Hello everyone!
Today I am sharing two cards I have created using two of the dies from the CHRISTMAS FLOURISH BY BECCA FEEKEN COLLECTION.
My cards today focus on the two sets of dies featured and two different ink blended backgrounds.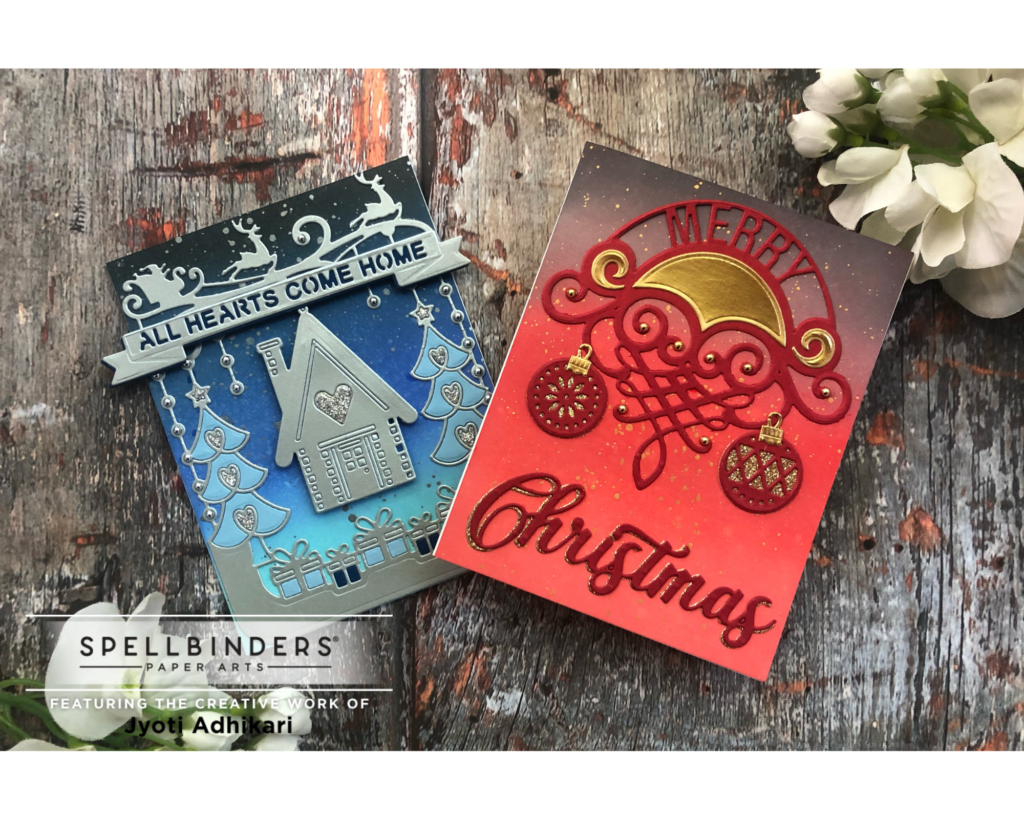 Christmas Flourish Merry Christmas Card
My first card today features the MERRY FLOURISH ETCHED DIES FROM THE CHRISTMAS FLOURISH COLLECTION BY BECCA FEEKEN
Focus
Of course, the main focus of my first card is the intricate flourished die cut image . I used PHONE BOOTH COLOR ESSENTIALS CARD-STOCK. Some of the pieces I cut using the mirror gold card-stock from my stash and some with glitter gold card-stock.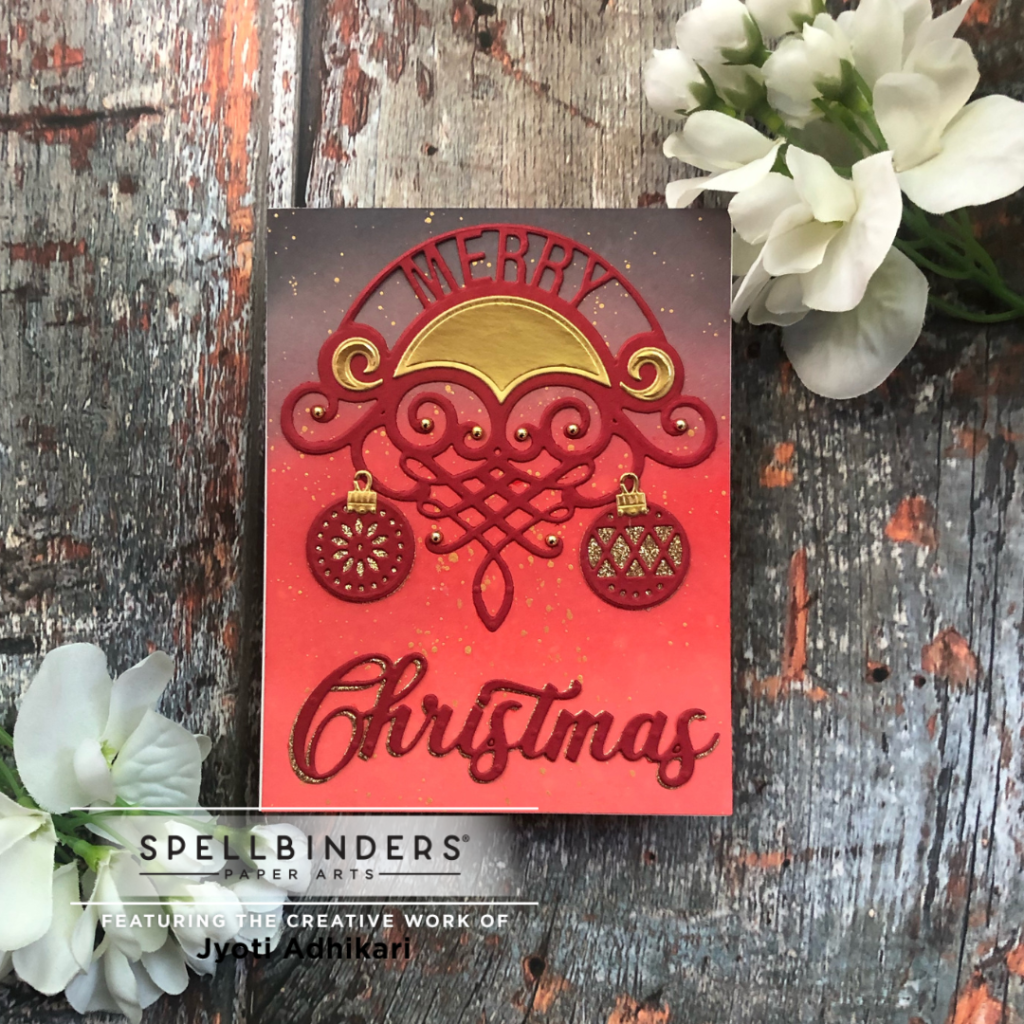 I then assembled the pieces to create this beautiful design you see here on my card-front. The glitter gold card-stock behind the ornaments and the word die "Christmas" adds extra sparkle to my card design.
Background
To go with my red flourish die cut I created a background blending some distressed oxide inks in reds. I used Aged Mahogany, Abandoned Coral, Picked Raspberry and Black Soot.
Whenever I ink blend a background I like to spray water over it and dab it to get some texture. On this one I also added some gold splatters using the Pearlescent watercolor in gold color.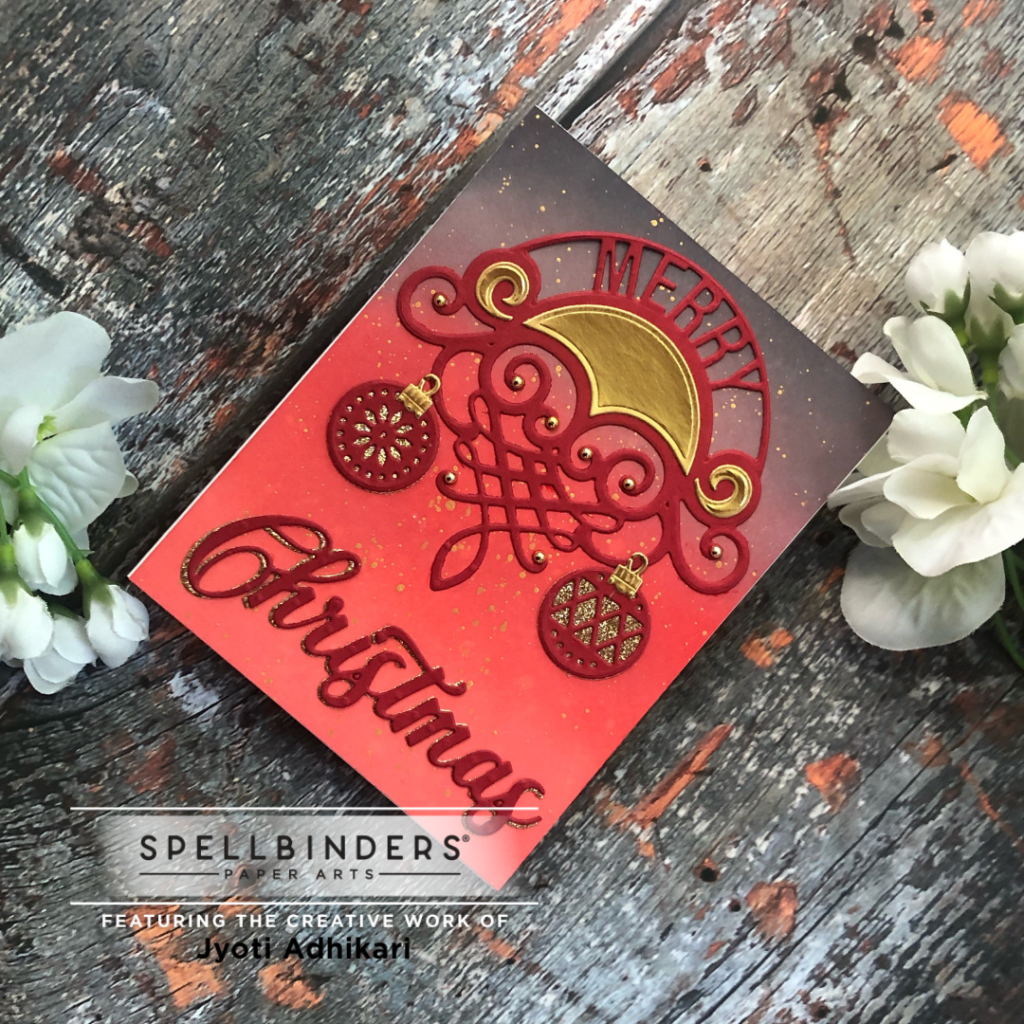 Sentiment
The sentiment is already thought out by this die set, which has "Merry" in the flourish design and Christmas word which I have added underneath.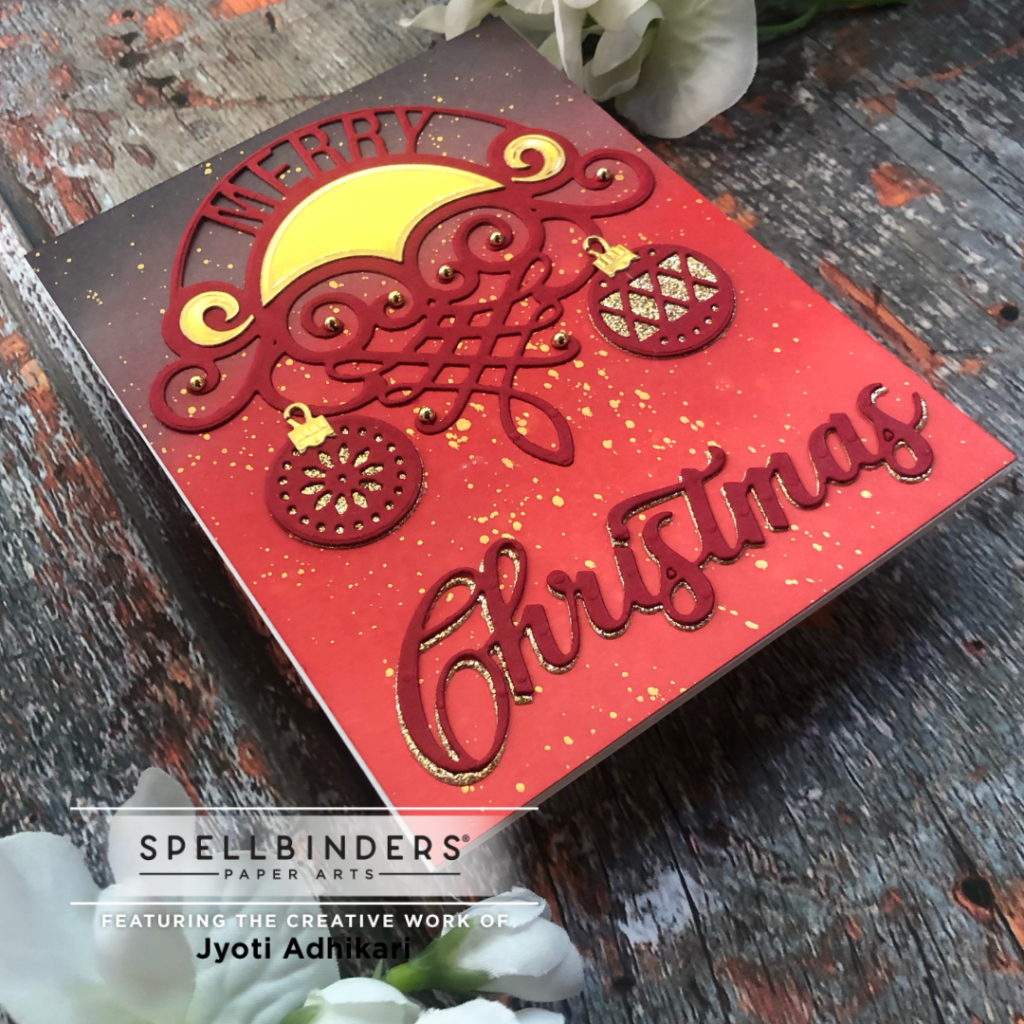 Embellishment
Not that this card needed any of the extra embellishment but I still added some gold pearls wherever I could in the flourish design.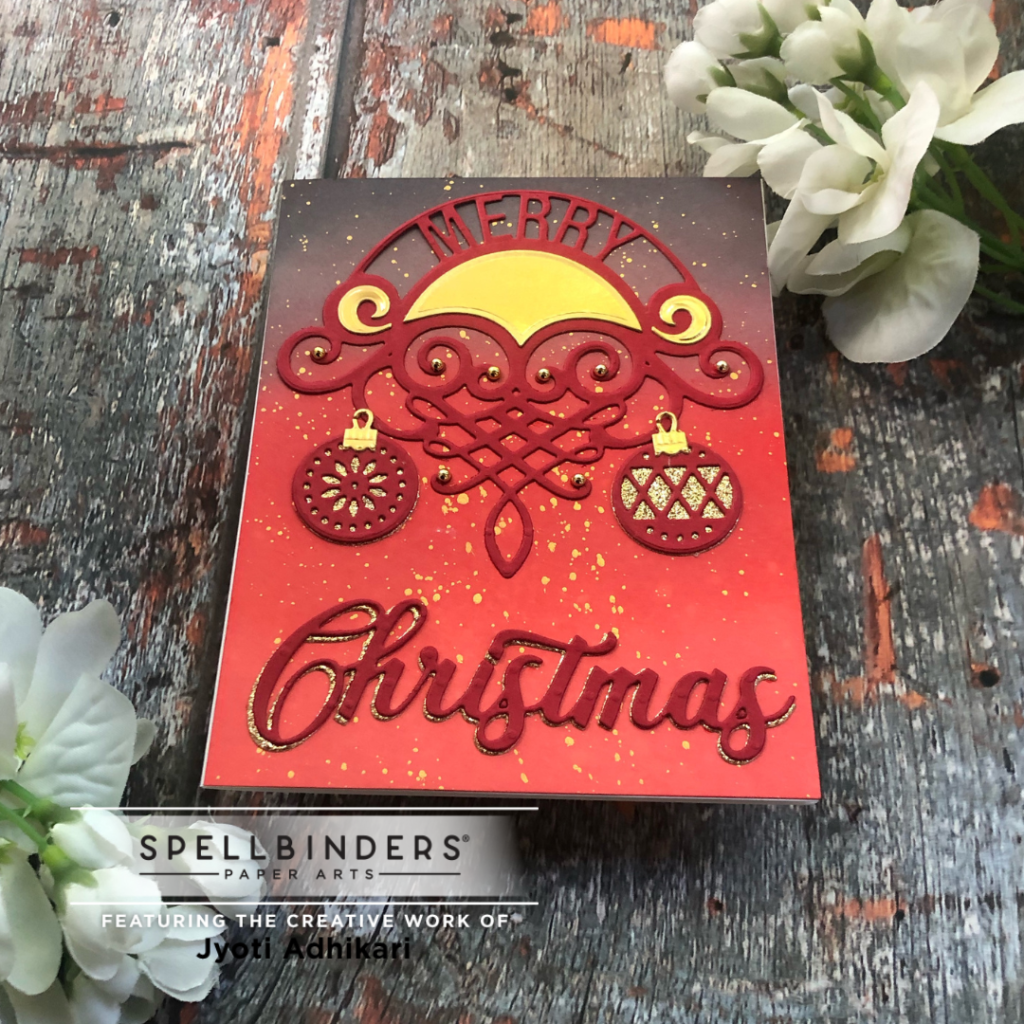 I then added this whole panel on to an A2 size card-base created with WHITE CARD-STOCK
Christmas Flourish Hearts Come Home Card
This card features the ALL HEARTS COME HOME A2 CARD-FRONT ETCHED DIES FROM THE CHRISTMAS FLOURISH COLLECTION BY BECCA FEEKEN
Focus
This die set has this beautiful holiday scene built on it. It comes with the house die which is separated from the rest of the border scene. The focus of my card is this whole scene. I used BRUSHED SILVER CARD-STOCK to cut out this design and two shades of blues for the presents and the tree. A simple inlay technique achieved the colorful border.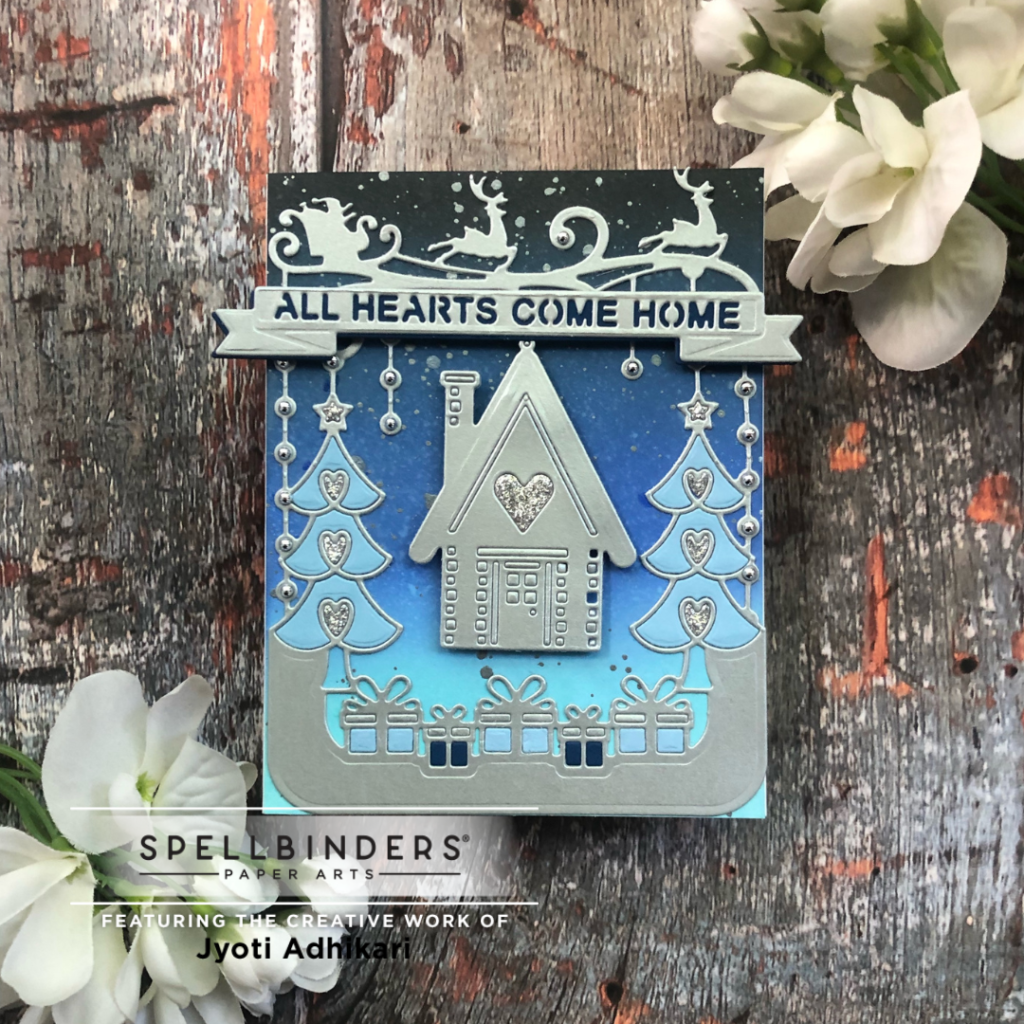 Background
For the background of this card, I wanted to give my ink blending a night sky look. I used distressed oxide inks in colors
to achieve the ombre blue background. I then splattered it with silver iridescent watercolor.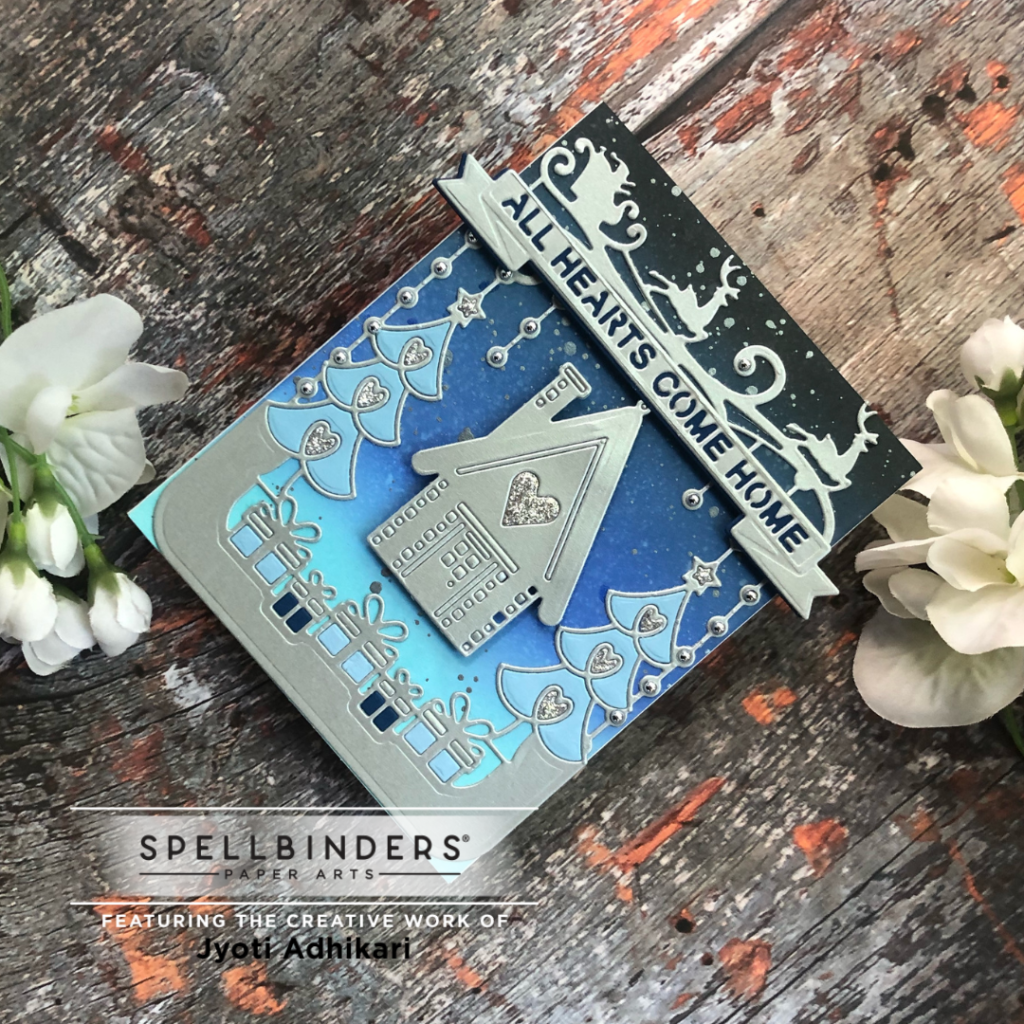 Sentiment
I used die cut sentiment that is included in this die set. The sentiment says All Hearts Come Home. There are also small word dies that says For Christmas. I added them inside the card but completely forgot to take photos of that.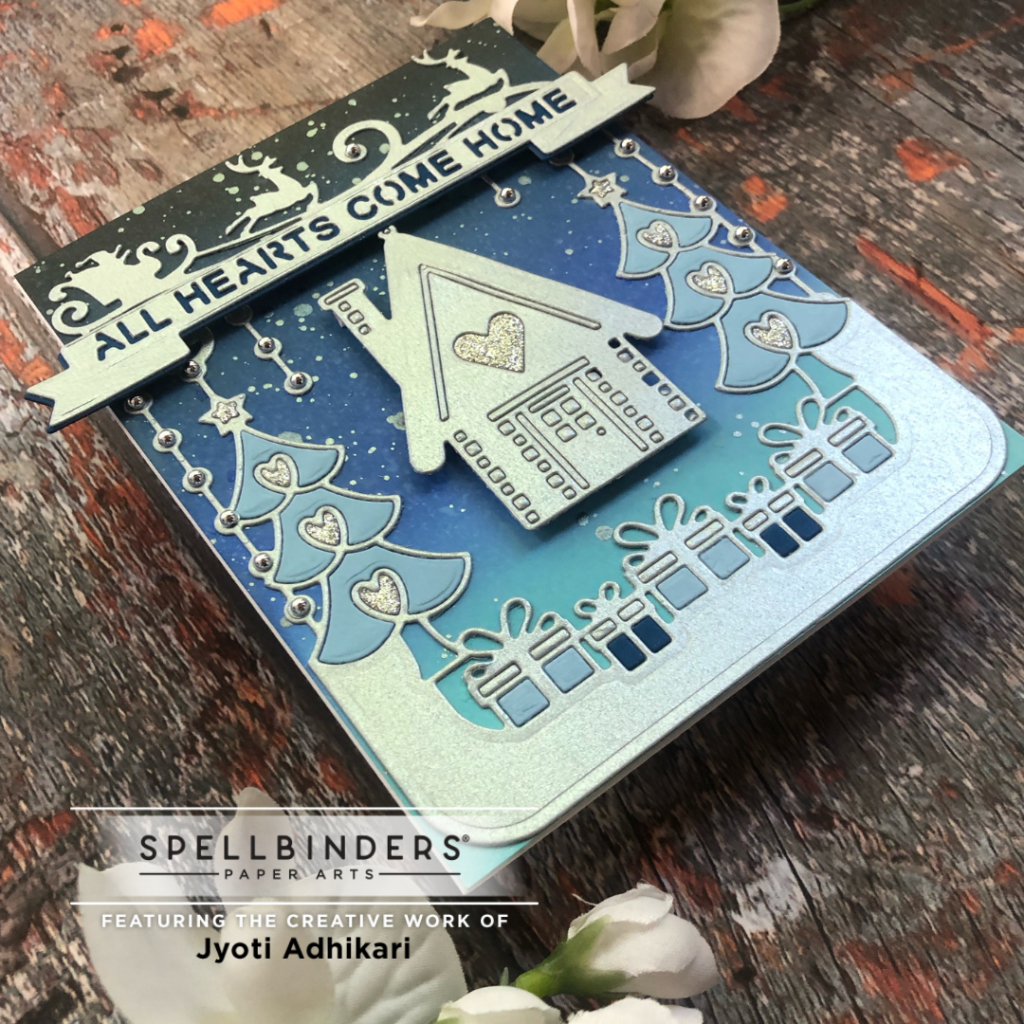 Embellishment
As an embellishment I cut out all the hearts and the starts with silver glitter card-stock from my stash. For more sparkle I added some silver pearls on those little dots.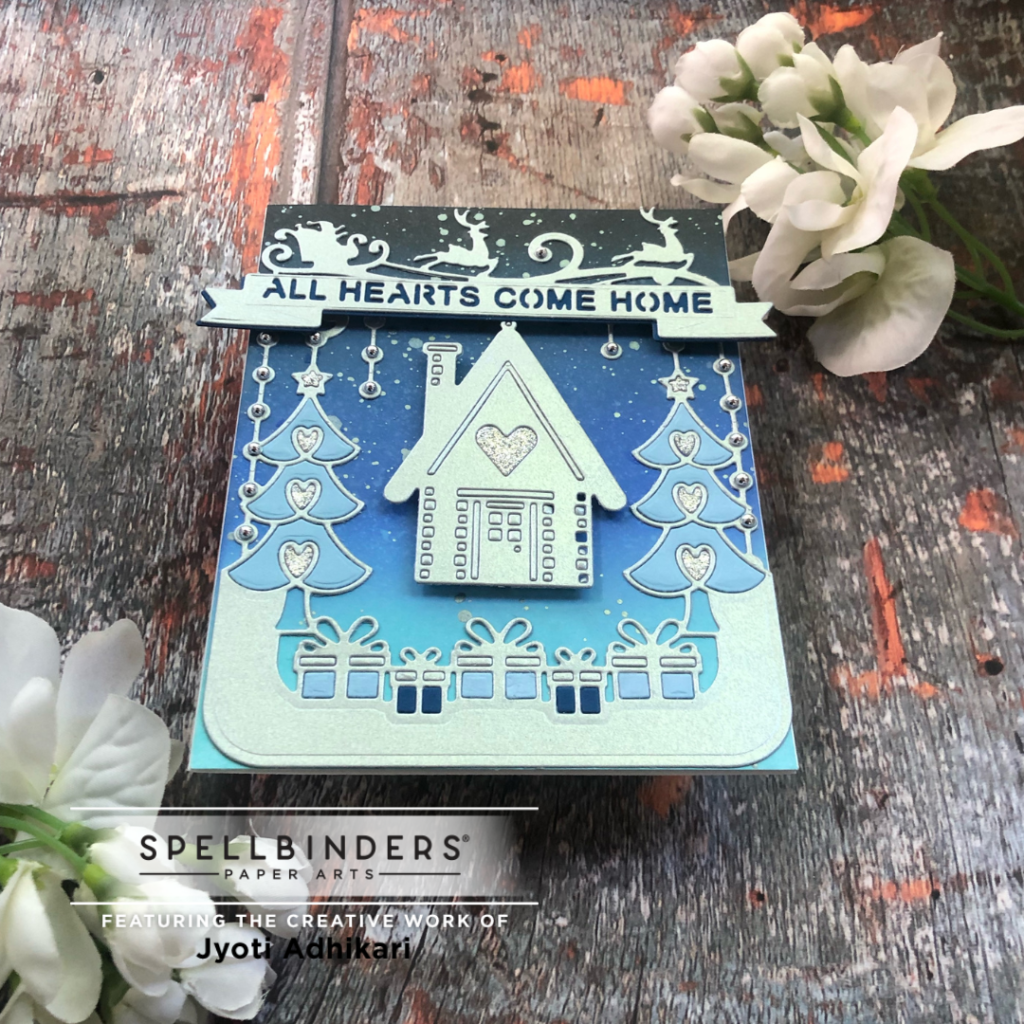 This comes to the end of this post. Did you find this inspring? If you purchase any of the products that I used here plese do so using the affiliate links below. I will get a small commission through these links. That will help me create more inspirations for you. Thank you in advance.
Hugs,