These gum-ball machine cards feature the Spellbinders AMAZING PAPER GRACE DIE OF THE MONTH MEMBERSHIP for Sep 22.
Hello everyone!
Today, I am sharing three fun pop-up cards I have created each for completely different seasons or occasions. This die creates a vignette Gum-ball machine which has layers of depth. But of course you can fold it completely flat and mail it in a regular envelope. With each layer you can add elements of your choice. That's when the idea of creating it for different seasons came from as I could add anything between those layers.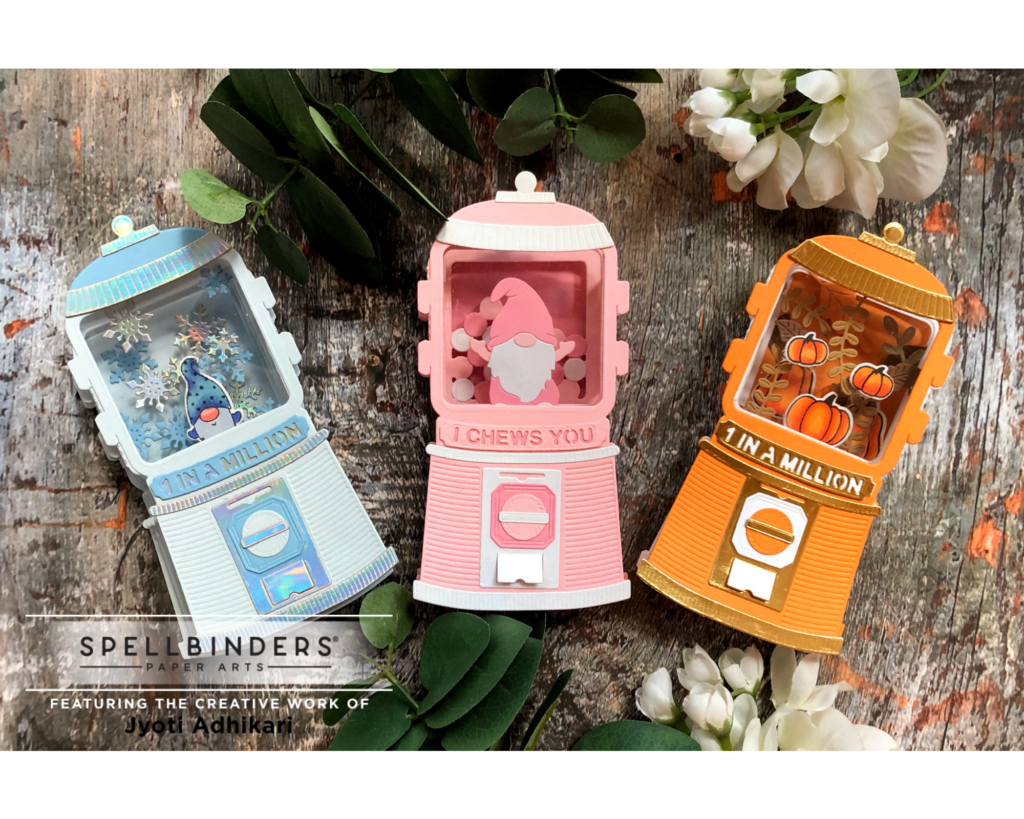 Valentine's Day Gum-ball Machine Card
My first card is for Valentine's Day. Just by creating this Gum-ball machine is pinks and shimmery white combination already gives this card a valentine feel. I also added a cute little gnome I created with the Gnome Tree Die set. And the sentiment says "I Chews You" which is a fun one.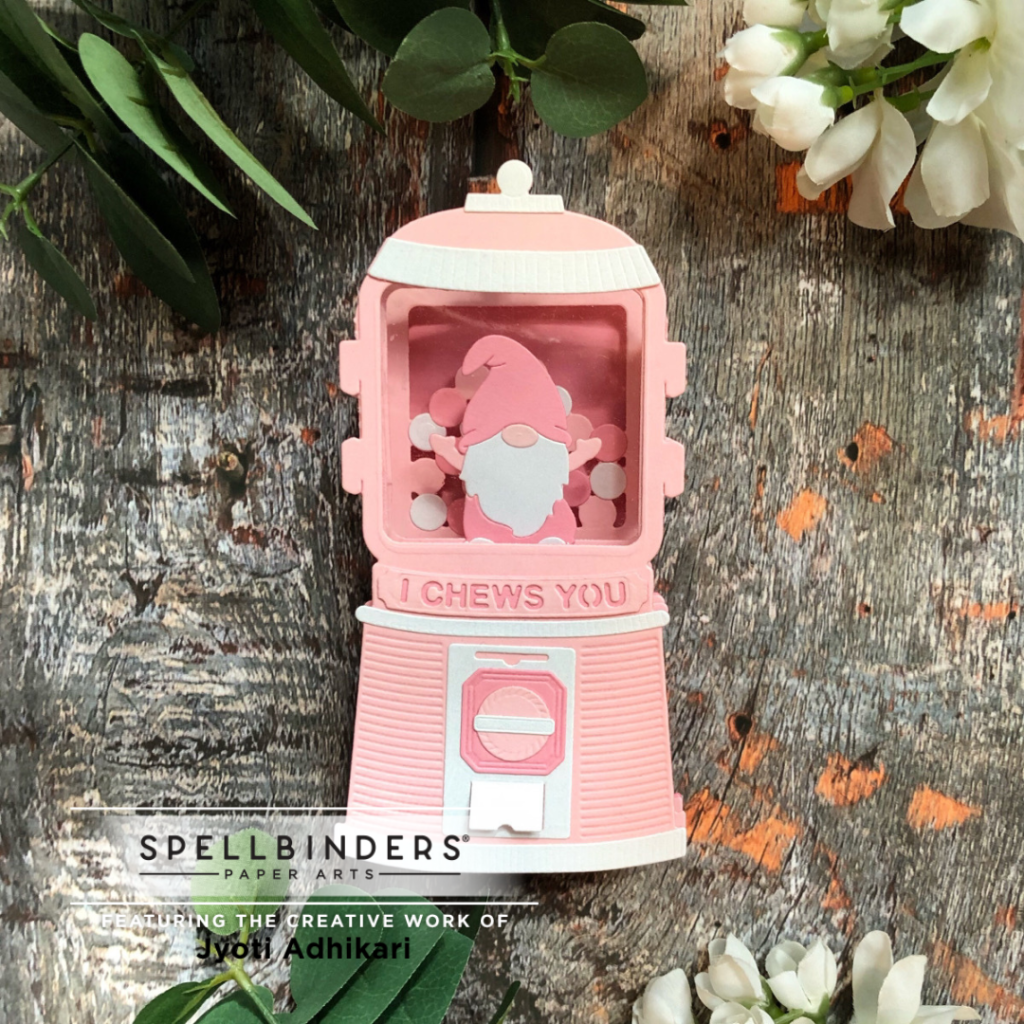 I only have 4 layers in this one. The back is a solid layer without a window cut out. The layer before it has pink and white gum-balls. There's this pink gnome spreading his arms as if it's going to hug you on the third layer and the foremost layer is just a cut out window where I added an acetate so it looks like glass.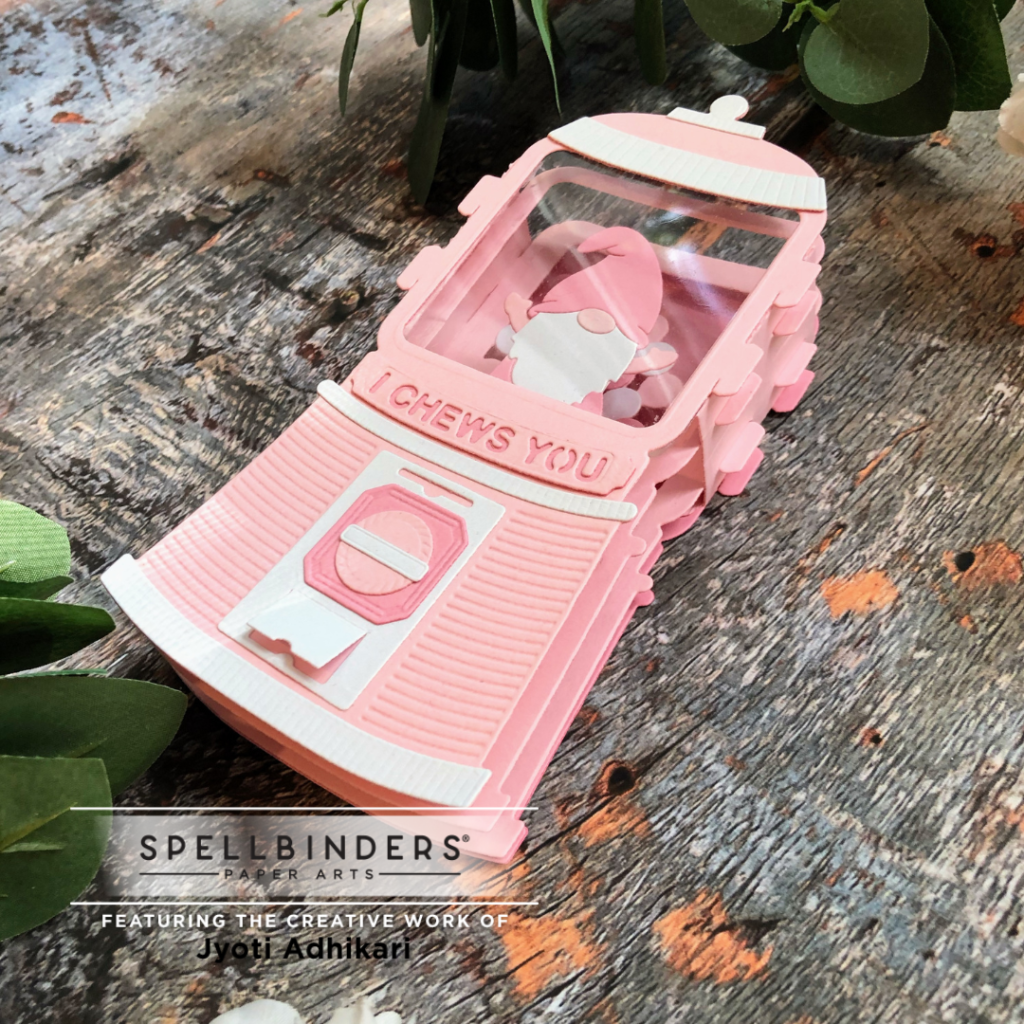 Fall Gum-ball Machine Card
It was so easy to create this card in fall theme. I created the gum-ball machine with orange, gold and white combination. Then I stamped and colored the pumpkins with Stamp of the month for Sep 22 and then die cut them using the coordinating dies. I also cut out some leaves in browns and oranges using some of the spellbinders previous release dies.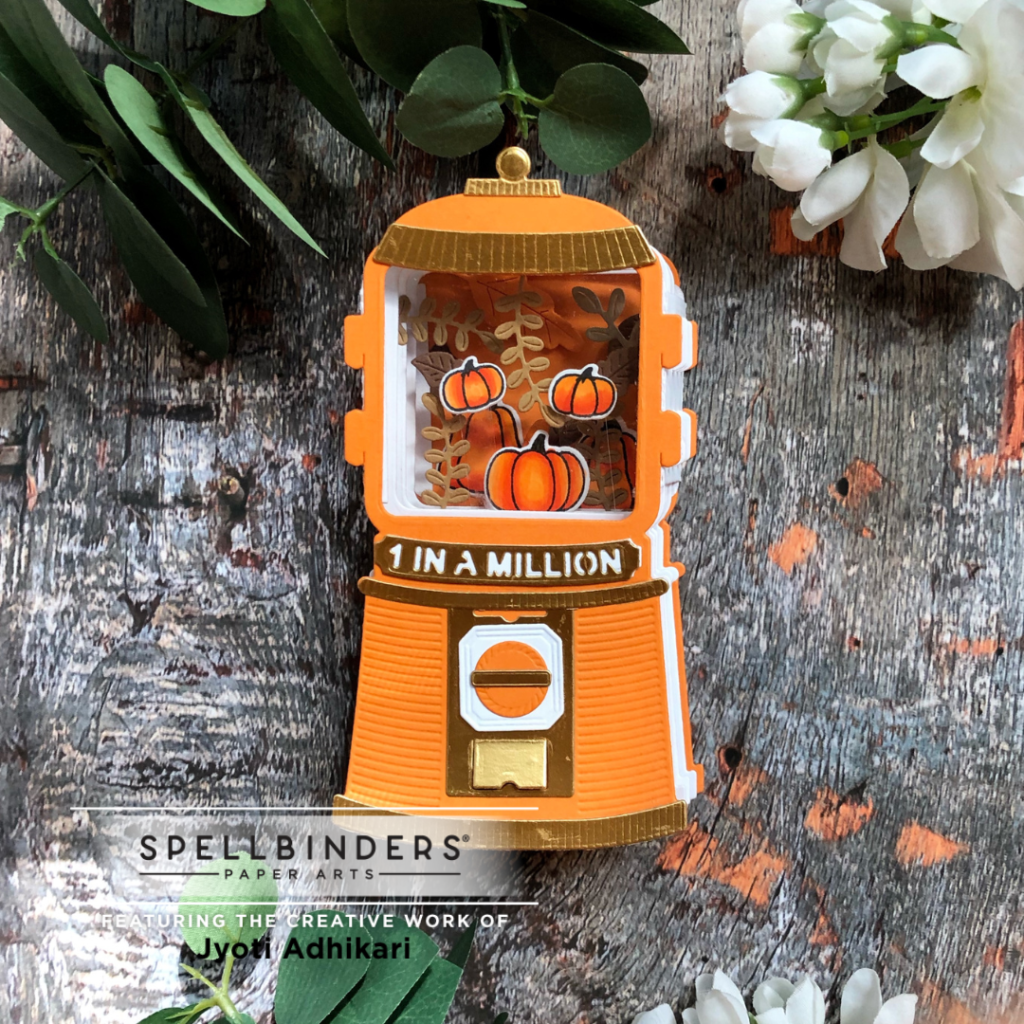 This one has 5 layers. All the way to the back is a solid layer where I added some large pumpkins and leaves with liquid glue. Then in each layer I added other pumpkins with the help of some acetate strips so the pumpkins are floating between the windows.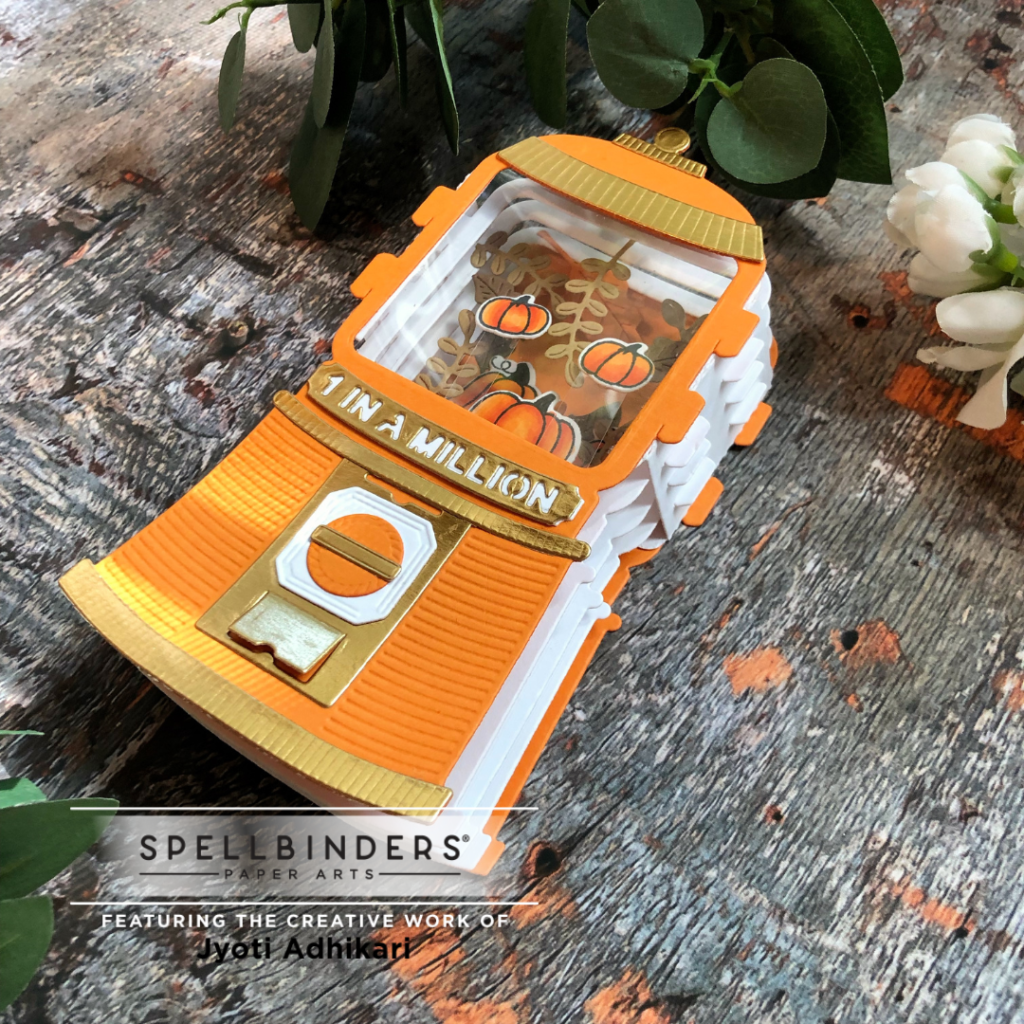 The foremost layer is just the window with acetate so you can see through. The sentiment says "One In A Million".
Winter Gum-ball Machine Card
My last but my most favorite card is this winter Gum-ball one. I Created this one in two shades of blues and holographic silver combination. For the elements inside, I stamped the smaller gnome from the Stamp of the month for Sep 22 and colored it in shades of blues. I cut out a bunch of snowflakes using an old spellbinders die set that was one of the large die of the month club.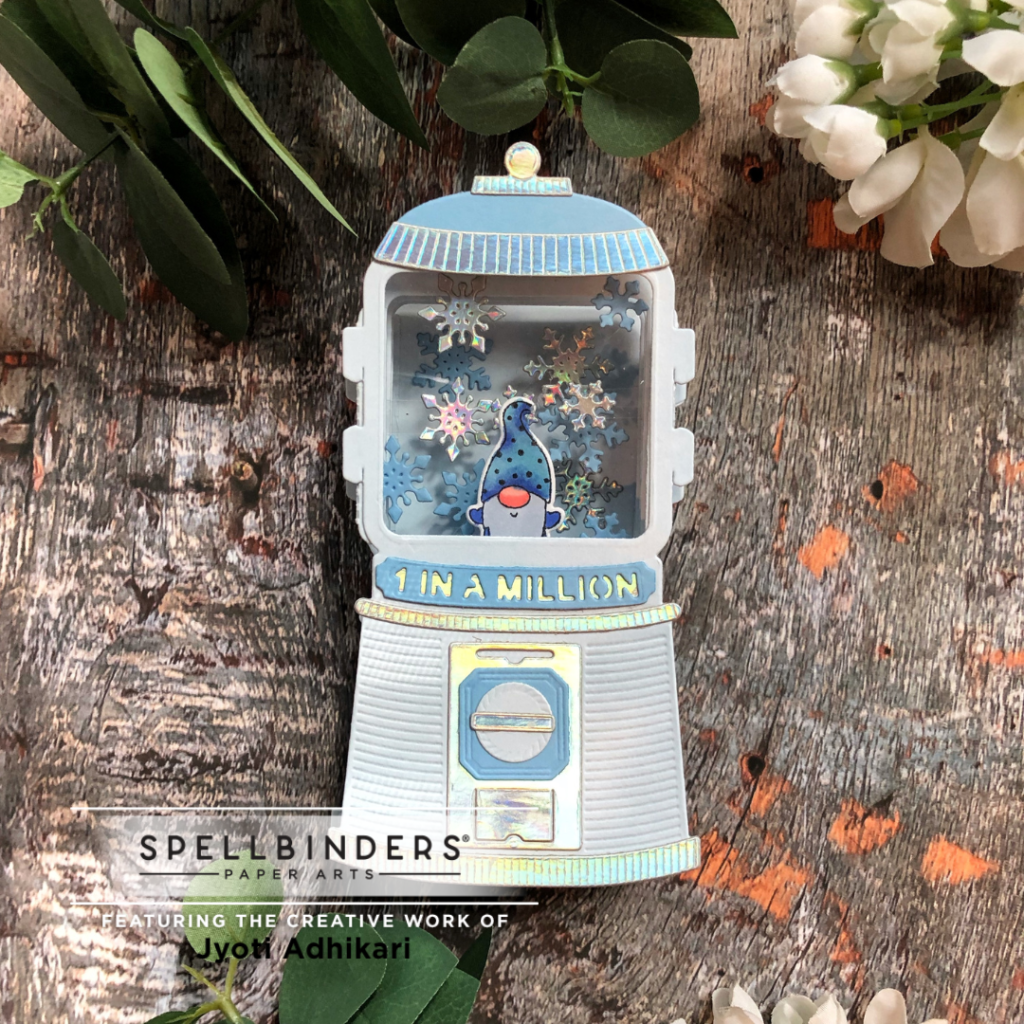 This one also has 5 layers and each layers has the floating snowflakes added with acetate strip. Then there's this cute gnome. The foremost layer is again just an acetate window.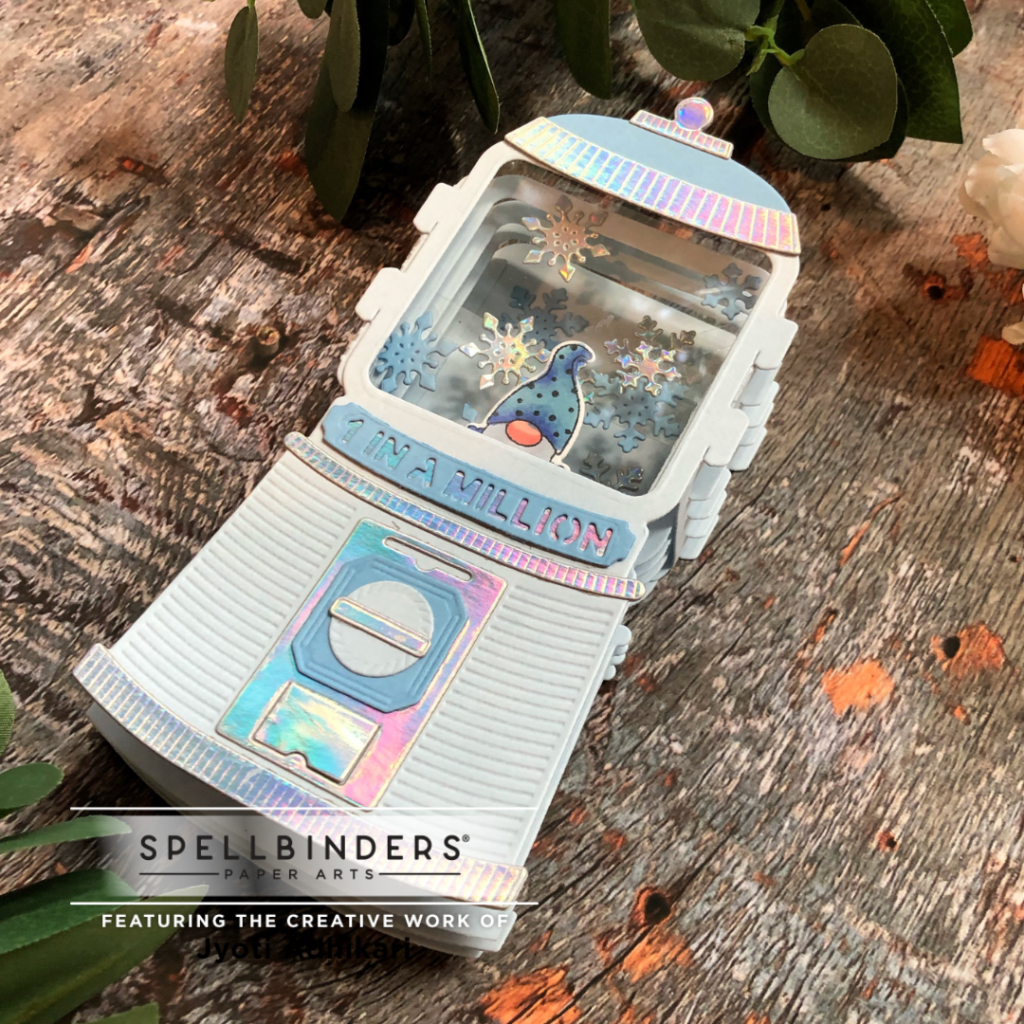 The sentiment says "One In A Million".
All three cards have very different vibe to them. I loved the cutesy look of the Valentine's Day one. The warmth of the Fall one has such a festive feel and the cool shimmery Winter one has this sparkly snowfall going on it the background.
Which one is your favorite? Please let me know in the comments below.
Hope you find this post inspiring. You are appreciated for sticking to the end of this post.
I have created a list of supplies I used for this card here. Affiliate links are added wherever possible. If you purchase through these links, I get a small commission without costing you extra . Which will be helpful for me to create more inspirations like this.
Supplies:

Hugs,