Hello everyone.
Today I am sharing a trio of cards I created featuring the new release by Rachel Vass. This stamp set is a digital stamp called Glorious Geometry.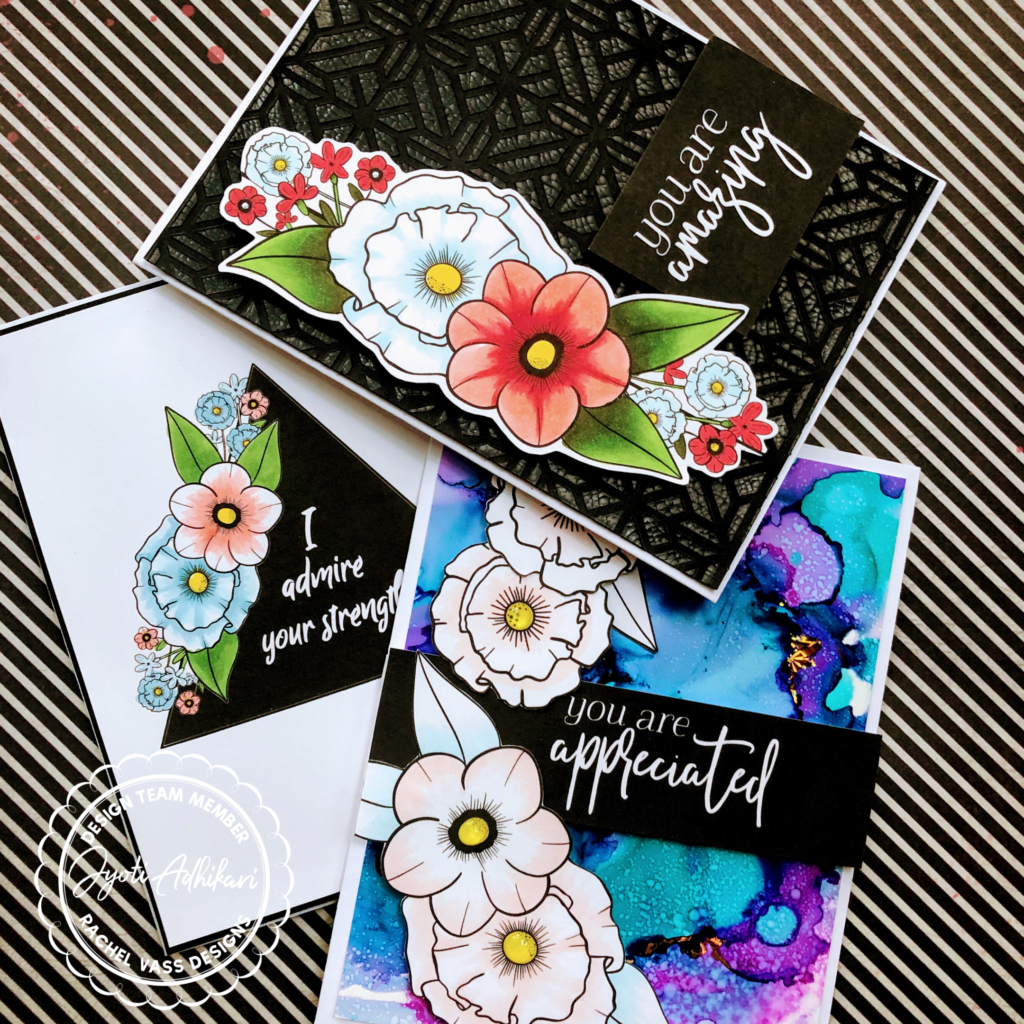 Coloring digital images are my favorite. I usually color them using Copic Markers. But to be able to use the digital images on your cards you don't have to be perfect at using coloring mediums. Sometimes simple coloring can make beautiful cards.
First Card
For my first card I didn't even use the image as it was supposed to be. The beauty of digital image is that you can modify the way you like. Almost like masking off the part of the physical stamp.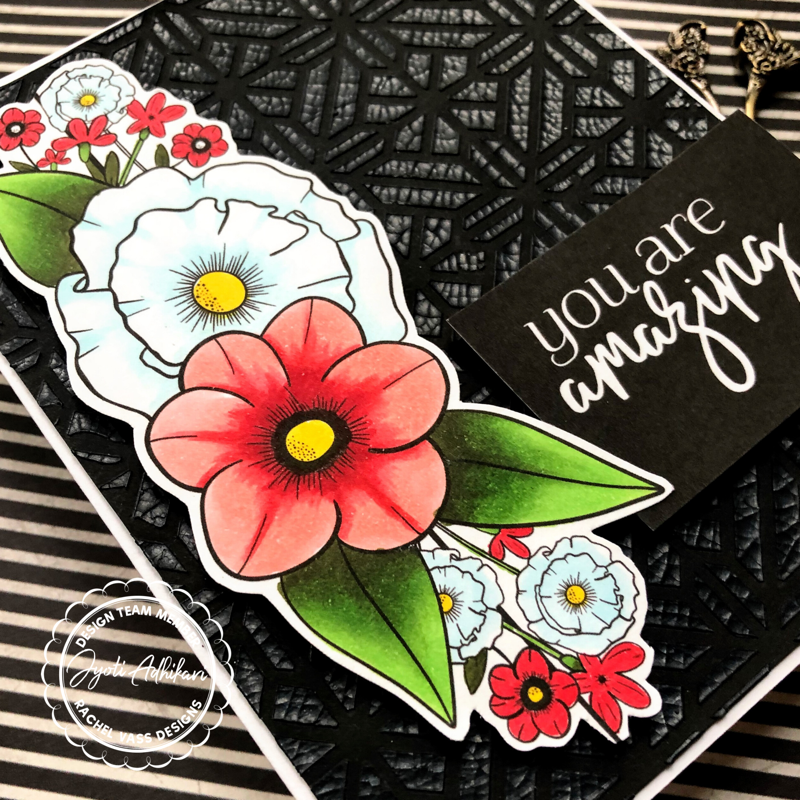 On this card I only used the large cluster of floral image and quick colored them with Copics. With not much blending or shading it took me no time to color those.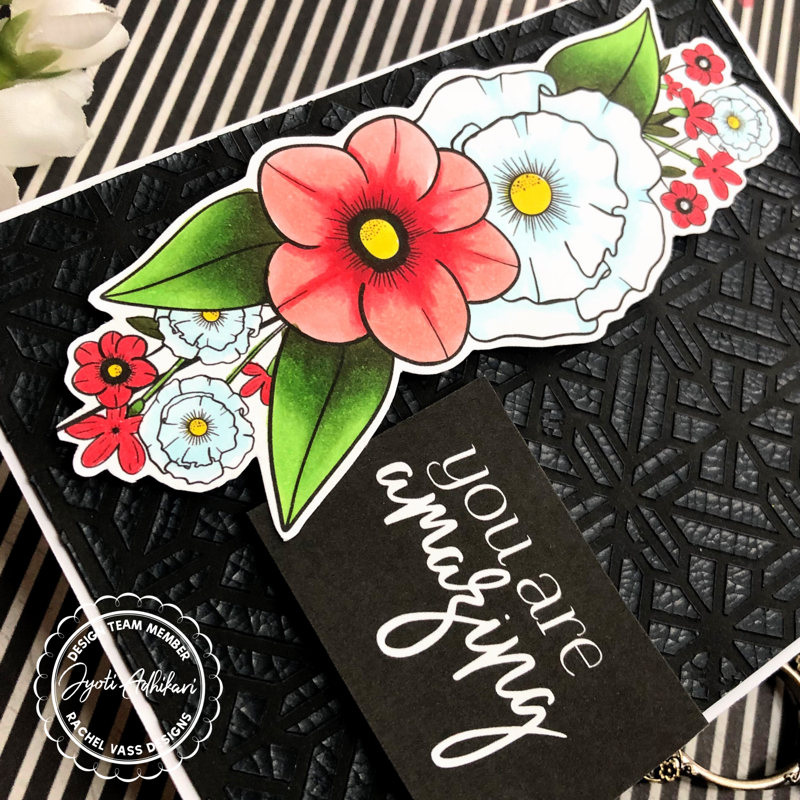 I then foam mounted this image cut with the help of a pair of scissors on a black background I had created a couple of weeks ago. This background was created using the Nuvo Crackle Mousse in black on a black cardstock. The sentiment is from this same stamp set. Printed on white on black .
That finished my first card.
Second Card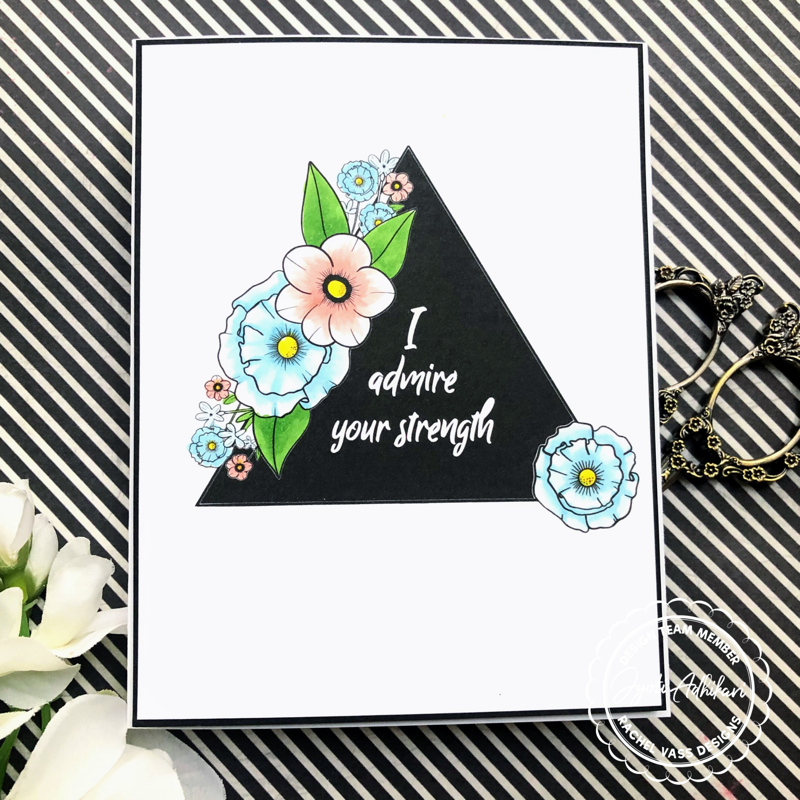 Here this is how this image was supposed to be printed and used. So for my second card I kept it as is and colored with copics again. Simple coloring,nothing fancy.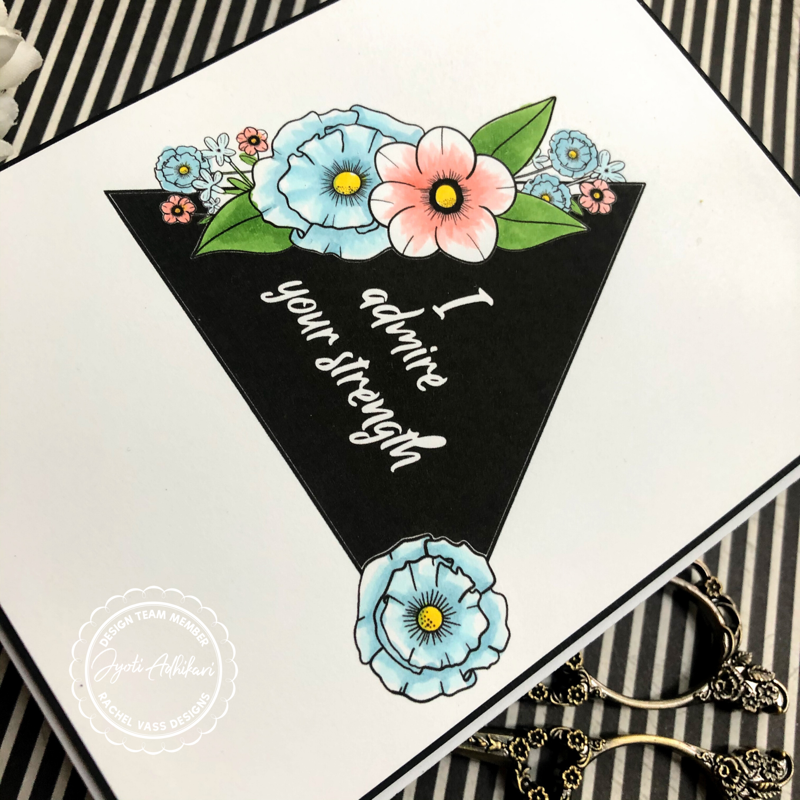 For this card, I printed the sentiment in white and filled the triangle with black before printing. That's how I got the white on black sentiment in the middle.
A lot of people ask me how I change the digital sentiment from black in white to white on black. Here I am sharing a video explaining the technique .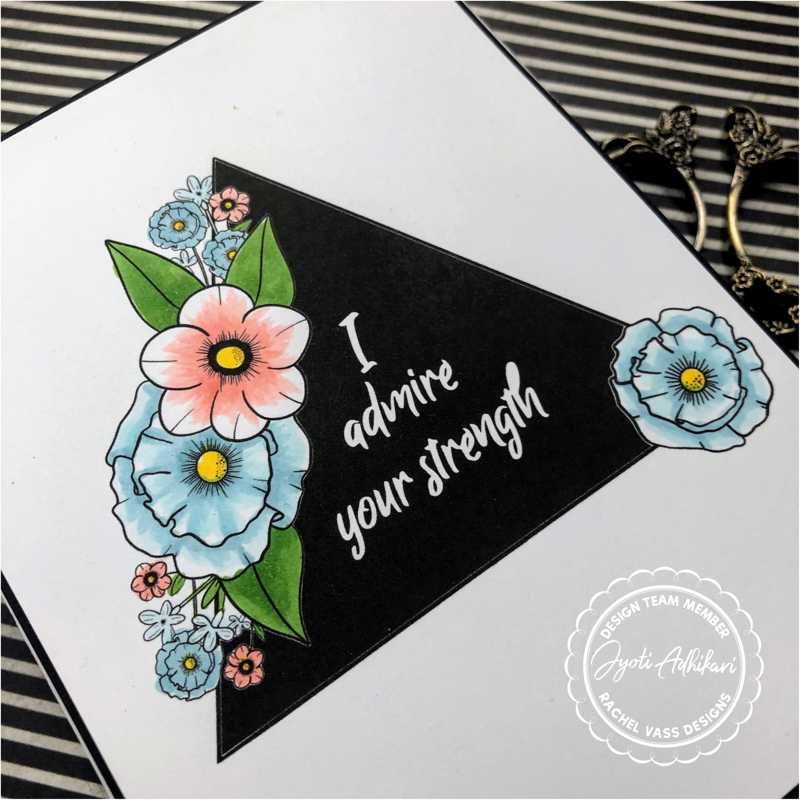 I cut the printed and colored panel to slightly smaller than an A2 base, matted it with black cardstock and finally foam mounted on a card base. This finishes my second card.
The Third Card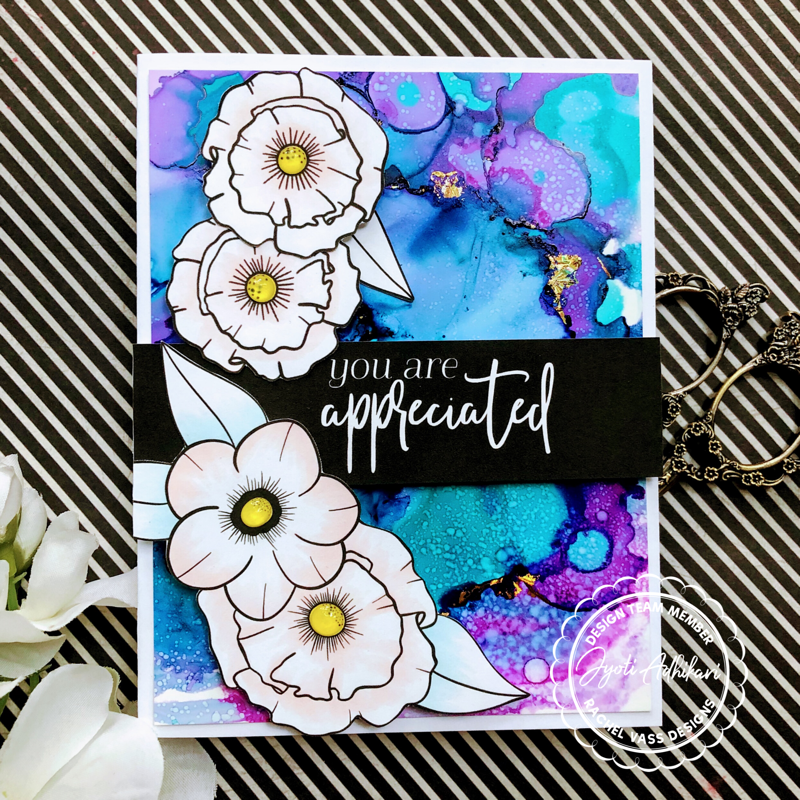 My third card is even more simpler. As I just cut out some of the flowers in the design. Just gave it a hint of color.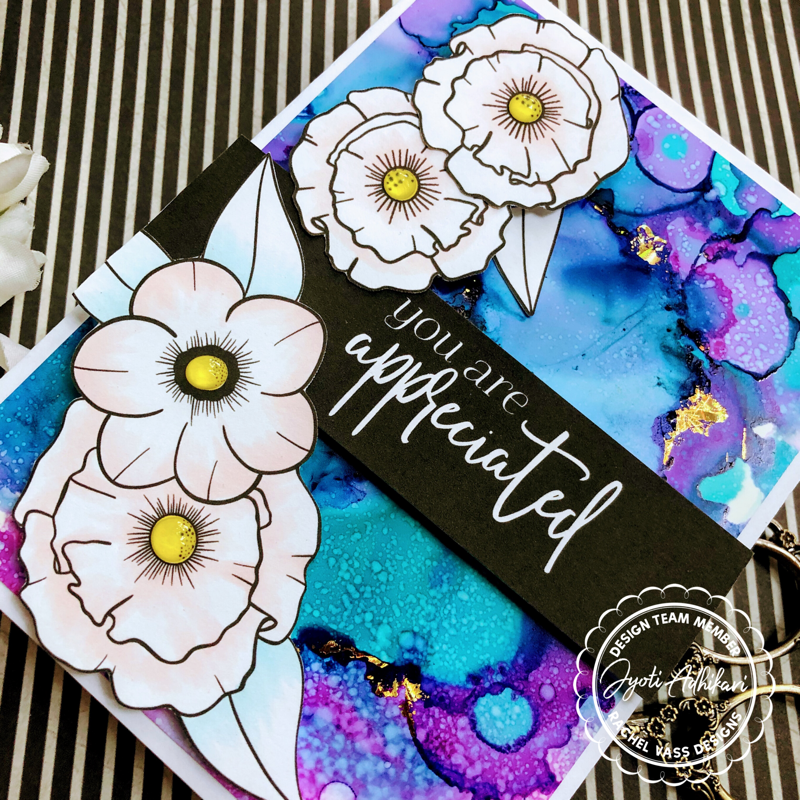 Then I foam mounted the flowers in an arrangement on an alcohol ink background I created a few weeks ago.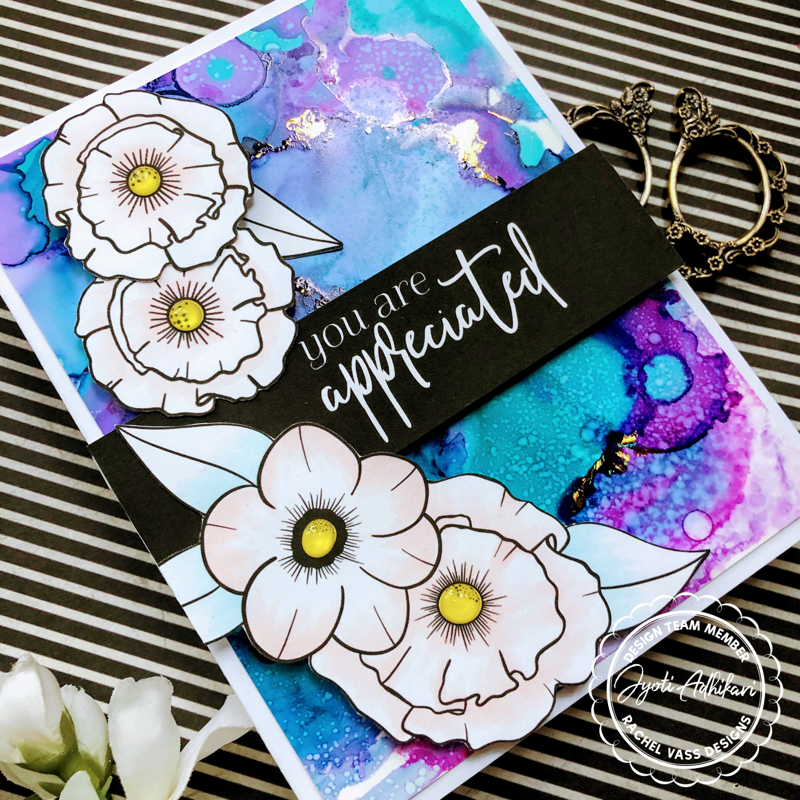 Again the sentiment is from this stamp set. Which I created in white on black, cut in a strip and added across the card.
Then the panel was added to an A2 base.
The versatility of digital stamp is endless. You don't have to be an artist to color the images. Digital images can be resized and flipped. You can add images on top of each other or remove a part of the image.
Rachel Vass release her new stamps ever week. Her designs are one of a kind and beautifully drawn. I have been spending money on physical stamp less ever since I started using Digital Stamps.
Hopefully this will inspire you to create beautiful card like these with simple copic coloring and premade backgrounds.
Hugs
Jyoti