Hello, lovely crafters and fellow holiday enthusiasts! Today, I am excited to share with you the magic of holiday crafting using fantastic products from Spellbinders. In this blog post, I'll walk you through the step-by-step process of creating two enchanting holiday cards using some of the products from CLASSIC CHRISTMAS COLLECTION. So, let's dive in and spread some festive cheer together!
Card 1: Jolly Santa's Glimmering Greetings
For our first card, we are going all out with a charming Santa centerpiece and an embossed background. Here's how it all comes together:
Santa Assembly
Using Spellbinders' delightful SANTA'S HERE ETCHED DIES, I die-cut pieces from red, black, and white, along with a touch of rose gold card-stock from my stash. Assembling Santa is as delightful as the season itself, and soon we have our iconic focal point.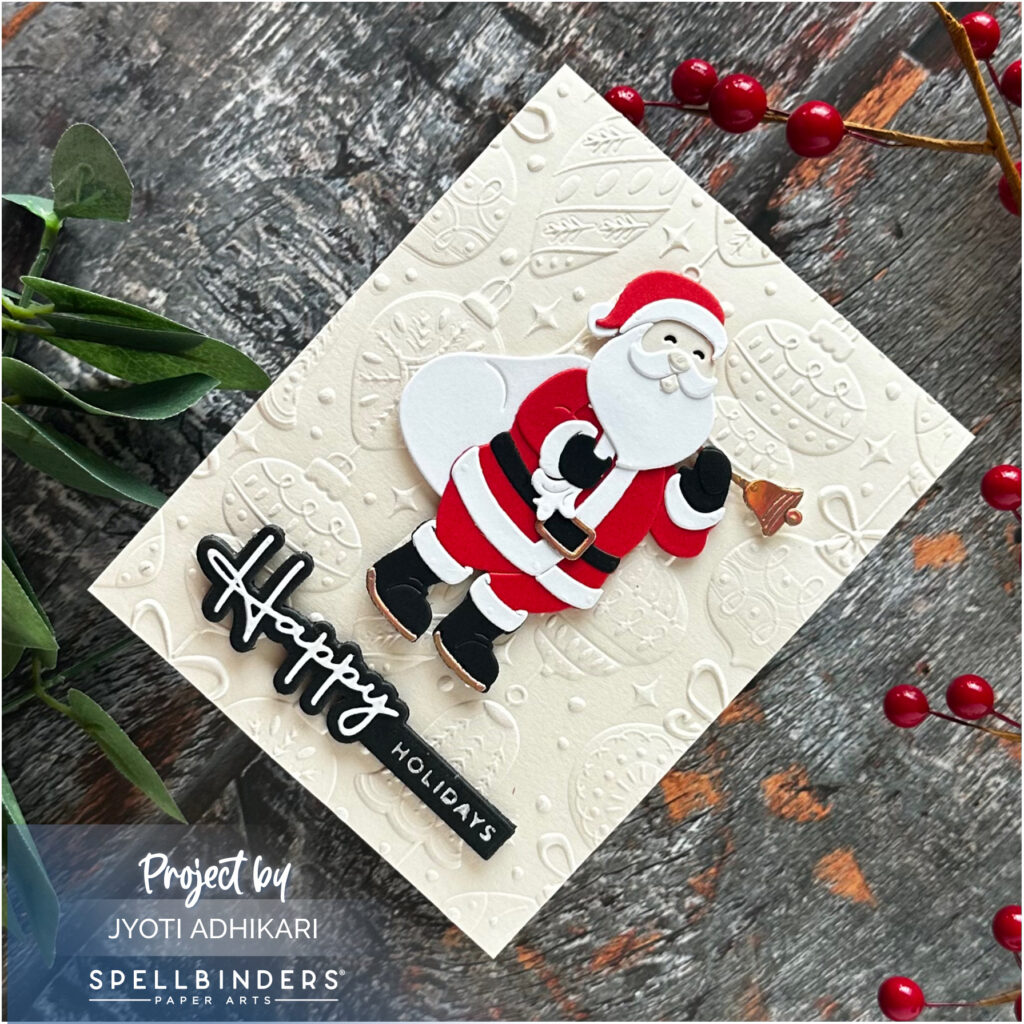 Embossed Elegance
To create an elegant backdrop, I used Spellbinders' VINTAGE ORNAMENTS 3D EMBOSSING FOLDER on a panel of BARELY PEACH card-stock. The result is a mesmerizing textured and dimensional.
Glimmering Sentiments
For the sentiments, I used CHRISTMAS DIE AND GLIMMER SENTIMENTS HOT FOIL PLATE AND DIE SET. This set has dies for Christmas words and foiled sentiment to go with it. I used "Happy Holidays" and silver speckled holographic hot foil, on black and die cut the word happy with white card-stock to add a touch of uniqueness to my greetings.
Bringing It All Together
Assembling the card is a breeze. I placed Santa at the center of the card and nestled the "Happy Holidays" sentiment underneath, creating a visually pleasing arrangement that radiates joy and warmth.
Card 2: A Golden Vignette of Holiday Spirits
For our second card, we are focusing on a captivating background that exudes the holiday spirit. Let's see how we can create this enchanting piece: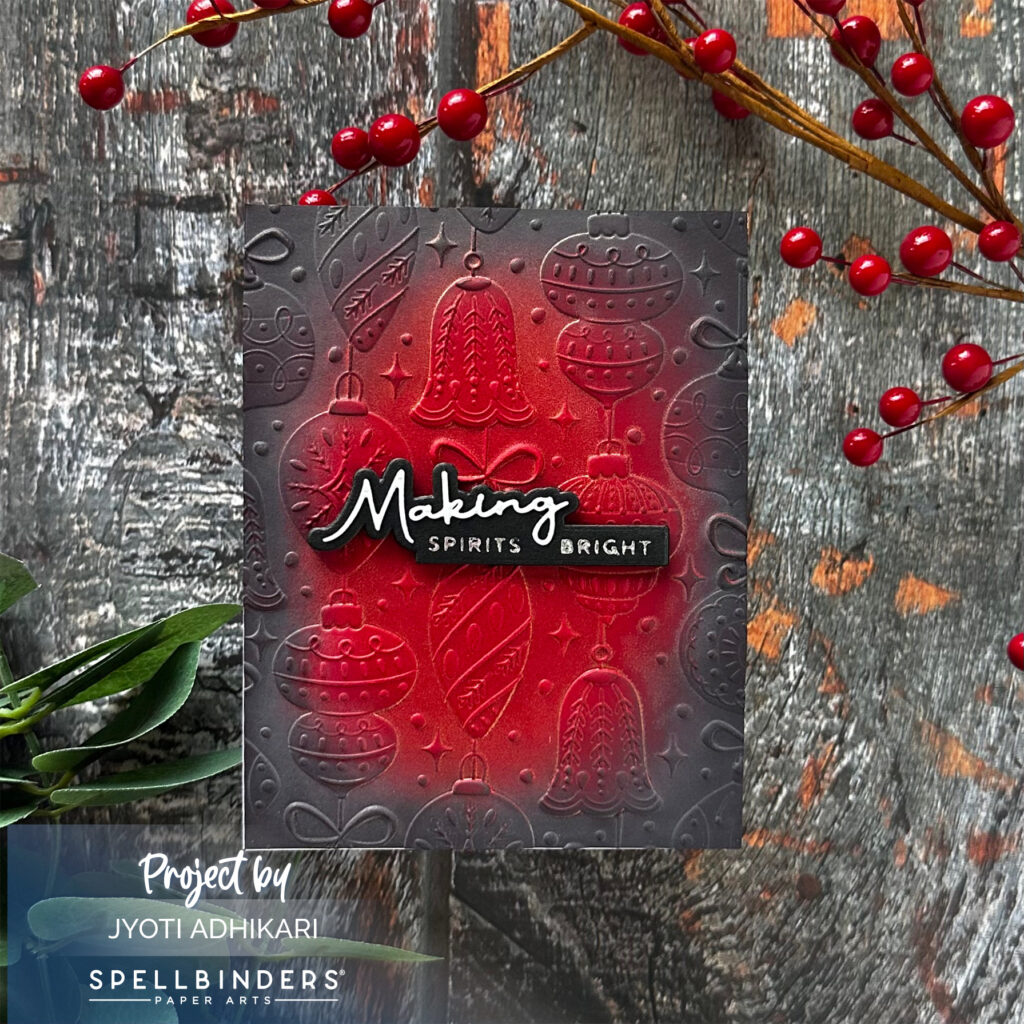 Gold-Touched Embossing
Using a red card-stock panel, I employed Spellbinders' stunning VINTAGE ORNAMENTS 3D EMBOSSING FOLDER and added a touch of gold ink on its flat surface of the embossing folder before sending it through my die-cutting machine. The result is a beautifully embossed panel with debossed parts that shimmer with golden allure.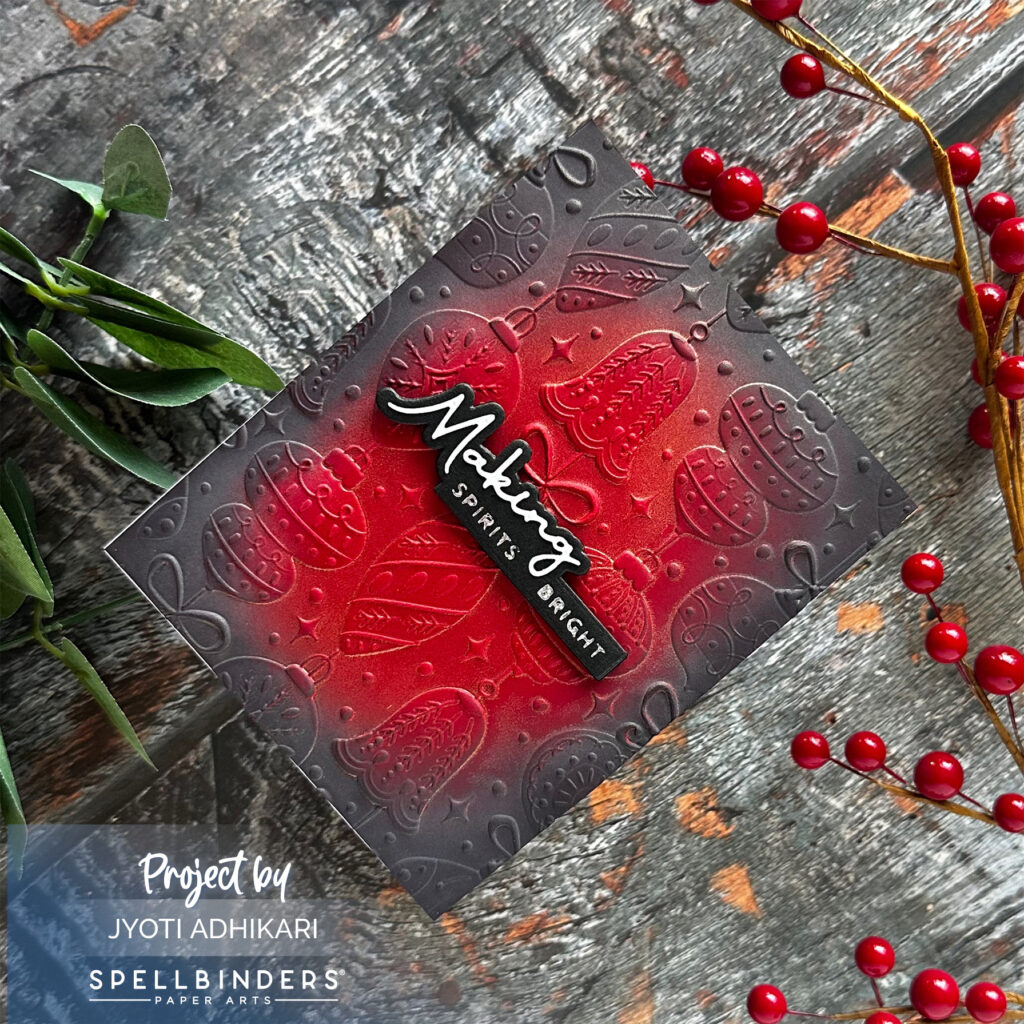 Vignette Ink-Blended Edge
To enhance the festive atmosphere, I ink-blended the edges of the embossed panel with black soot distress oxide ink, creating a delightful vignette effect that draws the eye towards the center.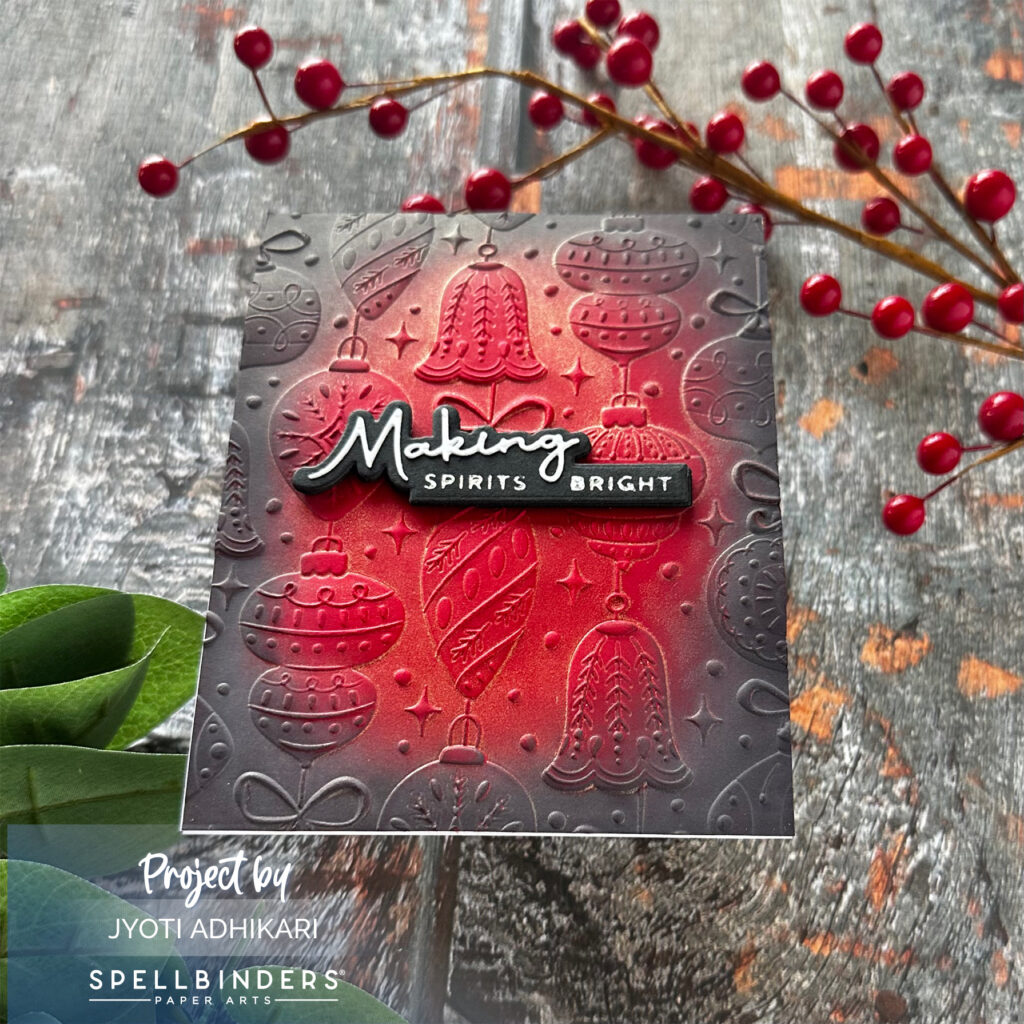 Sentiments in Spotlight
For our sentiment, I turned to Spellbinders' CHRISTMAS DIE AND GLIMMER SENTIMENTS HOT FOIL PLATE AND DIE SET and added the heartwarming phrase, "Making Spirits Bright." To add dimension, I backed it with black fun foam die cut making it pop against the background.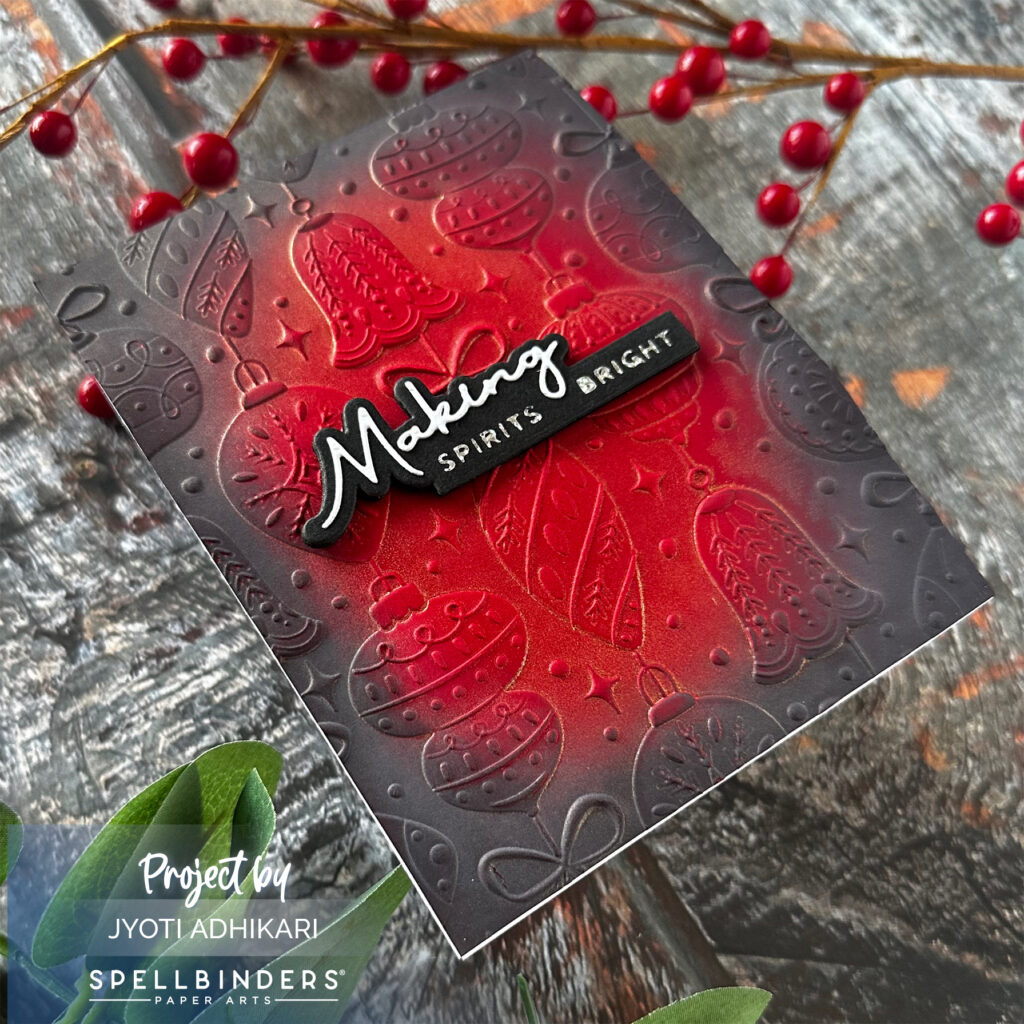 There you have it, fellow crafters – two delightful holiday cards crafted with love using Spellbinders' marvelous products. Whether you opt for the jolly Santa centerpiece or the captivating golden vignette, these cards are sure to fill hearts with holiday cheer and warm wishes. Let your creativity shine bright this season with Spellbinders, and spread the joy of handmade cards to your cherished ones.
Remember, the magic of crafting lies in the love and effort we put into each piece, making them unique and special. So, grab your Spellbinders supplies, embrace your creativity, and let the holiday spirit guide your crafting journey. Happy holidays, and may your cards bring smiles that light up the season!
Disclaimer: This blog post contains affiliate links. As an influencer, I may earn a small commission from qualifying purchases made through these links. Your support helps me continue to create delightful content and share the joy of crafting with all of you.
Hugs,