Hello there, friends! Today, I'm thrilled to showcase a delightful creation featuring the fabulous HOT DIGGITY DOG STAMP AND DIE SET which is 2023 June Collection by Simon Hurley. If you're a fan of adorable dog images and clever sentiments, this stamp set is an absolute must-have for your card making collection. Join me as we explore the process behind this whimsical card that is sure to bring a smile to anyone's face!
Stamping And Coloring
"Is it just me, or do you find yourself doing the same? Whenever I acquire a new stamp set, my natural instinct is to immediately stamp and color the images before even considering the card design. That's exactly what happened with these delightful dog images. I carefully stamped three charming canines and embarked on an exciting coloring adventure using COPIC markers. For the top dog, I decided on a warm beige color scheme, employing shades of W5, W2, and W00. The middle pug came to life with a combination of E71, E74, and W2 hues. Lastly, the brown dog at the bottom was colored with the rich tones of E39, E34, and E11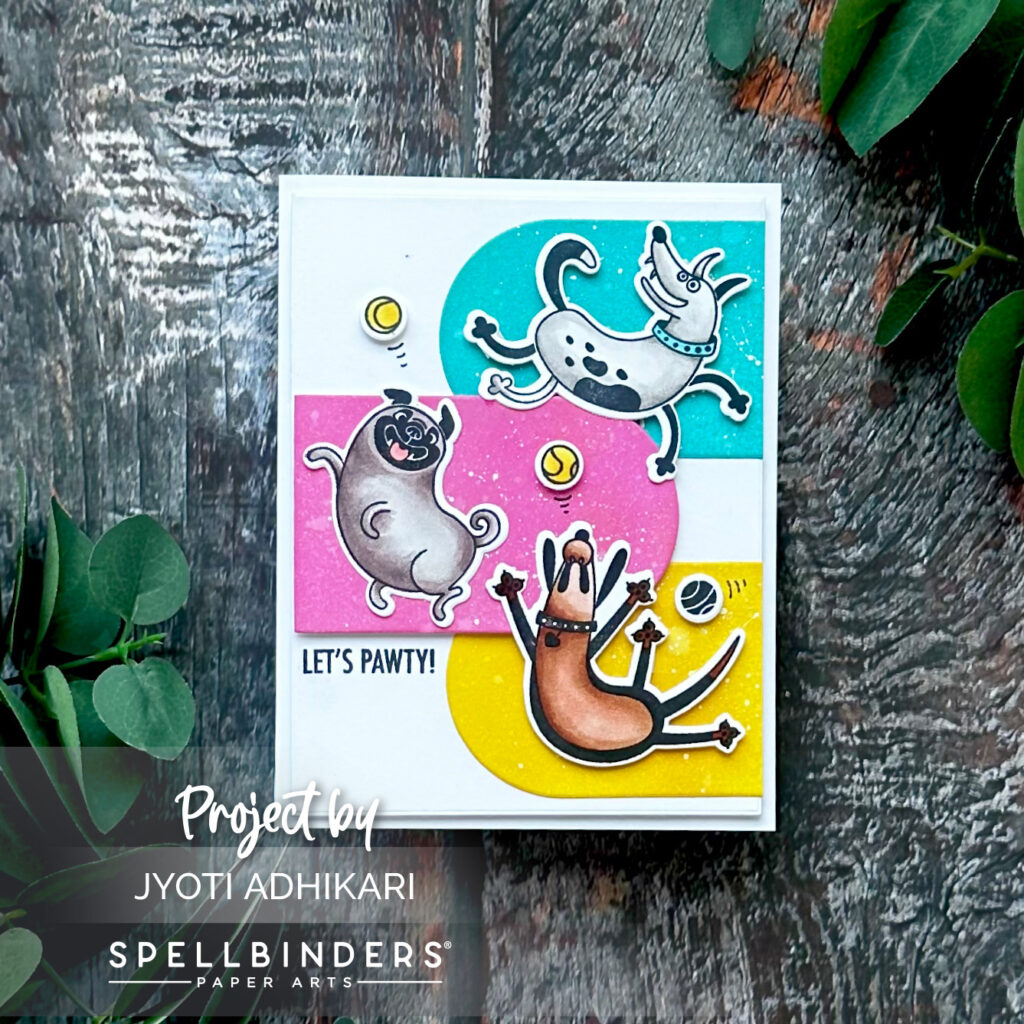 Die Cutting The Images
After completing the coloring process, I used the coordinating dies to cut out the three charming canines. Additionally, I stamped and colored some of the delightful tiny ball images and also cut them out using the coordinating dies. These playful balls served as whimsical embellishments, adding an extra touch of fun to the overall design. While I had my hands on the die cutting machine I also cut three small arches out of white card-stock using ESSENTIAL ARCHES DIE SET.
Creating Colorful Background
For the background of this lively card, I took the three arch-shaped pieces and ink blended vibrant colors of Distress Oxide inks. The top arch was adorned with the enchanting Peacock Feathers, while the middle arch boasted a lovely Picked Raspberry hue. Lastly, the bottom arch radiated a cheerful Mustard Seed yellow. I elevated the visual appeal by spritzing each background with water and adding delicate white splatters, creating an element of captivating texture.
Picking A Sentiment And Placement
To tie the entire card together, I strategically stamped the sentiment "LET'S PAWTY" underneath the area where the pink arch is intended to be placed on the background.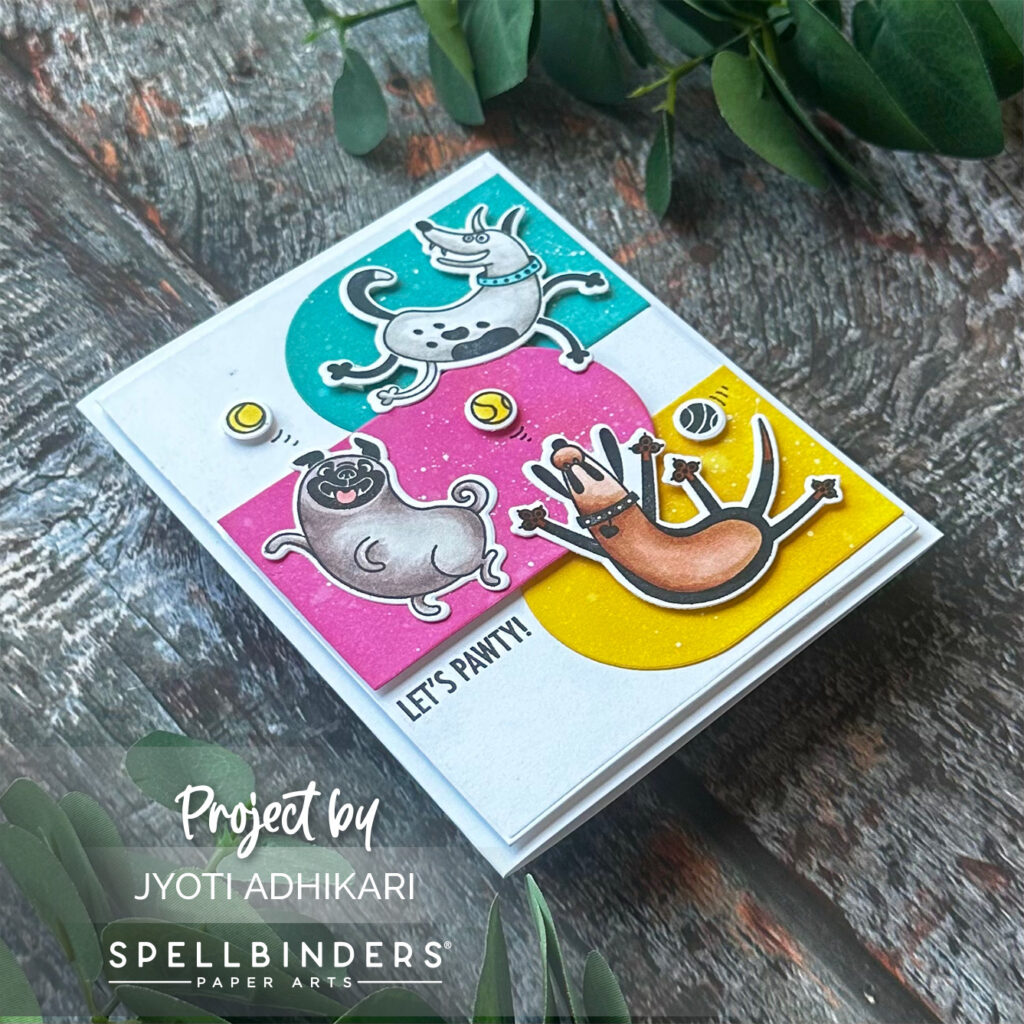 Final Assembly
Now here comes the assembly. I selected a white panel slightly smaller than an A2 card size. I carefully goued the blue and yellow arched die-cuts on the right top and bottom, while the pink arch took its place on the left-middle section with the help of foam tape for added dimension. The charming dog images were then placed on each of the arched die-cuts, and the playful balls were scattered around to achieve a balanced and lively composition. I then added this whole panel on to an A2 card-base.
And voila! My hot diggity dog card is complete. The combination of the adorable dog images, vibrant colors, and clever sentiment truly brings this card to life. Whether you're looking to brighten someone's day, commemorate a special occasion, or simply indulge in the joy of card making, this creation is guaranteed to be a hit.
I hope this card has inspired you to explore the endless possibilities of the "Hot Diggity Dog" stamp set and to embark on your own creative journey. Remember, every card you make is a unique piece of art, crafted with love and care. So go ahead, unleash your creativity, and let the dogs of joy run free in your card making adventures!
Until next time, happy crafting!
Hugs,