Garden Club Collection dies from Spellbinders designed by Susan Teirney-Cockburn is just magical and a must have in your craft room.
Hello everyone!
As you all know, I love die cutting and especially die cut flowers, which is why I have been absolutely obsessed with Susan's wonderful dimensional flowers.
Let's begin!
FIRST CARD
The first card I'm showcasing today is this beautiful birthday card. I've used the Oriental Lily and Wellies die set from the Garden Club collection by Susan Tierney-Cockburn. Of course I had to watch Susan's how to videos a couple of times before even attempting to create these cards. So, I highly recommend watching her very detailed tutorials yourself so that you can create beautiful cards just like these.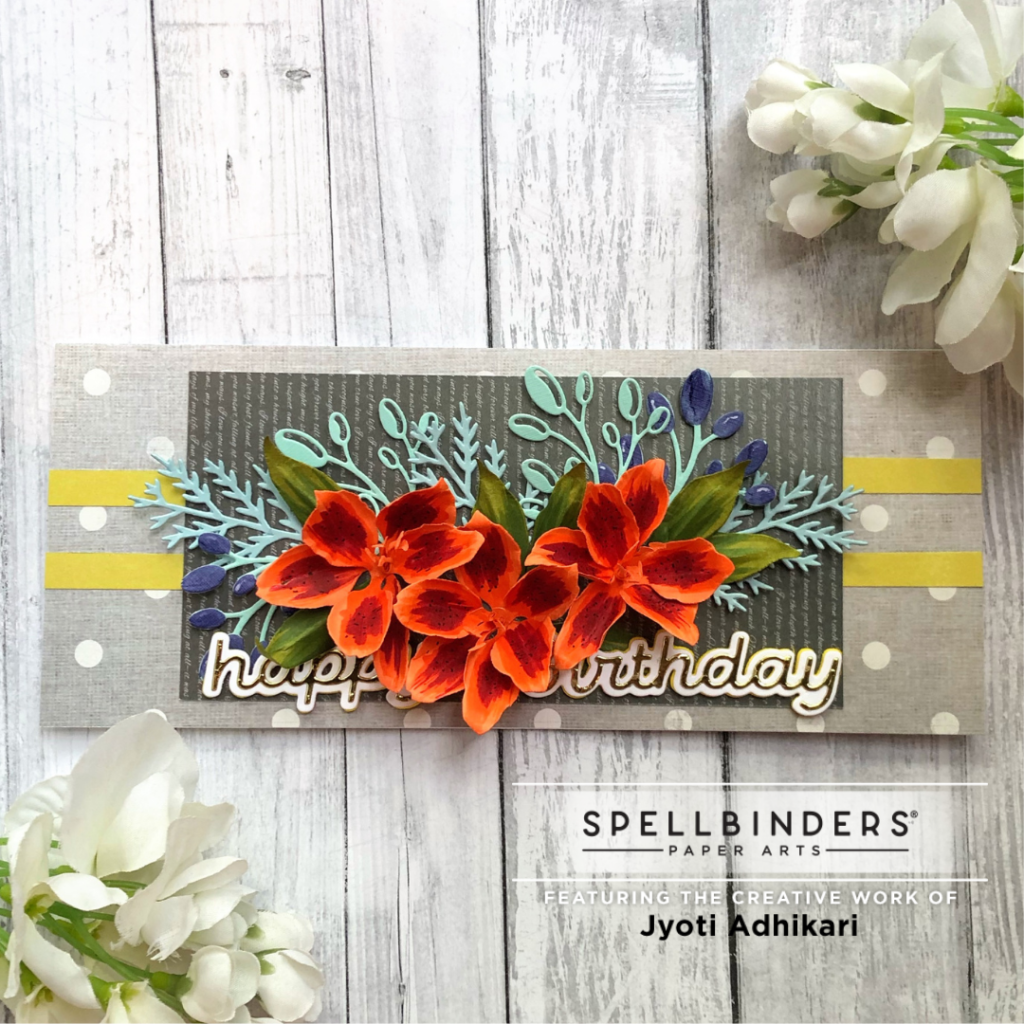 I started by diecutting a bunch of floral pieces with orange card stock and the leaves with olive green card stock. What I found out was that 60 lb cardstock works better than the thicker card stock as you can shape them more easily with the ball stylus.
Then, I added some detail on the die cut pieces using copic markers by creating darker shades of orange in the middle of the petals and some dots with black multi-liner pen.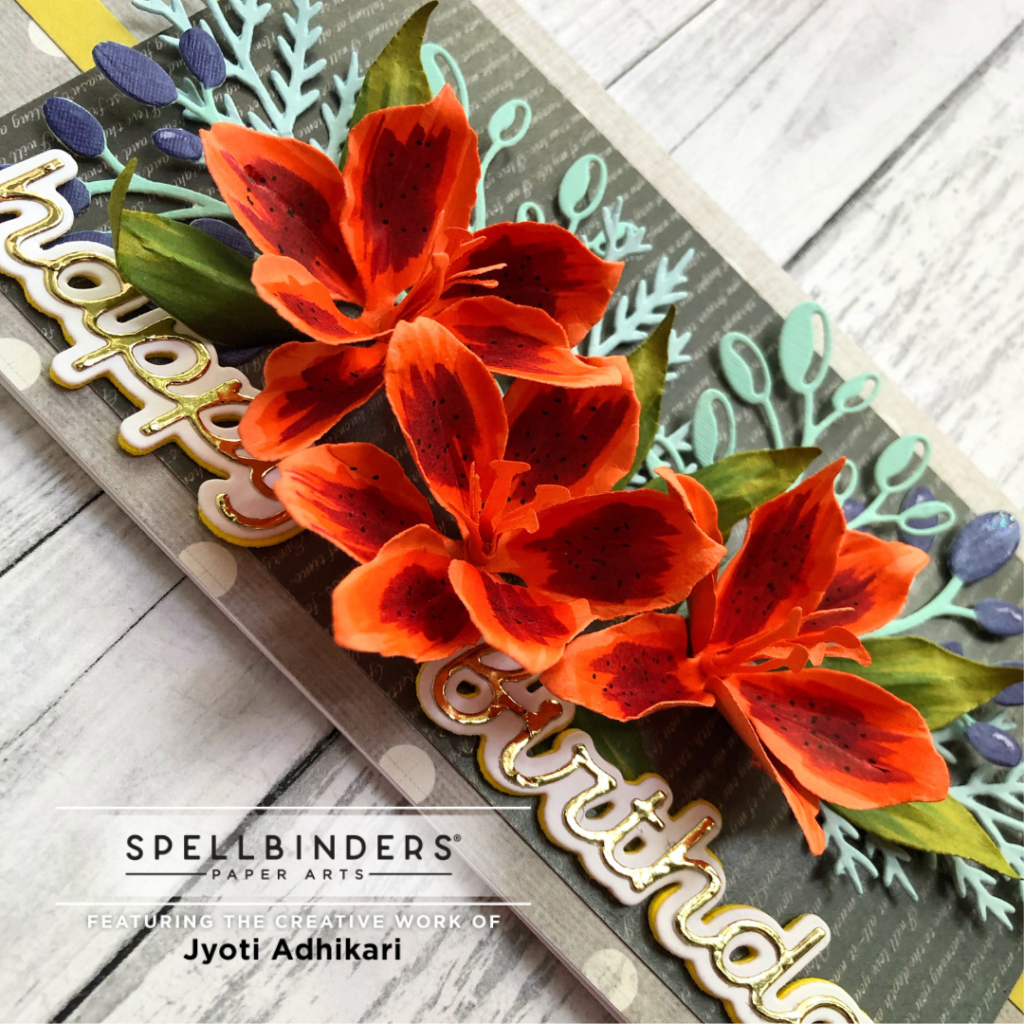 Shaping these flowers was probably the most tedious part of this process, but also the most fun! Again, I followed the instructions by Susan on her YouTube videos.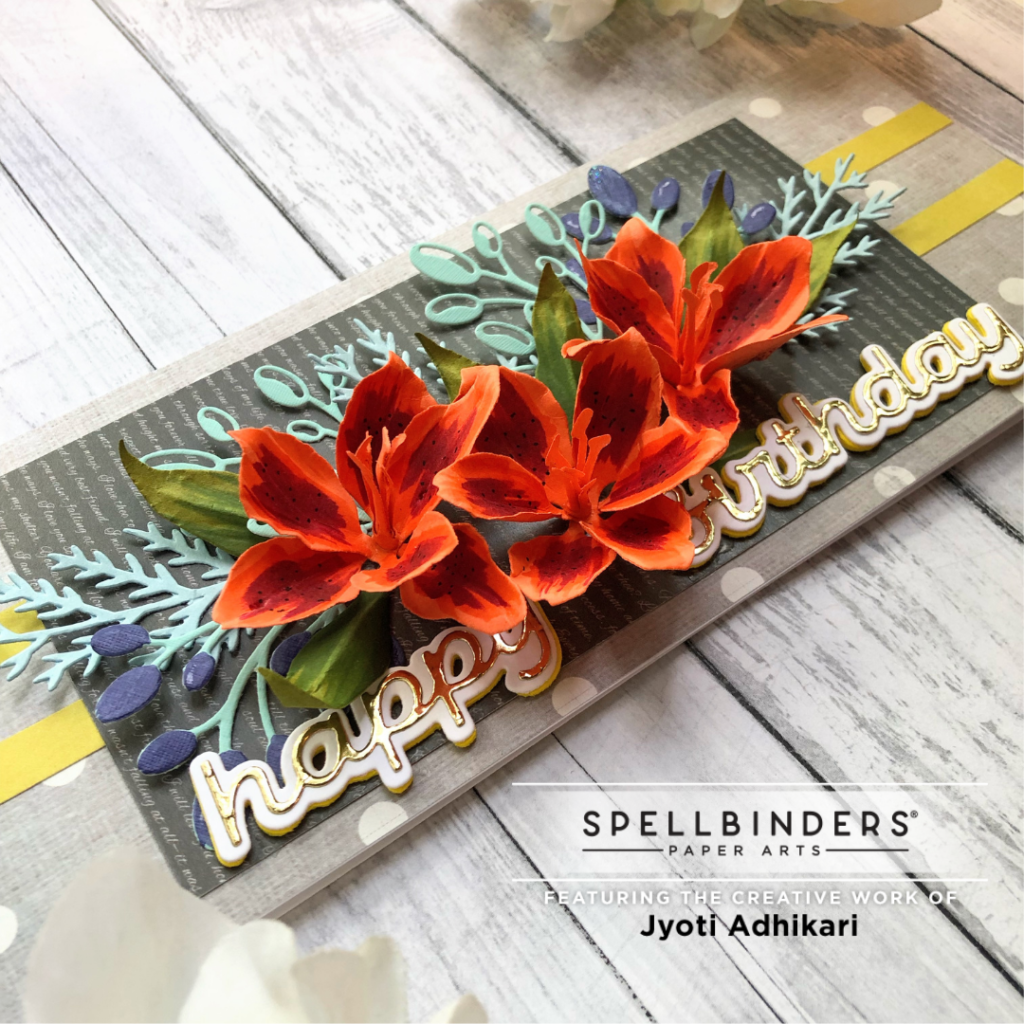 For the background, I decided to use pattern papers in gray and yellow combination as I knew it would complement my bright orange flower very well. The flowers and leaves were then arranged in a cluster. To add texture, I also added some extra foliage behind my floral cluster using two shades of the pale blue card stocks.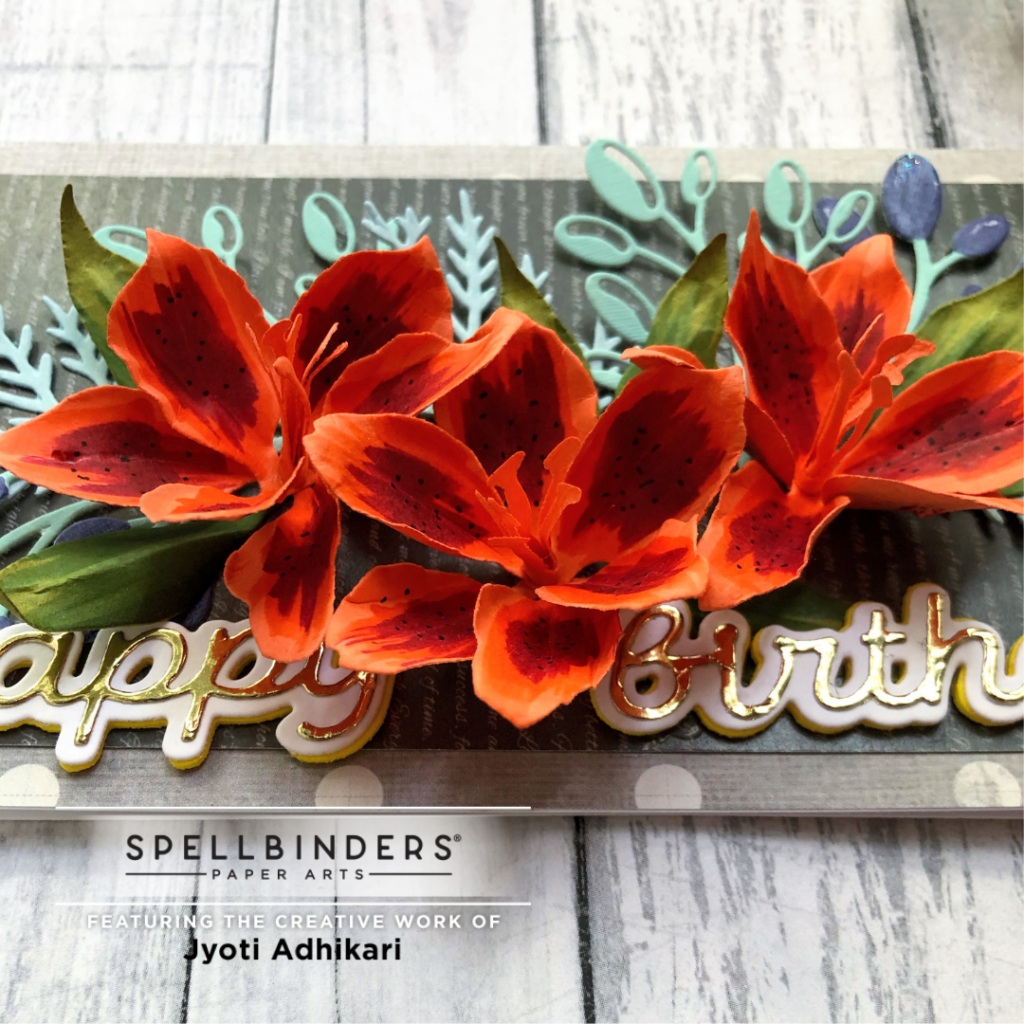 Lastly, it was time to add a sentiment. I wanted to use the small die of the month for September 2021 from Spellbinders which has a bunch of beautiful sentiments with shadow layers. For this card, I used a birthday sentiment.

SECOND CARD
For my second card I used another die set from this collection called Hybrid Tea Rose and Tea Pot, also by Susan.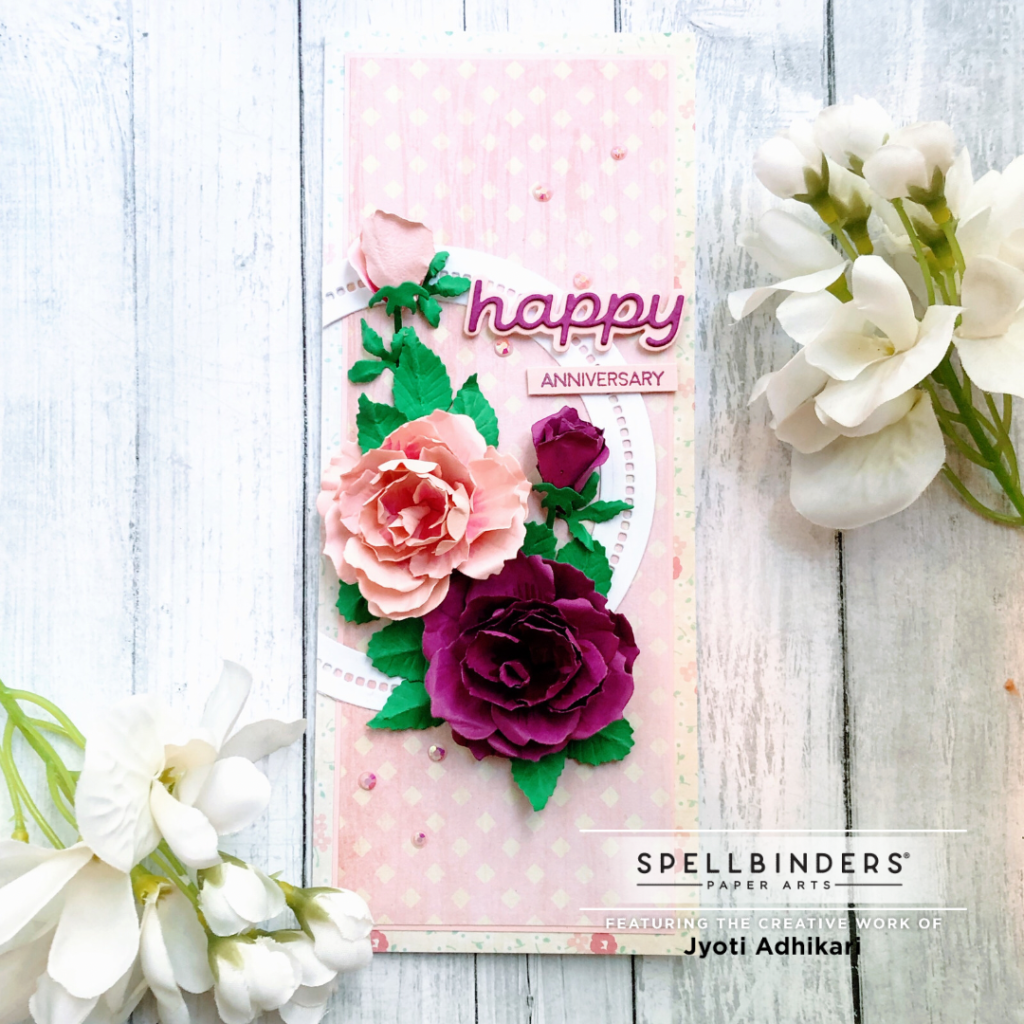 For this card, I started by cutting the flower petals with pink and dark pink card stock and the leaves with dark green card stock. To add a little detail and depth inside the petals, I used copic markers. Then, I went ahead with shaping the flowers with the help of some tools and of course the video instructions by Susan.
I created a 8 1/2 x 3 1/2" card base with white card stock and added some layers of pattern paper. The circle frame that you see in the background was cut with the Hemstitch Circle Die from Spellbinders. Then I arranged my flowers in front of the card.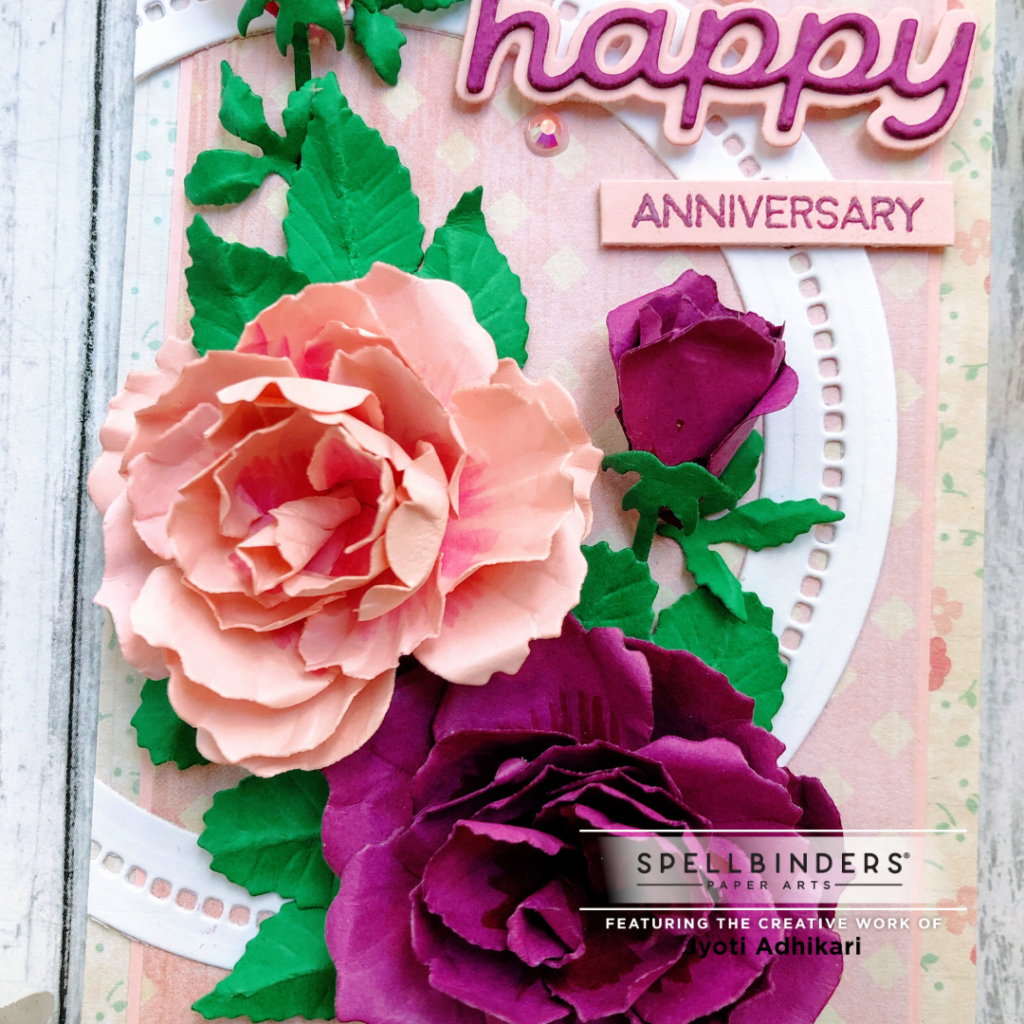 For the sentiment I used the word happy from the small die of the month for September 2021. I used the same pink and dark pink card stock. And then I I embossed a word anniversary from an old stamp set from Spellbinders. Added the sentiment strip below the word happy to complete the sentiment.
As a finishing touch I added some pink gems in the group of threes across the card.

THIRD CARD
The third card features the Geranium and Antique wooden bucket die set from this collection .
This card I found was the most tedious as it has a bunch of small flowers and hence included a lot of die-cutting and shaping of the petals. But how this turned out is just amazing.
Since. I remembered finding the dark red geraniums mesmerizing . So. I started by die-cutting a bunch of dark red petals and some green leaves. Went ahead and added some shading on the edge of the leaves using red distress oxide ink.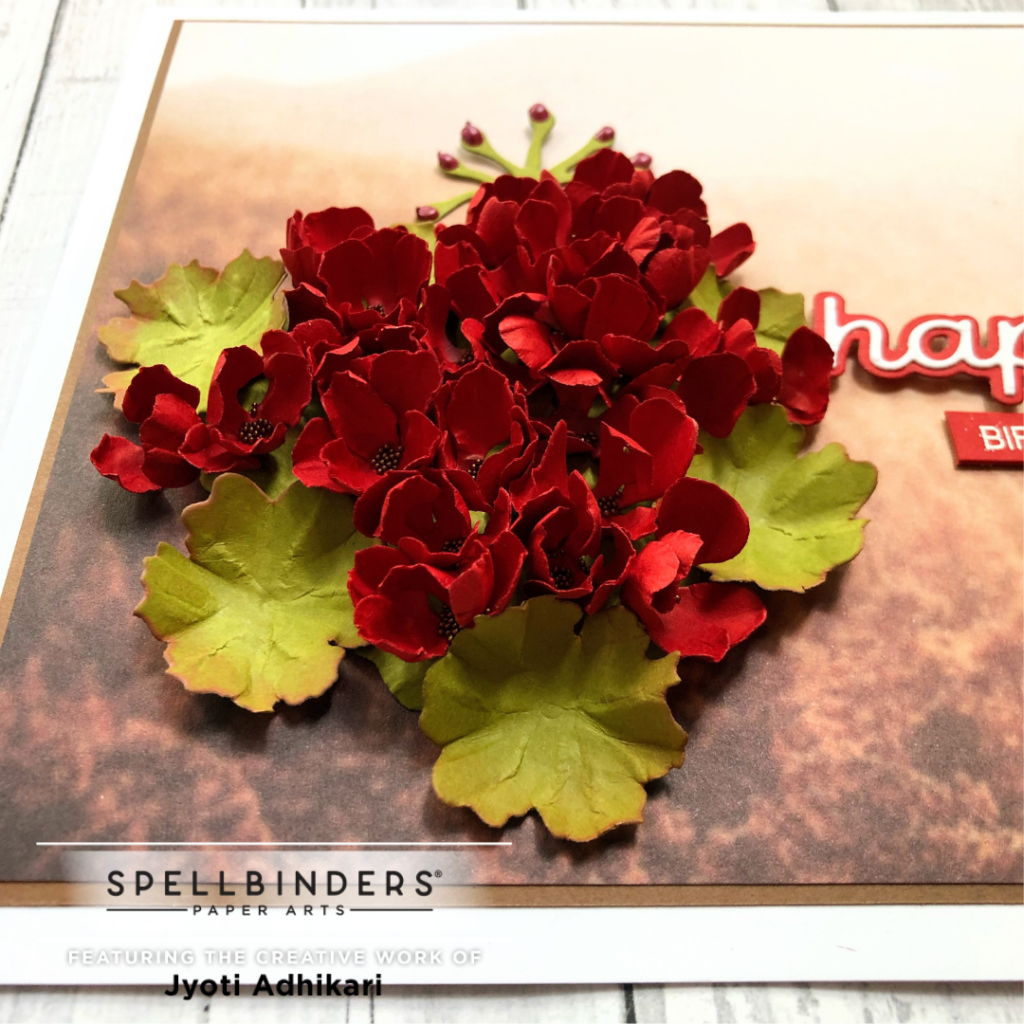 I created a 6 x 6" top folding card base with a 5 1/2 x 5 1/2 piece of pattern paper matted with brown card stock. I then started arranging my flower petals on the bottom left side of my card front.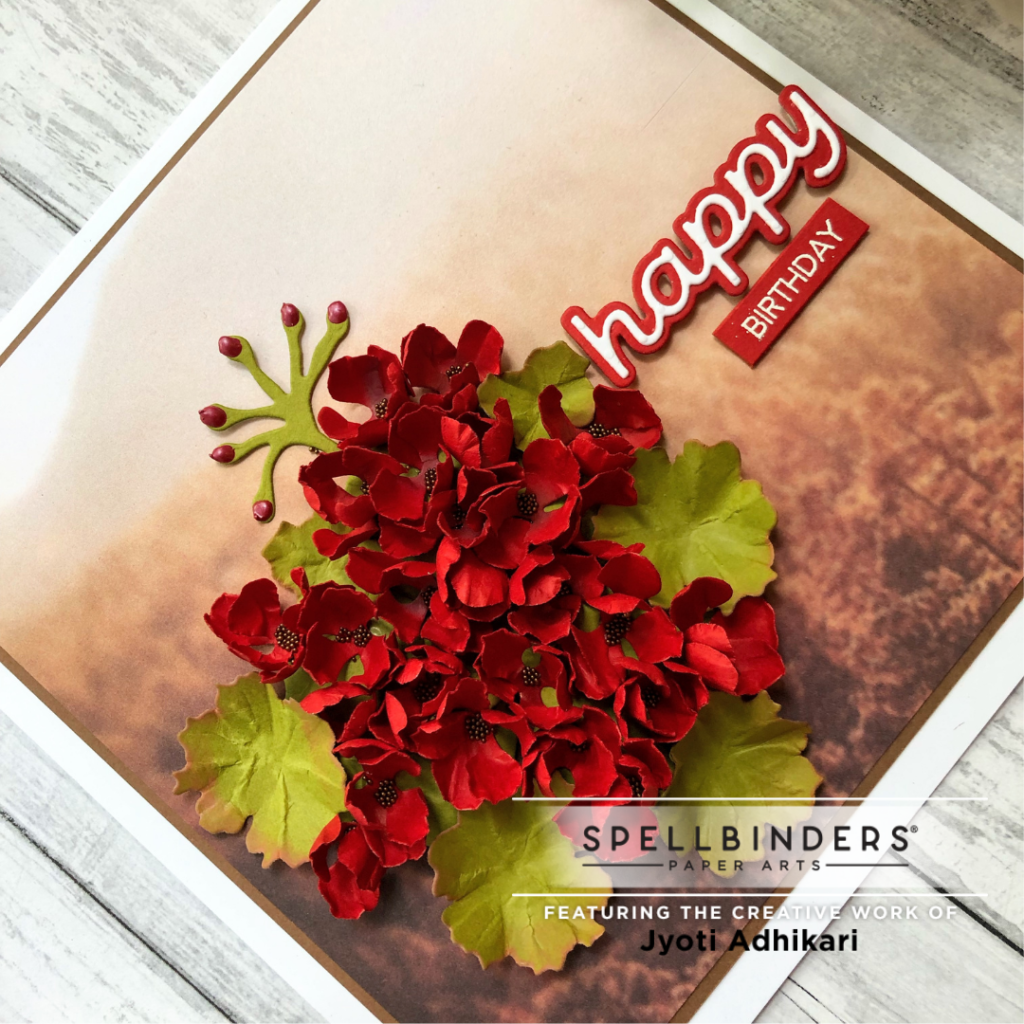 Now I needed a sentiiment. I created red and white happy die cut and a stamped and embossed birthday sentiment underneath to complete the sentiment. For the stamens I glued some tiny beads in the middle of the flowers.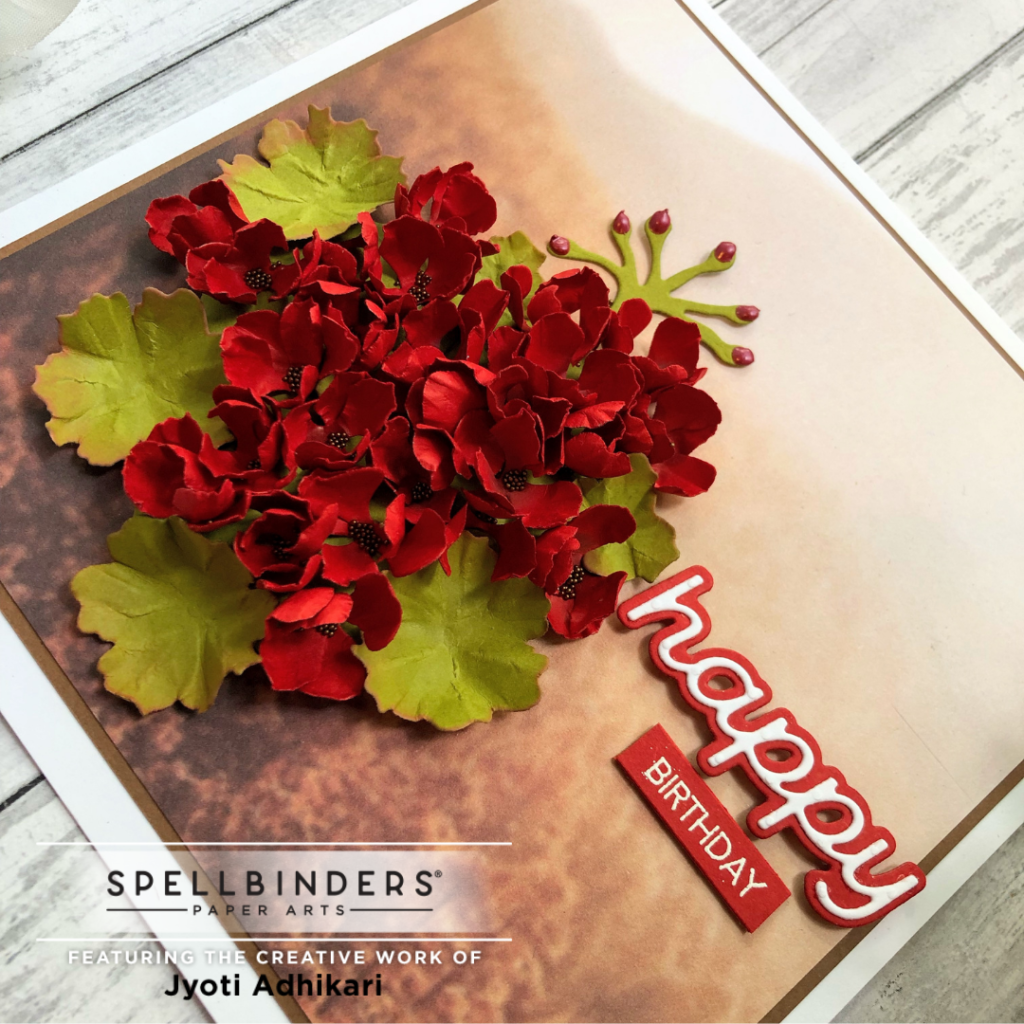 I think this card turned out so beautiful even without any extra embellishments.
I hope I was able to inspire you to use these dies and create beautiful cards like these.
In the past also I have created some cards using Susan's dies. Don't forget to check them out .
Hugs,
Jyoti