As autumn paints the world with warm hues and falling leaves, my crafting journey takes a melodic turn with the AUTUMN SERENADE 3D EMBOSSING FOLDER. This stunning 3D embossing folder promises a serenade of its own with intricate fall leaves and captivating dimension. In this blog post, I invite you to join me in creating a card that captures the essence of this vibrant season. From embossing to metallic magic, let's embark on this creative adventure together.
Harmony in Embossing: Setting the Stage
This crafting symphony commences with a piece of white card-stock, a blank canvas waiting to be filled with the song of autumn. I carefully aligned the embossing folder's circle towards the top right of the panel, setting the stage for a beautiful visual melody.
Colors of Autumn: A Shimmering Overture
The leaves on the embossed canvas were the keynotes, and they deserved a dazzling performance. To bring them to life, I turned to a palette of metallic iridescent watercolors in warm shades. Bronze, gold, reds, and pinks danced across the leaves, creating a shimmering overture that celebrated the splendor of fall.
I didn't stop there; the embossed part of the circle received the same colorful treatment, adding an extra layer of brilliance to the composition.
The Sentiment: A Chorus of "Hello Fall"
Every song needs lyrics, and for this card, the sentiment took the stage. Using an old die set, I carefully cut out "hello fall" from bronze card-stock, infusing the greeting with a warm, inviting tone.
To complement the sentiment, I die-cut a smaller circle from white card-stock using a circle die. A stroke of pink color gave it the right harmony, and it found its place on the circle of the embossed panel. The sentiment was then added with foam tape on the pink circle die cut, creating a perfect chorus of colors and words.
The Grand Finale: A Card of Impact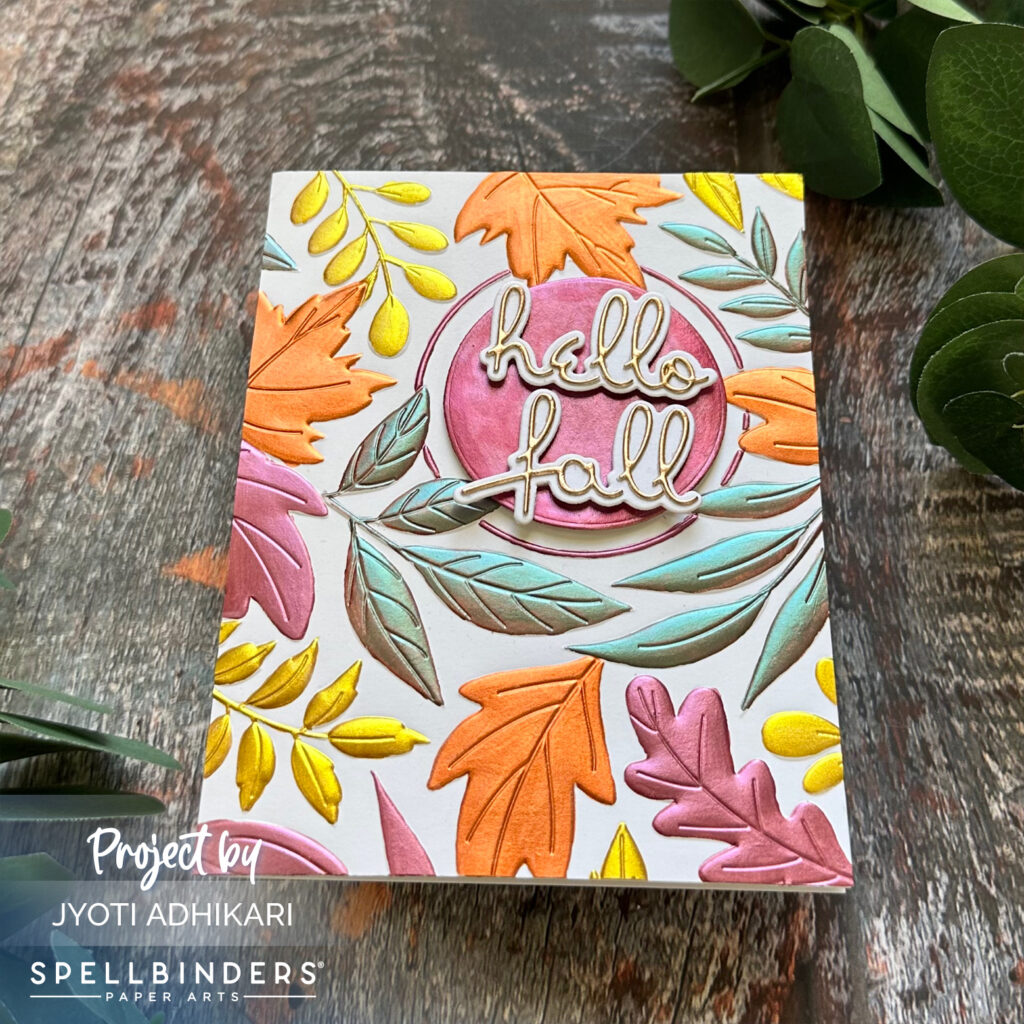 With its vibrant metallic colors and the stunning embossed background, this card needed no embellishments. The simplicity of the design allowed the impactful colors and textures to take center stage, making it a true ode to the season.
Finally, this harmonious creation was mounted on an A2 card base, marking the grand finale of our autumn serenade.
And there you have it—a card that captures the essence of fall with shimmering metallic hues, a chorus of "hello fall," and an embossed background that sings of the season. Autumn has never looked so captivating. 🍁🍂✨
Hugs,