I had never created any book themed cards specially cards for book lovers until I saw this new release from Waffle Flowers Crafts which is all about books and book lovers. I have quite a few book lovers in my family and these would be perfect for them.
Hello everyone!
Today I am sharing 4 cards I created using some of the latest released dies from Waffle Flowers.
Book Lovers Birthday Card
Here is my first card.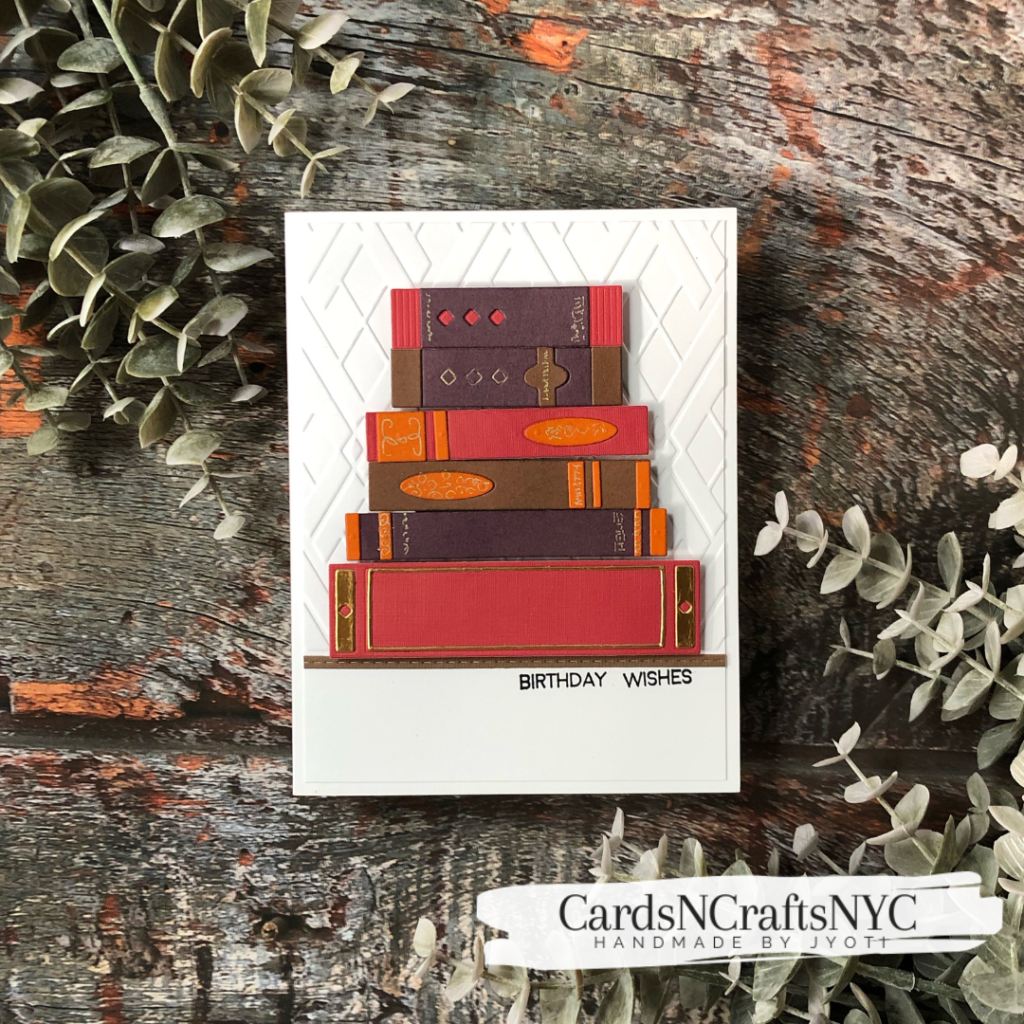 My first card features the CLASSIC BOOK DIE SET.
This one is a birthday card. It is just so easy to create this once you die-cut all the pieces in your choice of color combination. I used red, purple, orange and brown. After I assembled the die-cuts to create these books, I arranged them in a stack and added them on my panel with foam tape. I used the Spellbinders Argyle socks embossing folder and partially embossed my 4 inches by 5 and a quarter inches panel leaving an inch in the bottom to stamp my sentiment. For the sentiment I just used one from my stash.
Book Lovers Thanks Card
Here's my second card: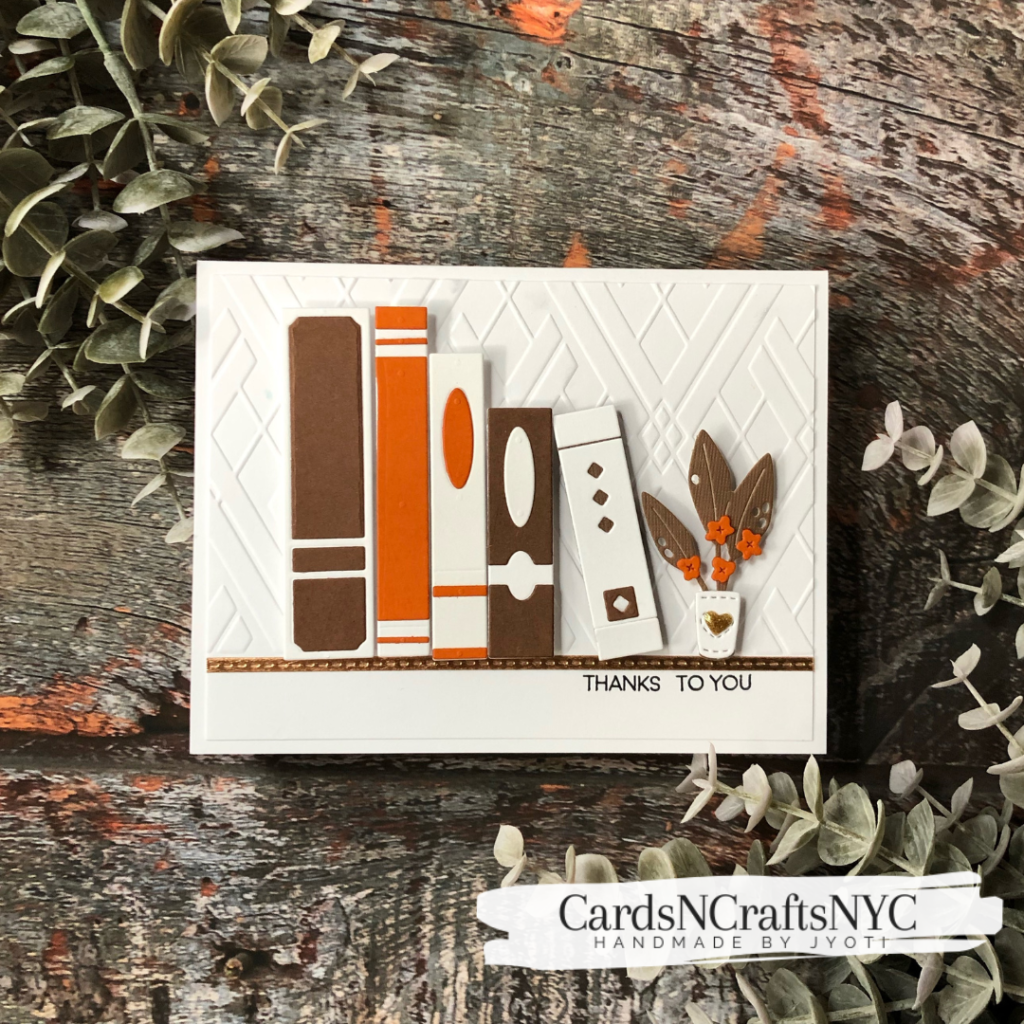 This card also features the CLASSIC BOOK DIE SET. The only difference is that the books are arranged in a vertical stack. I used white, brown and orange for the books. The little plant pot on the side is created using the SHELVES ADDITION DIE SET.
I love the elements on this die set. They are just so adorable. Specially the basket and the boxes. But I only used one of the plant pots in this card.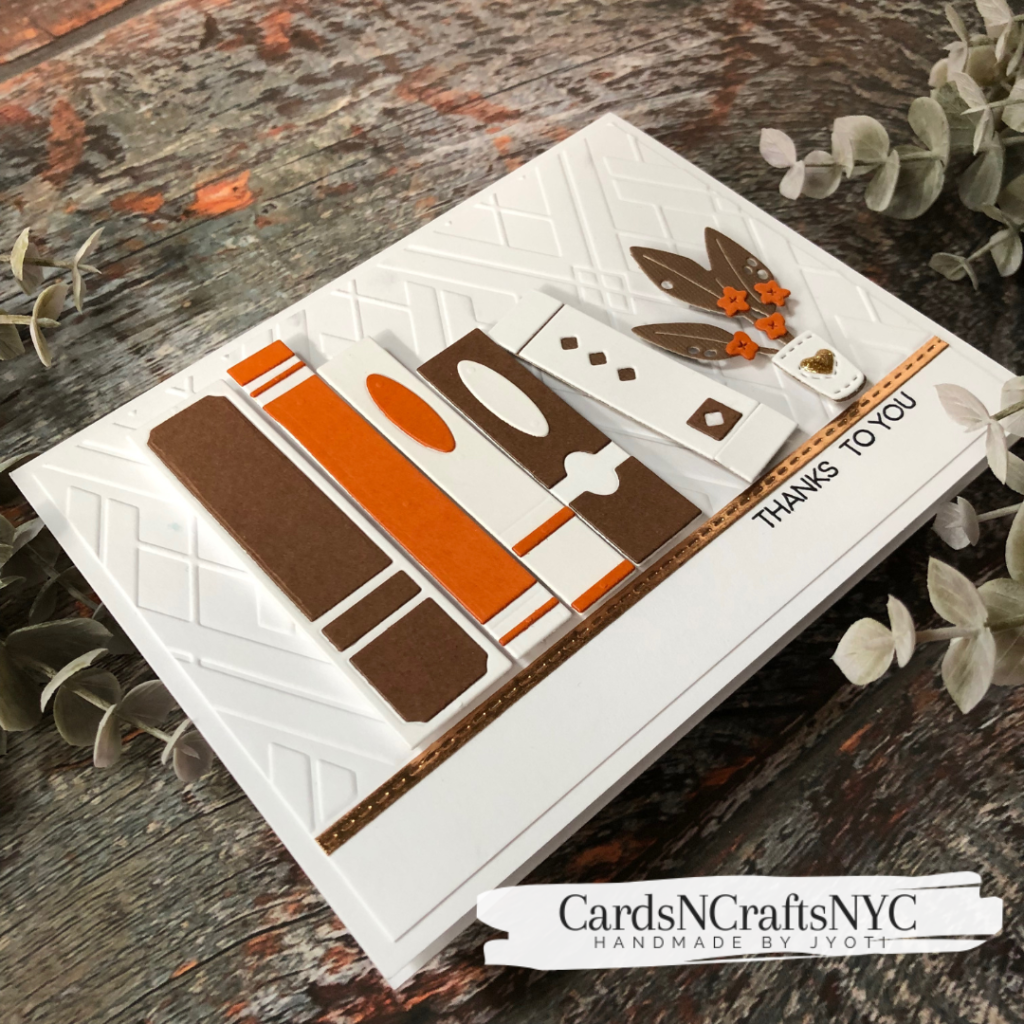 Book Lovers You Inspire Me Card
My third card mainly features the SHELVES ADDITION DIE SET and its cute elements and also the SHELVES DIE SET.
Here's my card: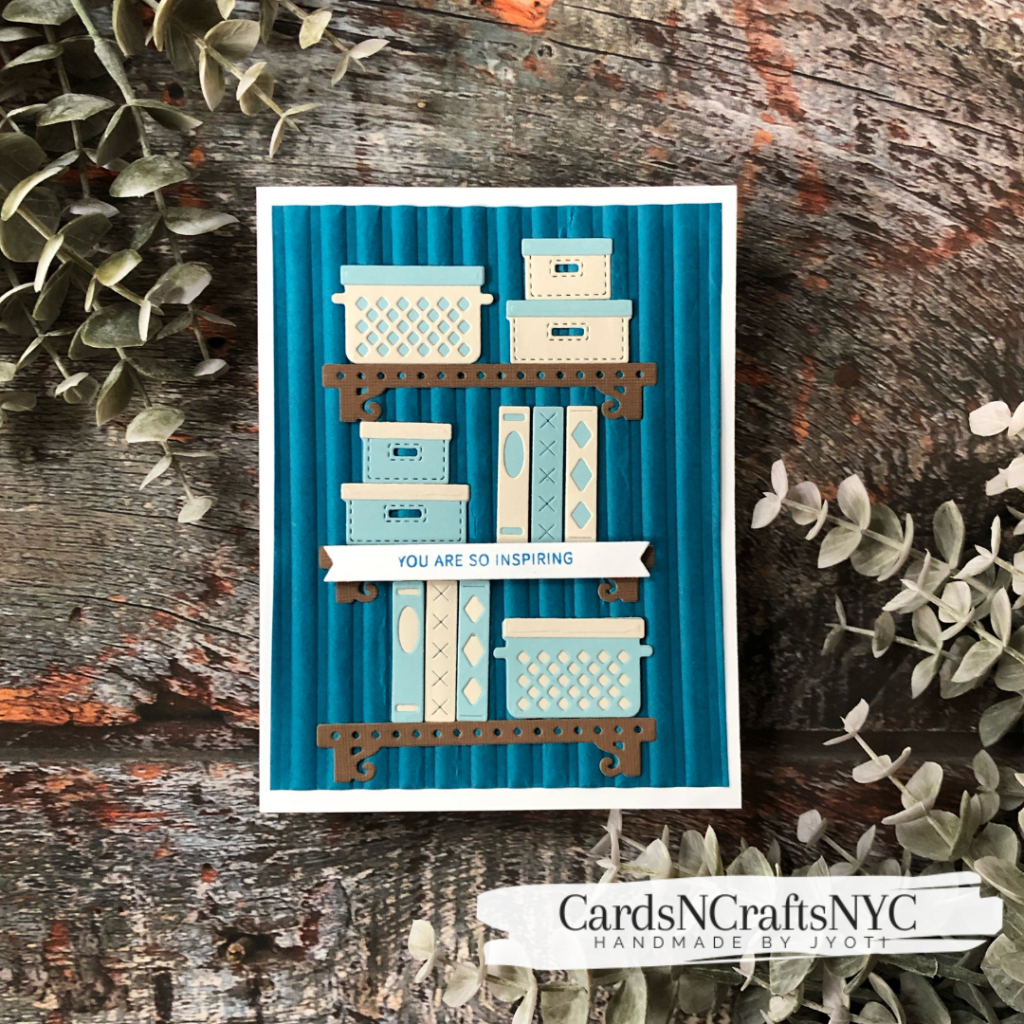 I really love this color combination. Light blue, cream, brown and dark blue. Don't you find this combination so peaceful? I created the embossed background by using Spellbinders Corrugated 3D Embossing Folder. Then I die cut the shelves in brown and the books, baskets, and boxes in a cream and blue combination. The shelves and the items were added on with liquid glue.
The arrangement reminded me of an organized crafter's craft room. So I picked the sentiment that said "You are so inspiring" from my stash.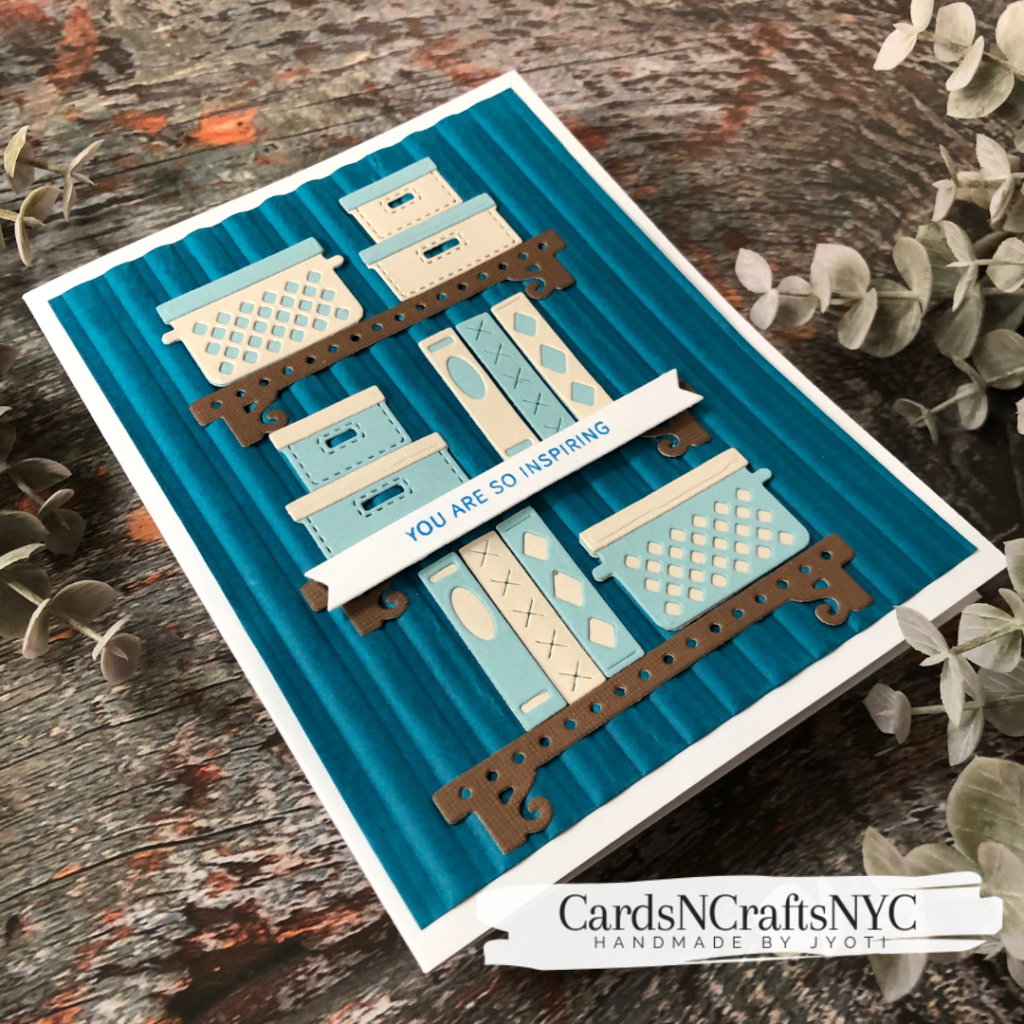 Book Lovers Have A Fabulous Day Card
I didn't stop there. One card inspired me to create another and my creative mojo was on the flow. Here is the 4th card I created: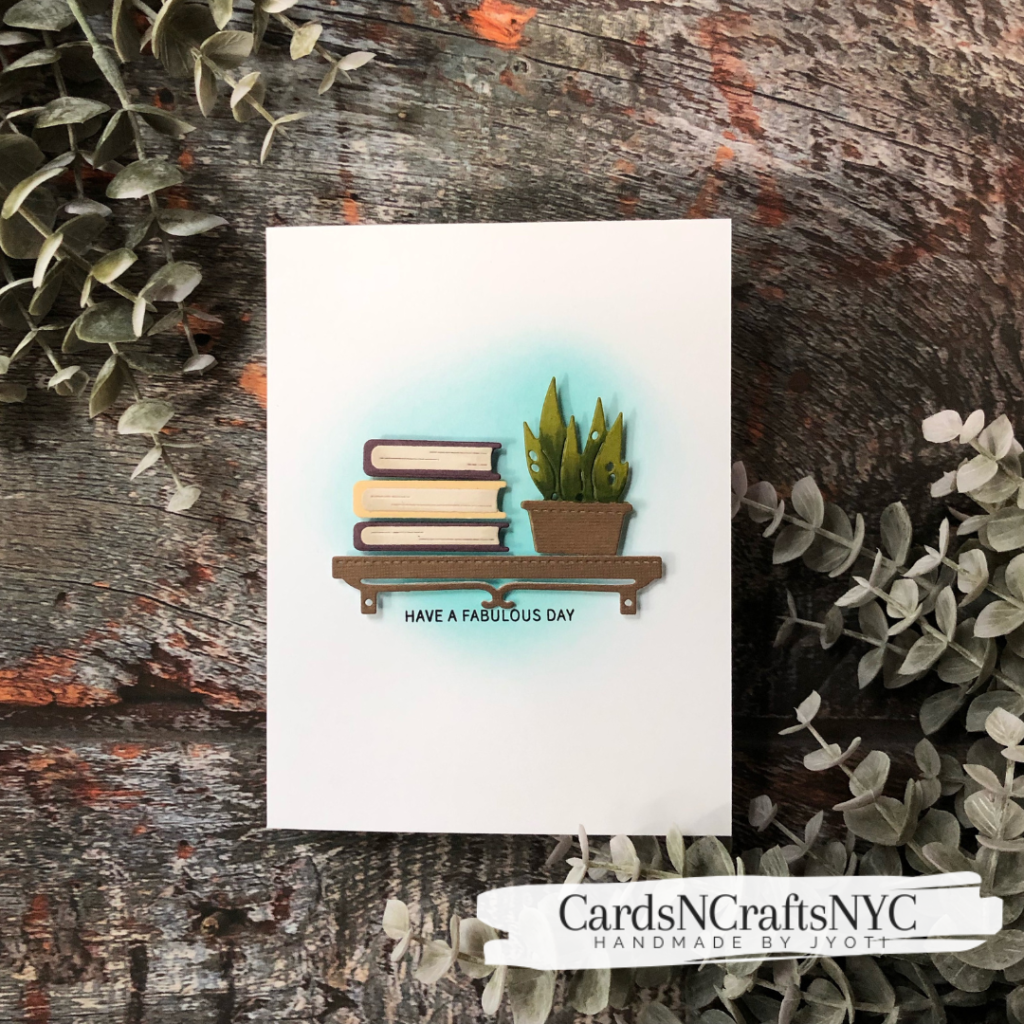 The books on the shelf are from another die set called LAYERED BOOKS DIE SET.
Isn't it too cute? I just ink blended directly on the card-base and added the elements: just a shelf, one of the flower pots and these three books. The stamp is from my stash. As simple as it is this one is my favorite of all the four cards I have created today.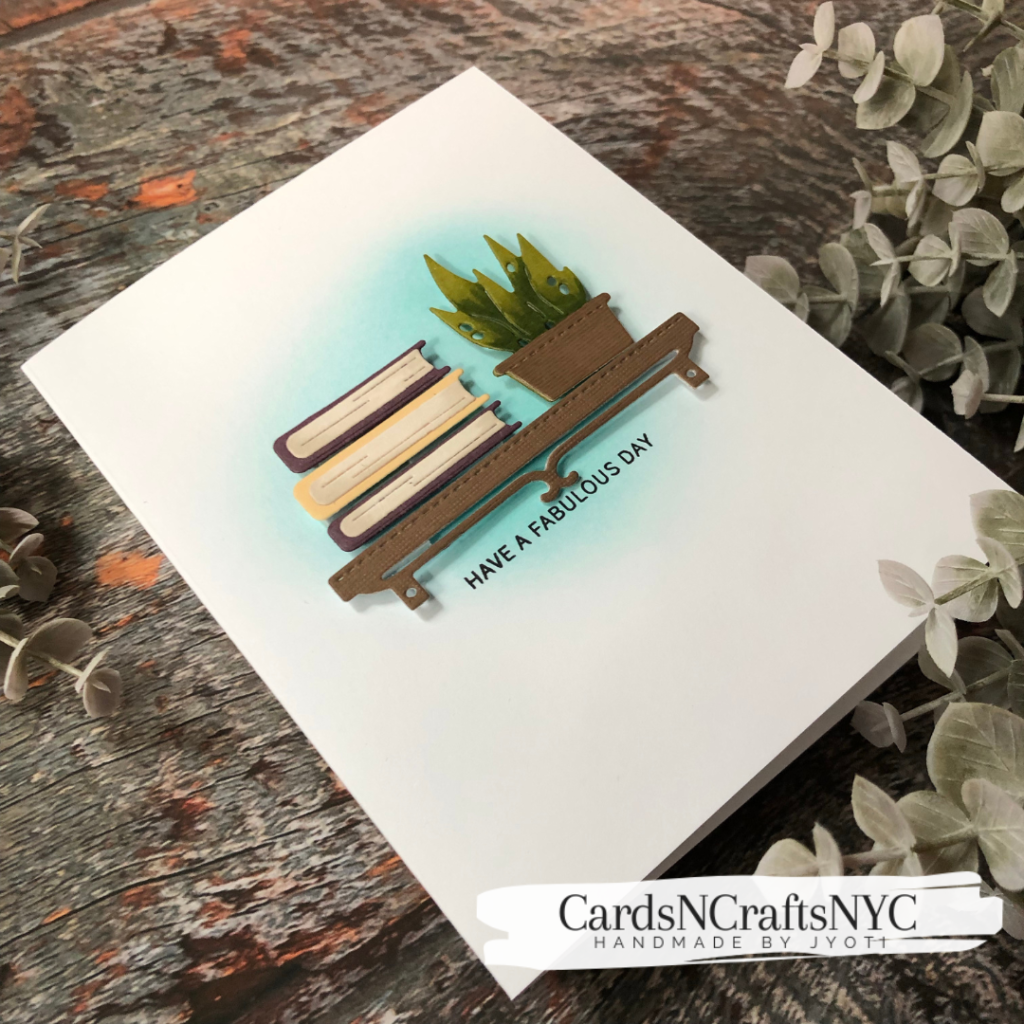 I am so bummed at myself for not buying the coordinating stamp set STORY SENTIMENTS STAMP SET. This stamp set has the perfect sentiments to go with your book themed cards.
If my cards and creations inspire you and you decide to buy these dies I recommend you buy the stamp set too. The sentiments are so fun you'll love creating cards with these dies.
Happy Crafting!
Hugs,