Are you ready to embrace the eerie charm of Halloween in style? Look no further! In this blog post, we're diving into the enchanting world of Poppy Stamps products to craft a spooktacular Halloween card that's perfect for the season.
Introducing the Stars of the Show
For this bewitching creation, I'm using two fantastic Poppy Stamps products. My first star is the "Neighborhood Home Pop-Up Easel Set," which provides the perfect canvas for my spooky masterpiece. With Halloween just around the corner, it's time to transform this set into a haunted house like no other.
My second star is the "Whittle Scary Guys" die set, featuring two adorable ghosts, a playful pumpkin, and two mischievous monsters. These charming elements will add a delightful touch of fright to my card.
Crafting the Haunted House
To create the eerie ambiance of my haunted house, I began by die-cutting the house pieces from dark gray cardstock. The roof and windows came to life with brown cardstock, and I added a spine-tingling touch by ink blending the house with Black Soot, Barn Door, and Dusty Concord on various sides.
For the windows, I conjured a fiery, spooky glow using Distress Oxide inks in Black Soot, Barn Door, Carved Pumpkin, and Wild Honey. I also crafted delicate curtains from yellow cardstock and vellum, adding to the eerie charm.
Assembling the Spooktacular Scene
With all the pieces at my fingertips, I meticulously assembled the haunted house. It found its home on a base crafted from shimmery black cardstock, adding a touch of elegance to the spookiness.
Inside the Haunted Greeting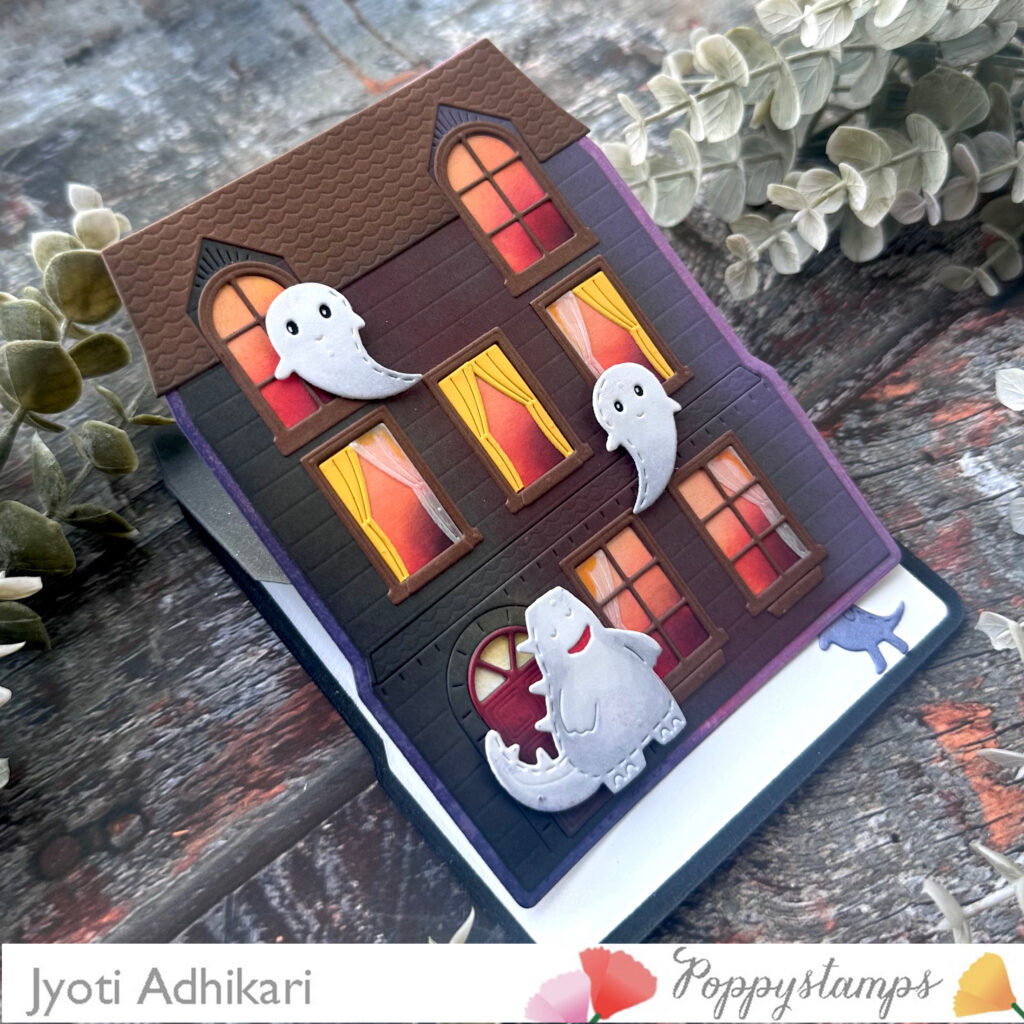 The inside of my card is just as enchanting as the outside. A white panel awaits your personalized message to the lucky recipient. I also used the classic "Happy Halloween" die from Hero Arts to create a stylish centerpiece that holds the card upright when open.
Whittle Scary Friends
But what's a haunted house without some ghostly company? I couldn't resist die-cutting two ghosts and two monsters from the "Whittle Scary Guys" set. Adding depth and character with Copic markers (N3, N2, N1, N00), I gave them a playful shadowy presence. One purple monster even found its way inside the card, adding a delightful surprise for the lucky recipient.
The Final Result
And there you have it – my cute yet spooky Halloween card, ready to enchant and thrill. With the magic of Poppy Stamps products, you too can craft a Halloween masterpiece that's sure to impress.
Stay tuned for more enchanting creations as I continue to explore the world of paper crafting. Wishing you a hauntingly creative Halloween season!??
Hugs,