Welcome back to the my crafting world ! In this blog post, we're diving into another captivating card-making adventure that will ignite your creativity. Join me as I take you through the artistic journey of crafting a whimsical card with STAMPENDOUS HOLIDAY HUGS COLLECTION. From assembling the gnome to arranging delicate florals, every step of this crafting process exudes joy and creativity. Let's embark on this journey of creation together!
A Playful Gnome
Our journey begins with the GNOME HUGS ETCHED DIES from this collection. Die-cut with the pale pink card-stock, the gnome's whimsy takes center stage. The Crackling Campfire, and Tattered Rose distress oxide inks are added to shade this charismatic character.Then I carefully pieced together the gnome. The joy of assembly was palpable as the gnome's personality emerged.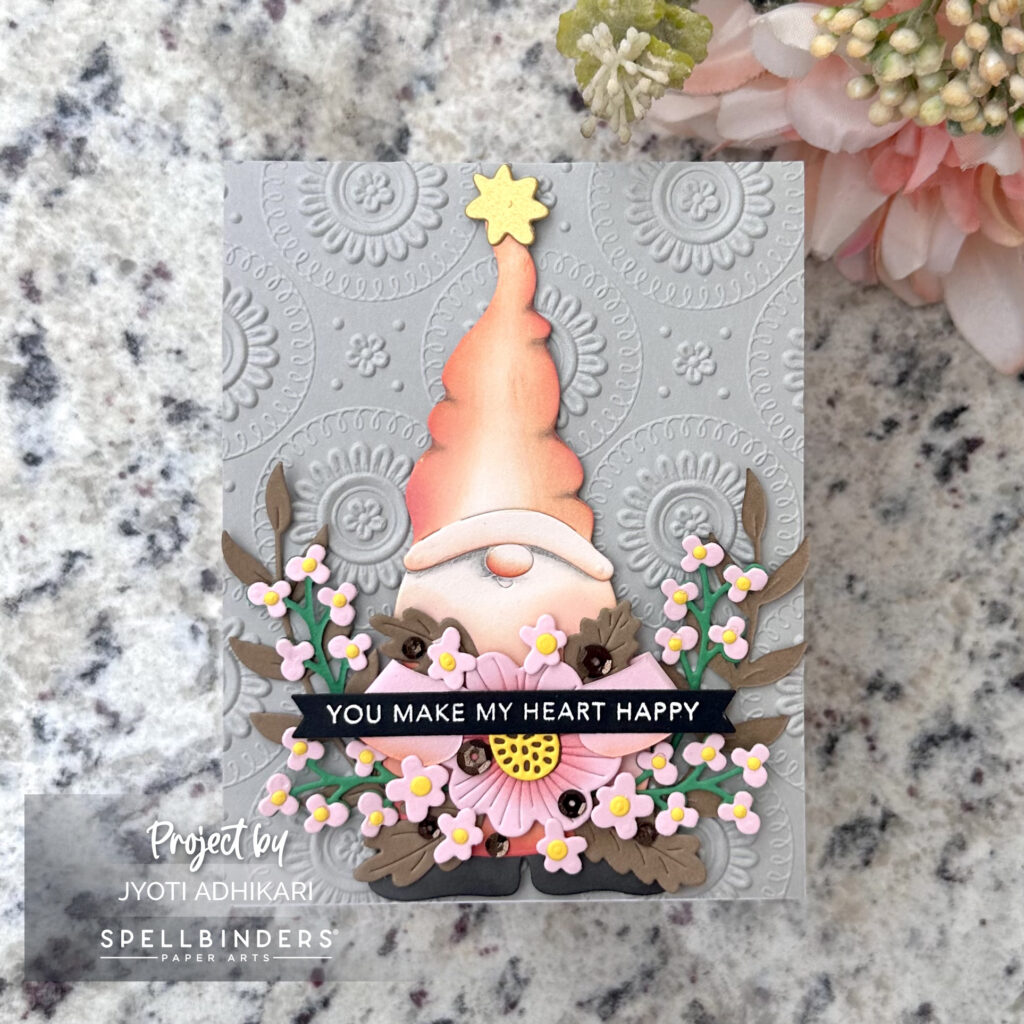 Creating a Backdrop
An embossed background sets the stage for our whimsical gnome. Spellbinders MANDALA BLOOMS 3D EMBOSSING FOLDER and Fog Cardstock from Simon Says Stamp creates this textured yet subtle background. The tranquil and serene feel of fog card stock provides the perfect canvas for our charming scene, making the gnome pop.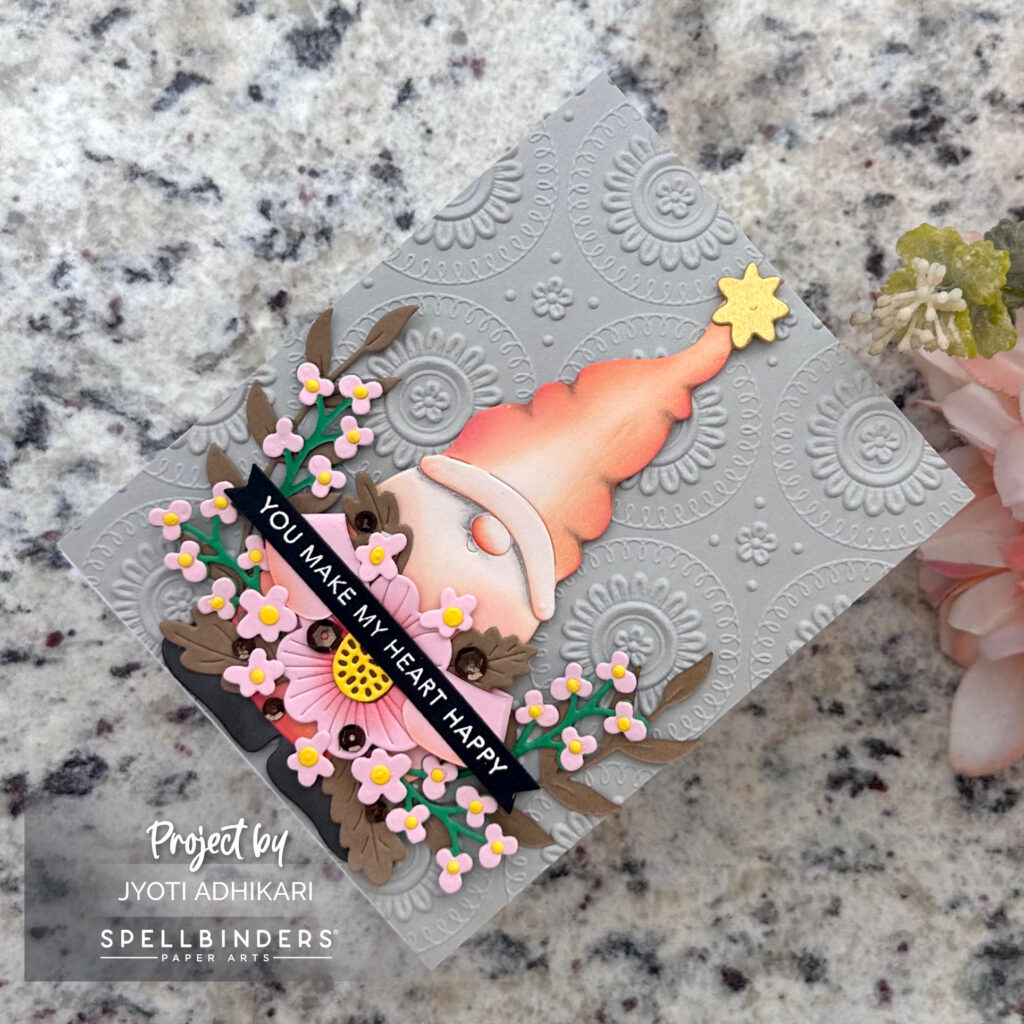 Floral Extravaganza
For a decorative element around the gnome, I turned to the enchanting ENVELOPE OF WONDER DIE set. Muted pink flowers and delicate leaves emerged from brown and pink cardstock, adding a touch of nature to the composition.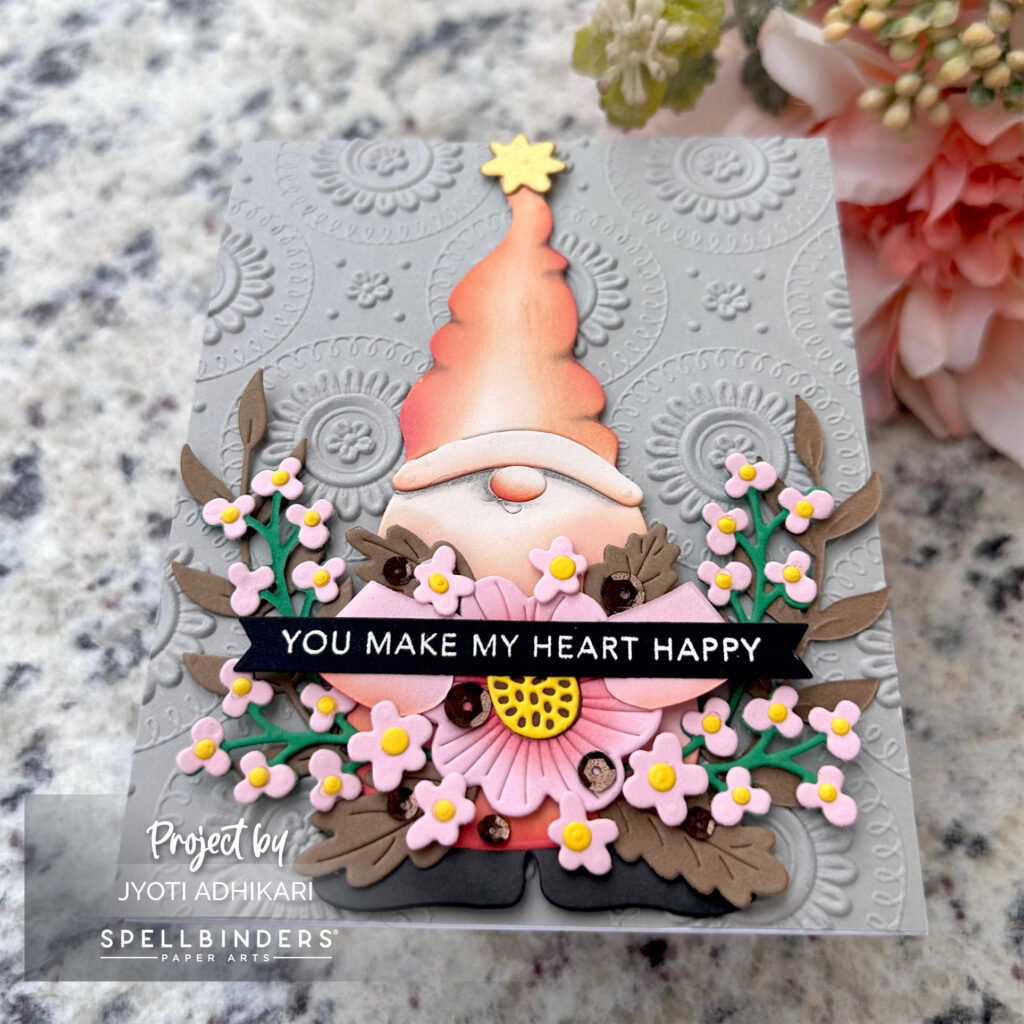 Heartfelt Sentiments
Sentiments hold the essence of a card's message. I opted for a sentiment I had previously stamped and white embossed on a black card stock strip. The contrast between the black and white, framed in a banner, lent a sense of timelessness to the composition. These carefully chosen words "You Make My Heart Happy" spoke volumes in the simplest of ways.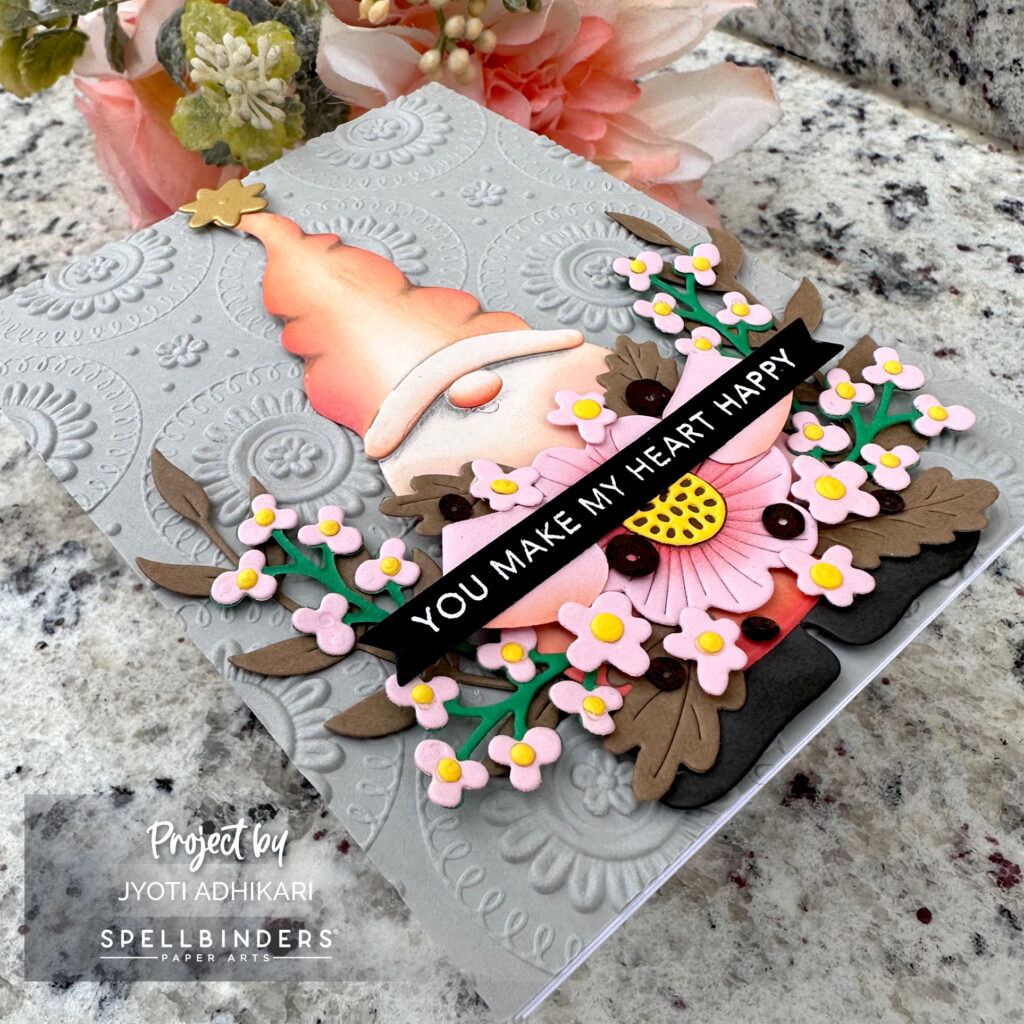 Assembling Gnome, Florals, and Sentiment
Bringing it all together was a dance of creativity. I mounted the embossed fog panel onto the card base and placed the gnome atop it, using foam tape for a touch of dimension. The florals elegantly cascaded along the bottom, arching over the gnome's realm. Embellishing the scene with Umber Sequins from Studio Katia added a touch of sparkle.
With a sense of care, I added the sentiment on top, across the gnome. And just like that, the card was complete—an artwork that captured the essence of whimsy, nature's charm, and heartfelt sentiments. Each element told a story, and together, they created a magical narrative.
Whether this card finds its way to a cherished recipient or becomes a treasure in your collection, the crafting journey behind it is a tale of creative joy. I hope this project inspires you to infuse your creations with playful elements and the magic of nature's palette. Until our next crafting adventure, keep spreading the joy of handmade magic!
Hugs,