Hello, fellow crafting enthusiasts! I am sharing a fun Snowman In The Winter Wonderland Card in this post today. I'm thrilled to share this delightful experience with you, featuring fabulous products from Poppystamps. If you're looking to take your paper crafting to the next level and create stunning, eye-catching cards, you're in for a treat. Get ready to dive into the world of creativity and inspiration!
Die Cutting The Elements
To kick off this crafting adventure, the first step was die cutting. With careful precision, I used a selection of Poppystamps dies to create the core elements of our card. The Sweet Nordic Snowman Craft Die brought to life a charming snowman, full of personality and intricate detail. Next, the Flock Of Birds Craft Die allowed me to cut out a friendly bird, adding a touch of whimsy to our wintry scene. To complete our enchanting landscape, the Whittle Field and Trees Craft Die came into play, carving out a snow-covered hill and a mini forest of trees. Finally, I used the Cortina Pinpoint Plate Craft Die to create an intricate background, setting the stage for our entire masterpiece. This meticulous die-cutting process ensured that every piece was ready to shine in our winter wonderland card.
Creating an Enchanting Background
A striking background can elevate your card-making to a whole new level. In this winter wonderland card, the Poppystamps Cortina Pinpoint Plate Craft Die stole the show. Cutting it from black card-stock added a captivating drama to our scene. But what truly made it enchanting was the layer of silver glitter card-stock behind it. This brilliant choice ensured that the snowfall twinkled with a touch of magic. Poppystamps offers a range of background dies, making it easy to create stunning and captivating settings for your creations.
The Main Focus
In our wintry wonderland card, the true stars of the show are undoubtedly the charming snowman and his feathered friend. Crafted with the Sweet Nordic Snowman Craft Die and Flock Of Birds Craft Die, these delightful characters steal the spotlight with their personality. The snowman, and the bird both are die-cut from white card-stock with intension of adding the color with Copic markers. I used Coral and Teal Copic color combination to color the intricate die cut pieces.
Adding a Special Message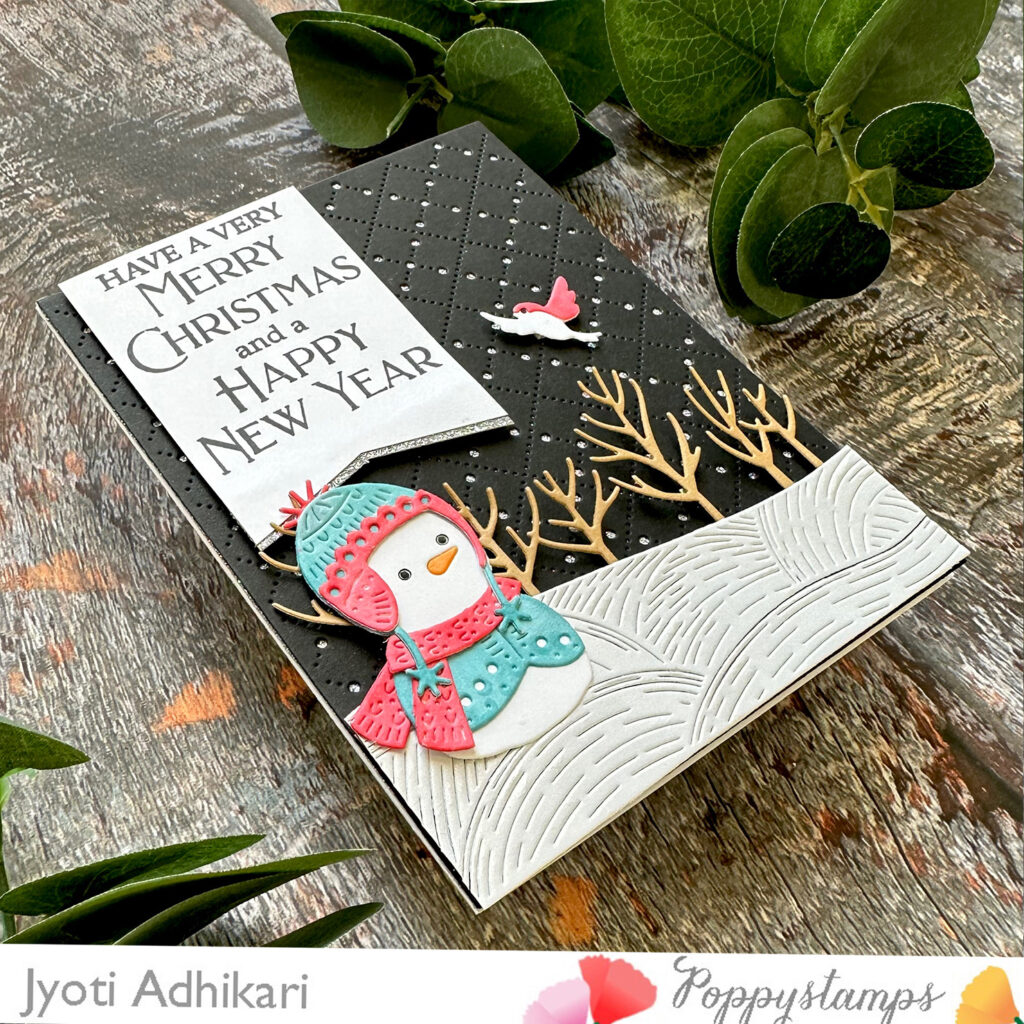 Every card tells a story, and the words you use matter. Poppystamps makes it easy to pick the perfect message for your card. I chose a heartfelt sentiment, "Have a Merry Christmas and a Happy New Year." which is from the Peaceful Christmas Greetings Clear Stamp Set. I stamped it on white card-stock and cut it into a banner shape. This sentiment was the perfect finishing touch for our winter scene. The sentiment banner found it's place on the top left of the card.
With Poppystamps products, crafting a winter wonderland card has never been more delightful. This whimsical scene, featuring a cheerful snowman, a friendly bird, and a heartfelt message, is bound to bring joy to anyone lucky enough to receive it.
If you're inspired to create your own winter wonderland cards, don't forget to explore Poppystamps' Christmas 2023 collection. There's a world of creativity waiting for you. Happy crafting and spreading the magic of the season!
Hugs,