Today I am here with a bunch of cards featuring the latest release, the Just Wanted To Say Collection by Spellbinders. Settle yourselves as this is going to be a long post.
Hello everyone!
My first set of cards feature the Stitched Hi Etched Dies from the Just Wanted to Say Collection.
Stitched "Hi" Cards
Here is what I created with this die:
I started by die-cutting the "Hi" with white and embroidered it using the gold embroidery thread. I love the look of gold on white. The embroidered layer was then adhered onto the shadow layer using foam tape for dimension.
For the background, I picked one of the gel prints I created a while back and used the Candlewick Rectangles Etched Dies to die cut it. I didn't need to do anything else with the background as it has a lot of texture already.
I used the Mini Blooms and Springs Etched Dies to cut out some of these cute little flowers in a peachy-pink shade. This color complemented my background color so well. You can see that I've created some clusters of flowers around the "Hi" for decoration. I added some gold pearls in the middle of the flowers.
Now my card is done.
Adding a Masculine Twist
I created another one thinking I should give it a little bit of masculine vibe. Let me know what you think.
Here I created this with black die-cut "Hi". I embroidered this one with gold as well. Then I added it with foam tape on the shadow layer cut with gold card-stock.
Remember the gel print I used in the first card? It makes a comeback here after I gave it a trim with the paper trimmer, choosing not use any more die for a simpler look.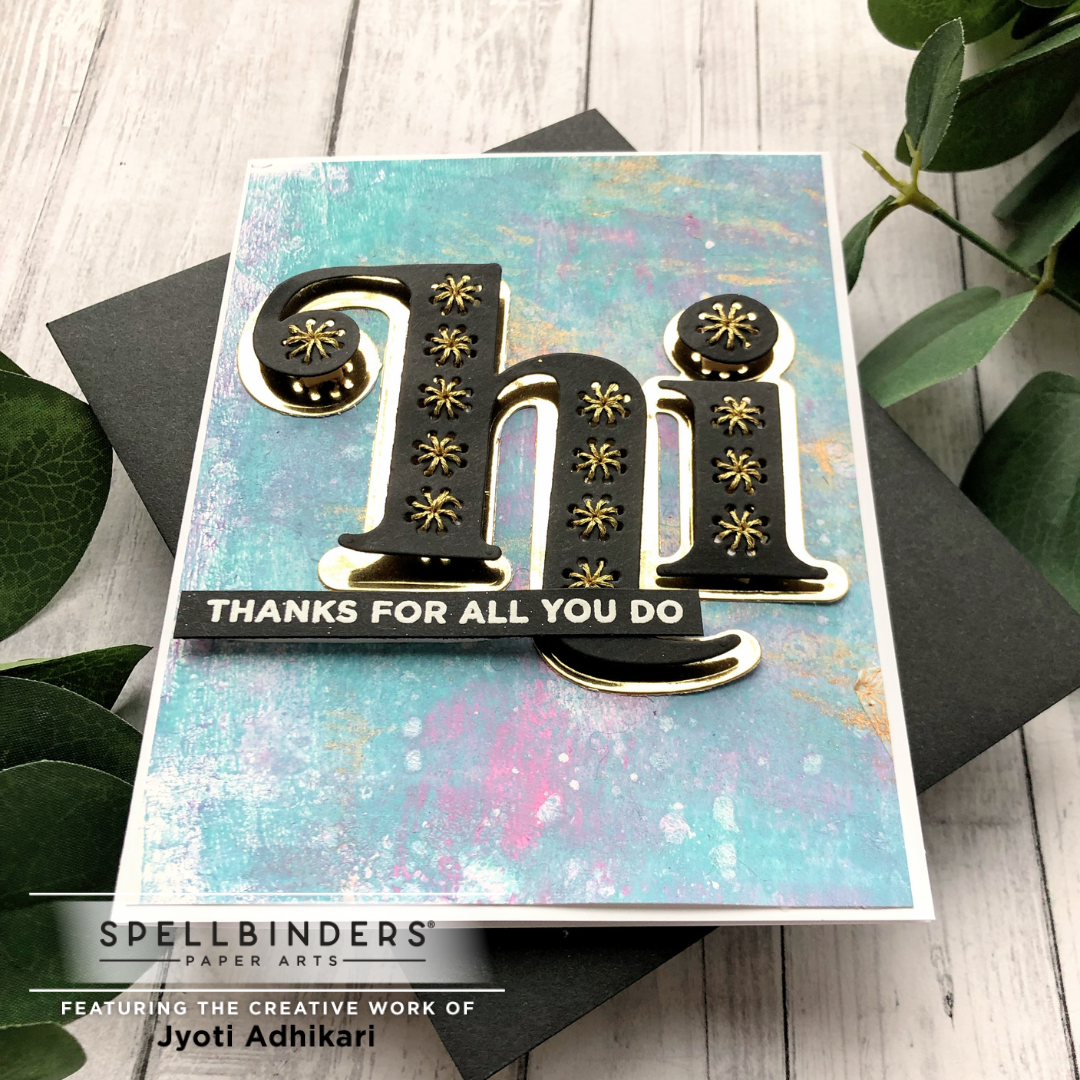 Then I stamped and embossed one of the sentiment from Just Wanted to Say Clear Stamp Set on a black card-stock with gold to match my black and gold "Hi". I chose to place it on the bottom-left of the "Hi".
Here are the two cards side by side:
Which one is your favorite?
My next card features the Wreath Builder Etched Dies, also from the Just Wanted to Say Collection.
The Wreath Card
A Papyrus card I saw at my local pharmacy inspired the color combination of this card. Here is my inspiration photo. Check out the color palette which I really liked.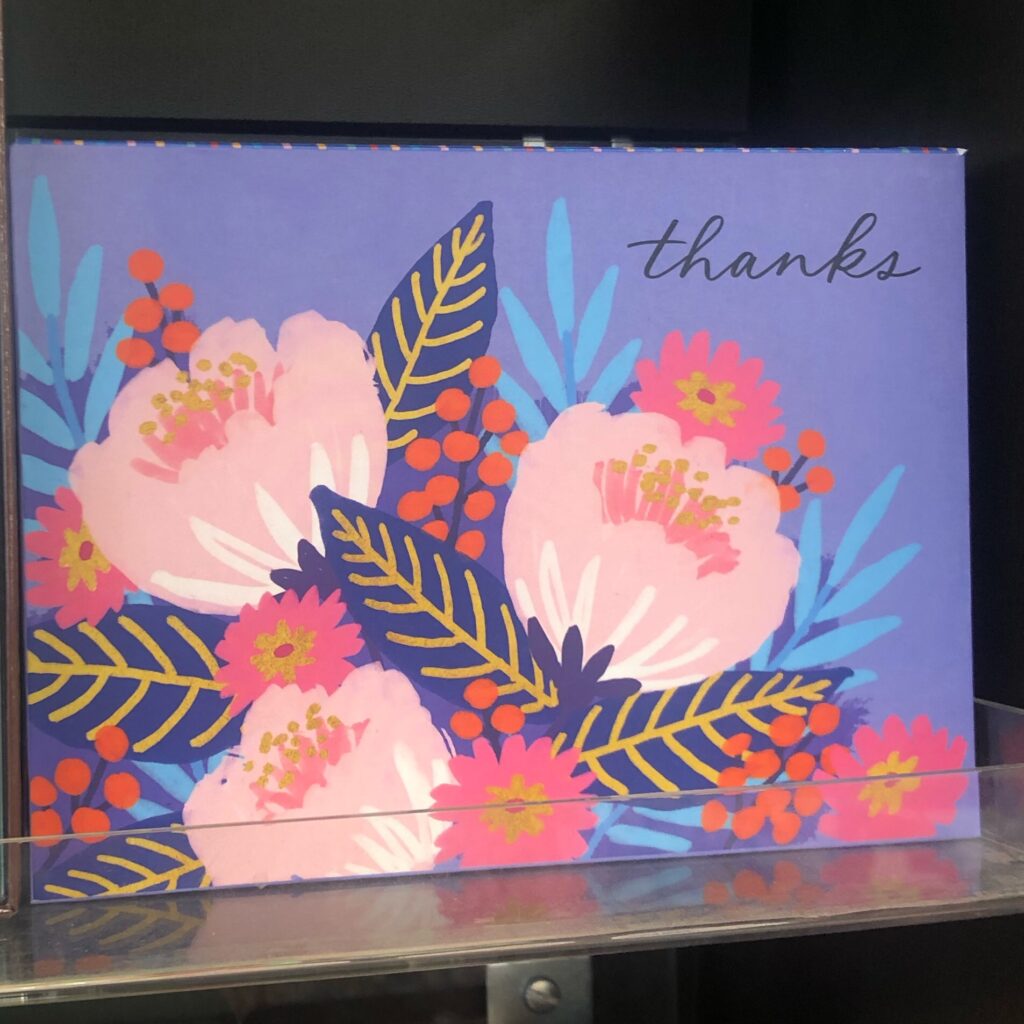 I used the Nestabilities Hemstitch Rectangles Etched Dies from Spellbinders to cut the background panel. I added a layer of gold glitter card stock behind it. If you look closely, you can see a little gold peeking through the holes of the die cut.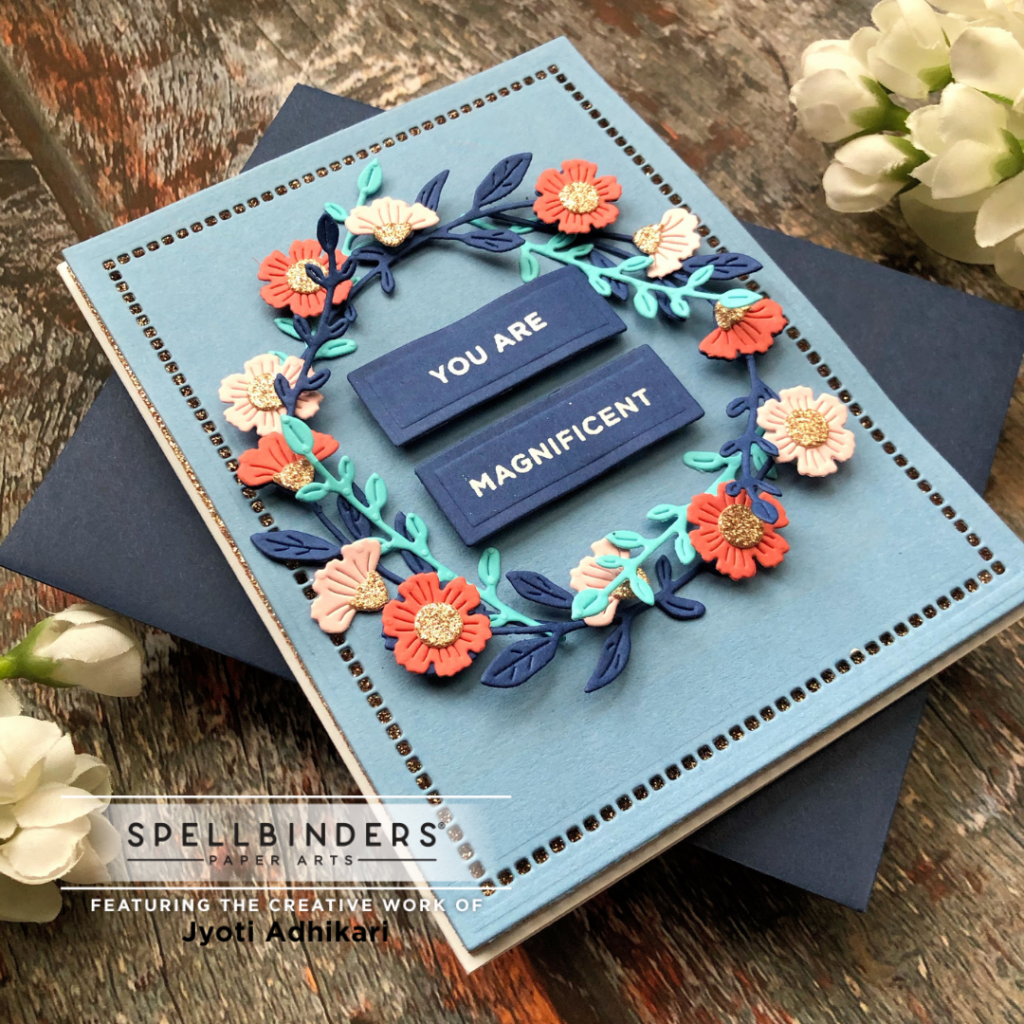 I then die-cut the elements of my wreath in the colors that match my inspiration color palette.
For the focal point of the card, I arranged the leaves and flowers in a wreath shape on the front. Some were added with liquid glue and some were propped up with tiny pieces of foam tape.
You can find this sentiment in the Stitched Alphabet Descriptors Sentiments Clear Stamp Set. I stamped and embossed this sentiment on a navy blue strip of card-stock. The white embossed sentiment on navy makes for a striking combination, I think.
Well, my wreath card is ready.
My next set of cards are going to feature Little Chickadee Etched Dies is from the Just Wanted to Say Collection.
This die is just so cute that I had to create a bunch of cards with this one.
Little Chickadee Cards
I started by die-cutting a bunch of little pieces of these birds in very bright red/blue/green/orange and teal color. Then I spent quite a while adding each layers of the bird. This was definitely time consuming to create this many birds but look how cute these look! It was totally worth the time and effort spent creating them.
Six Chickadee Friends
Here's my first one:
I picked this piece of gel print that I created a while ago. It was cut into 3 and 3 quarters inches by 5 inches. I added a mat of the same green card-stock I used on the birds. Both of the background layers would still leave a white border around it.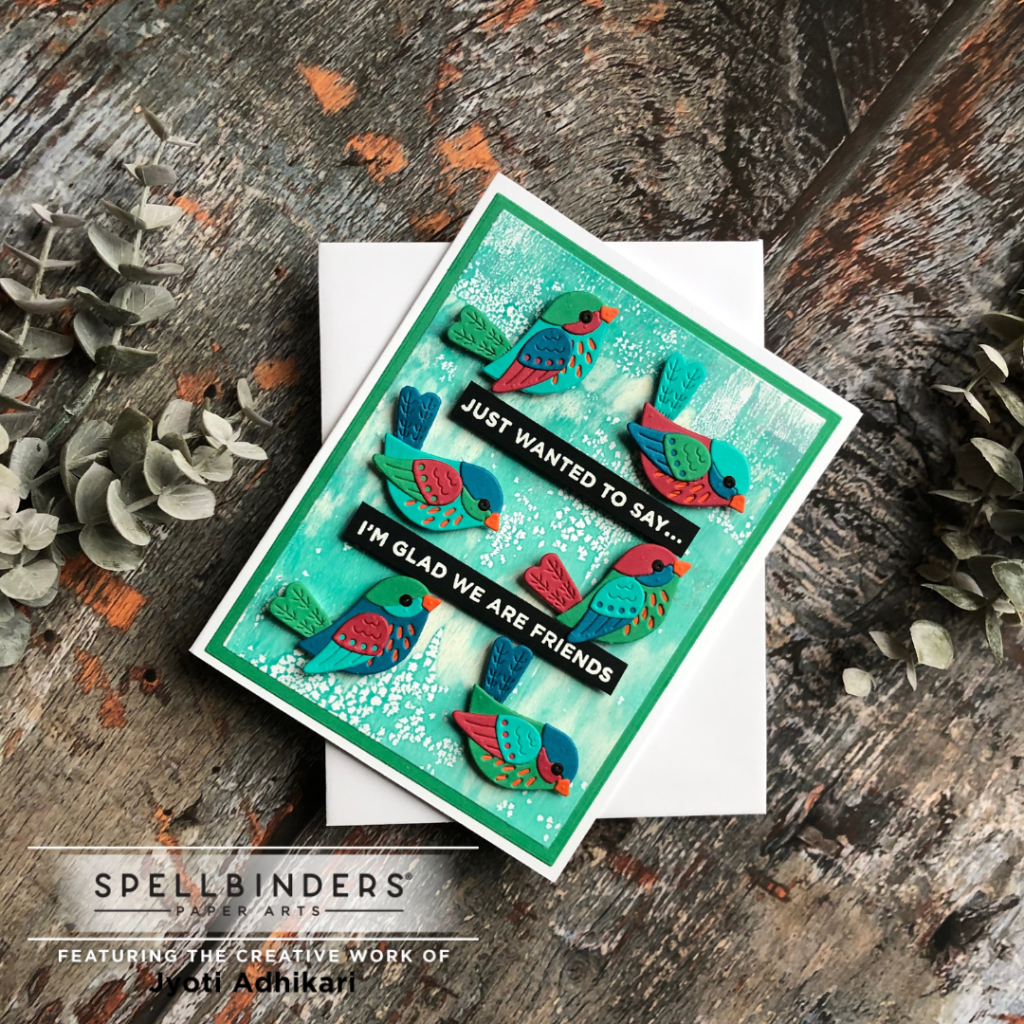 I then arranged 6 birds on the front of a panel so that the birds are facing different directions. Doing this makes it look like I used different dies to create these birds rather than just one.
For the sentiment, I used the Just Wanted to Say Clear Stamp Set to stamp and emboss two strips that read: "Just wanted to say… I'm glad we're friends."
Chickadee on a Branch
Here's another one I made with the same die set:
For this one, I used an embossed white background matted with the teal card-stock again leaving a white border around it. As an accent, I added a strip of the gel print along the bottom where I planned on adding the sentiment strip.
I used the two stems cut using the Wreath Builder Etched Dies, part of the Just Wanted to Say Collection, to make it look like a branch. Lastly, I added one bird on the branch with some foam tape.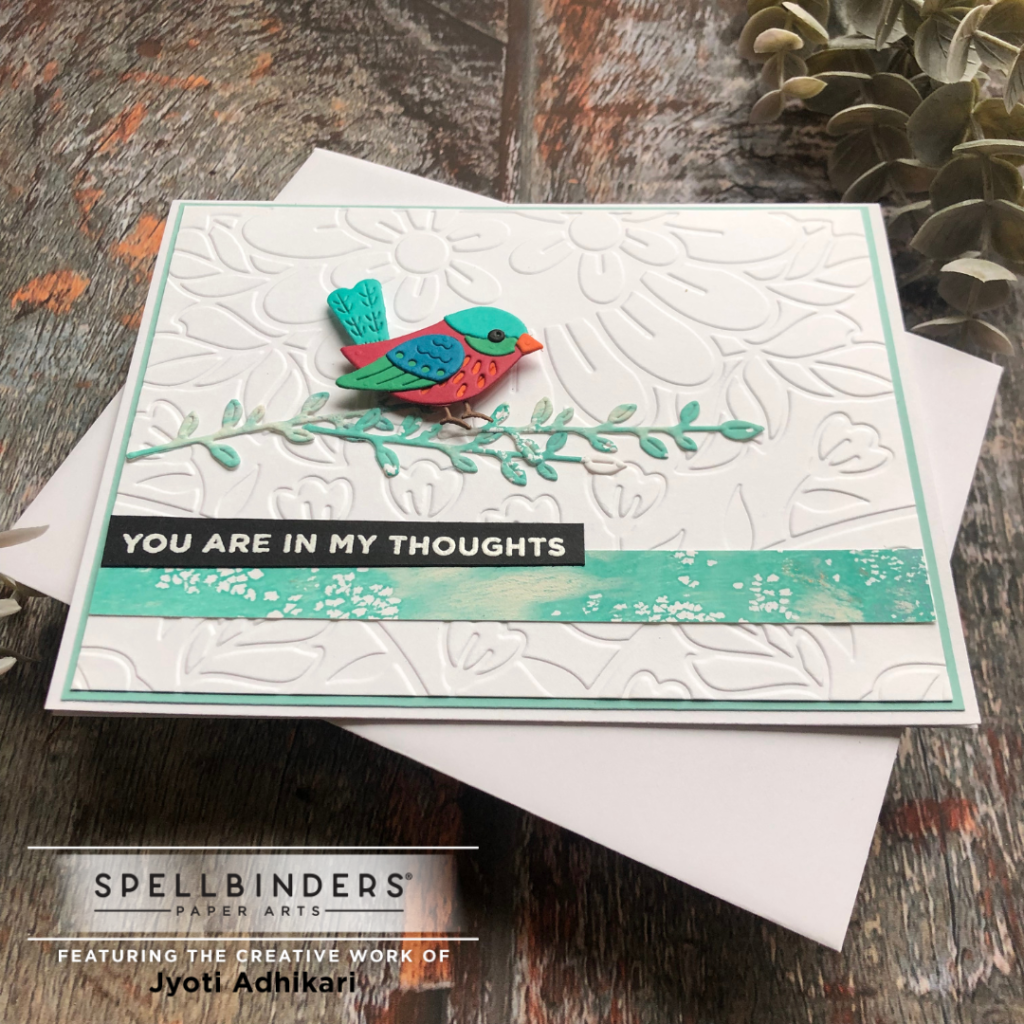 I stamped and embossed the sentiment from the same stamp set which reads "You are in my thoughts". It was added right above the gel print strip, completing the card.
Chickadee Happy Birthday Card
Here's the third card I created with the same bird die and this one is my favorite of the three.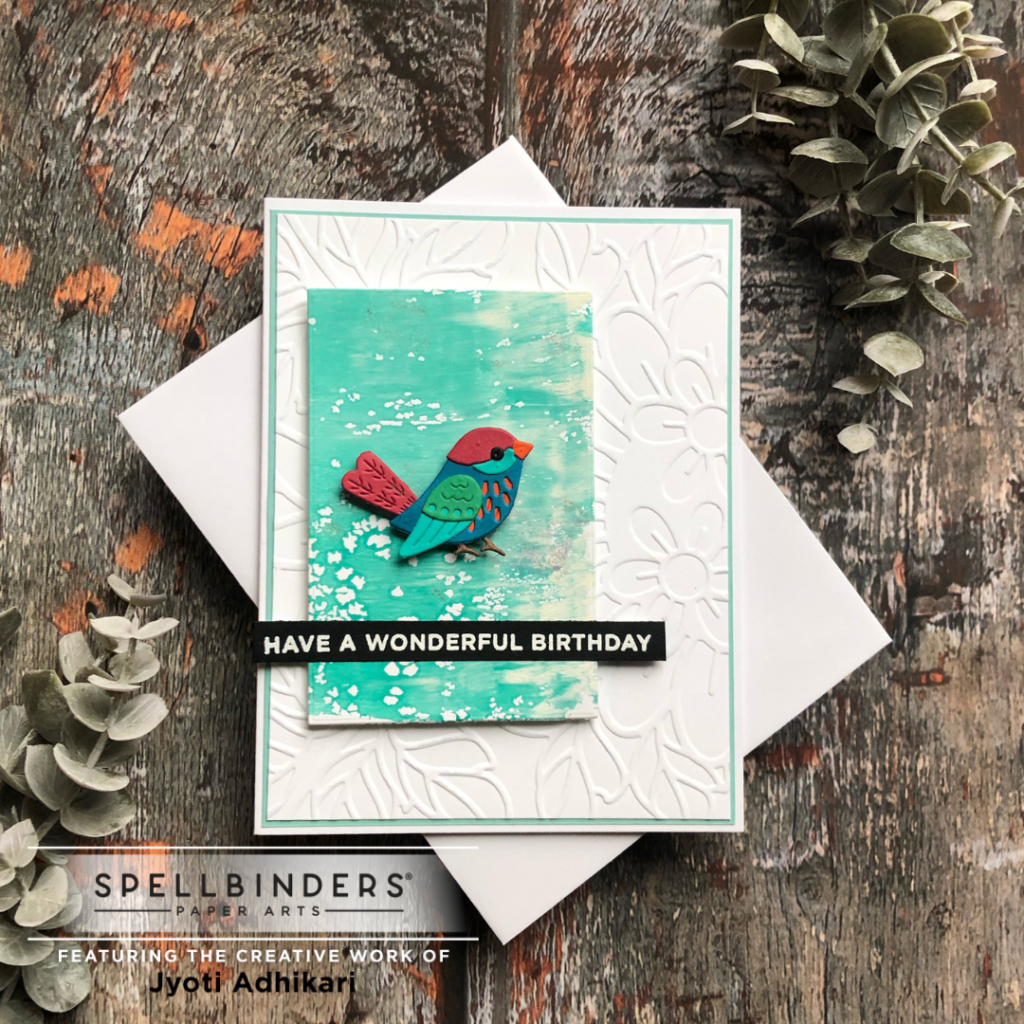 For the background of this card I again used the embossed white background matted with teal card-stock.
I added a small leftover rectangle piece of the gel-print in the left middle of the embossed background for the bird to sit on it. Then I added the bird with foam tape for dimension.
The "Have a wonderful Birthday" is stamped and embossed towards the bottom of the rectangle gel print piece to complete the card.
Here are three cards side by side for you to compare:
Which one do you like the best?
I am hoping I didn't bore you with this long post. If I was able to inspire you with my creations feel free to leave a comment and share my post with your fellow crafters.
Hugs,