This is a new trend I am slowly getting used to celebrating Christmas In July. Today I am sharing some cards I have created using the dies and stamps from the Stitchmas Christmas Collection from Spellbinders.
Hello Everyone!
I had so much fun going through the stitching process for these cards. It's embroidery but instead of fabric it's on paper (card-stock actually). I could think of tons of different color combinations for these particular die set. Wish I only had enough time to do every color combinations. I created three cards with these dies so far. In future if time permits I will definitely want to use them again.
Without much of the babbling lets get to the cards I have created.
My First Card
My first card features the STITCHED JOY ETCHED DIES FROM THE STITCHMAS CHRISTMAS COLLECTION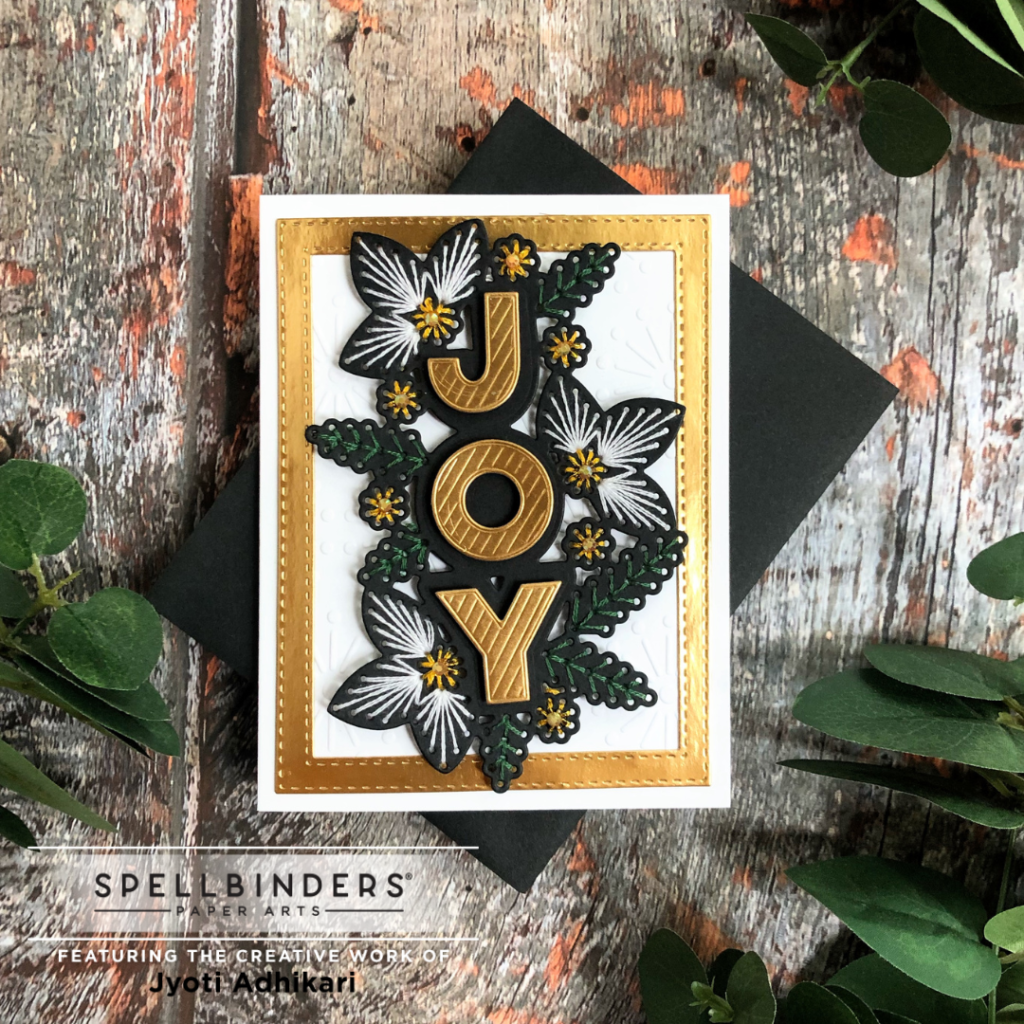 I think this card turned out so pretty with the white poinsettias and dark green stitching on black die cut. It's funny how I admire my creations before even anyone else says it's pretty. Well, I guess you have to like what you create before you show it to others that might appreciate it right?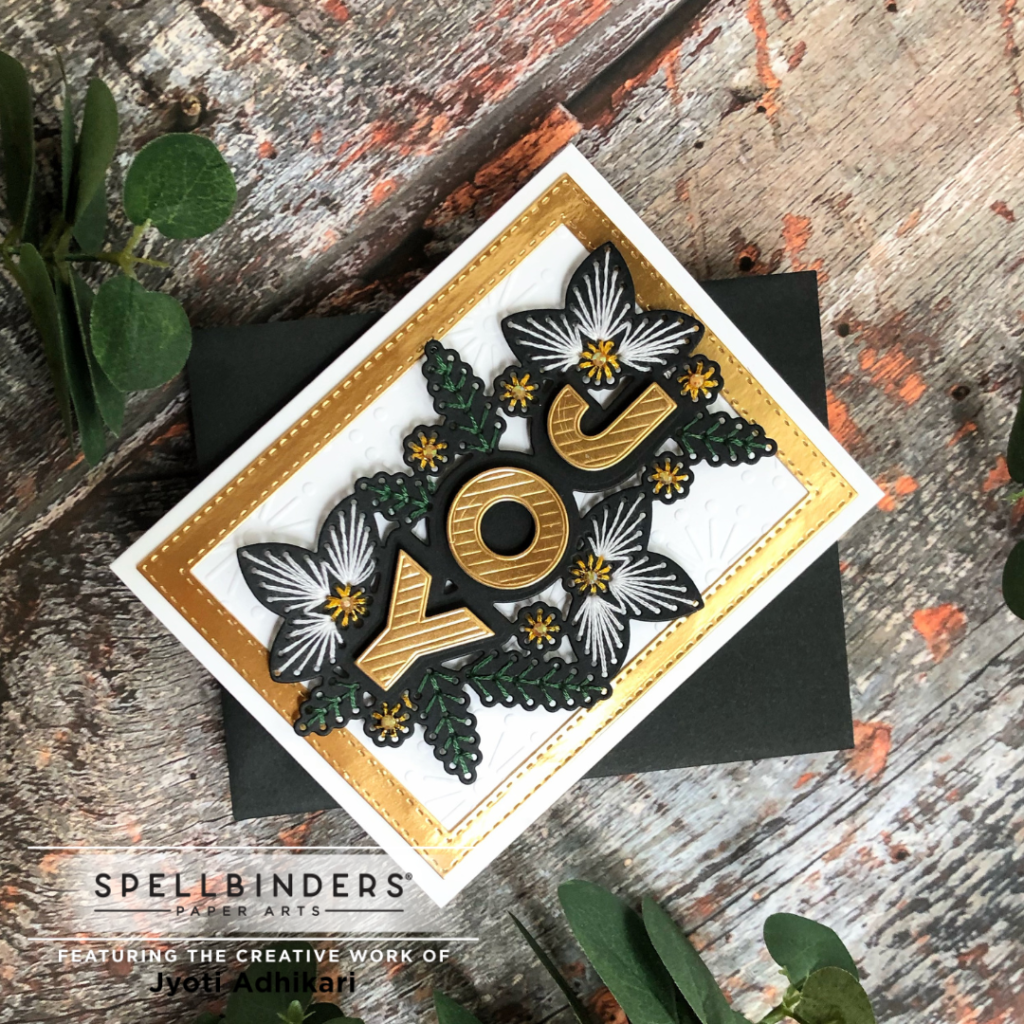 I started by die cutting the stitching piece with black card-stock from Spellbinders and the letters with gold card-stock. You must love how you can see the lines on the letters. It's some smaller details in these dies that make a huge difference in the outcome.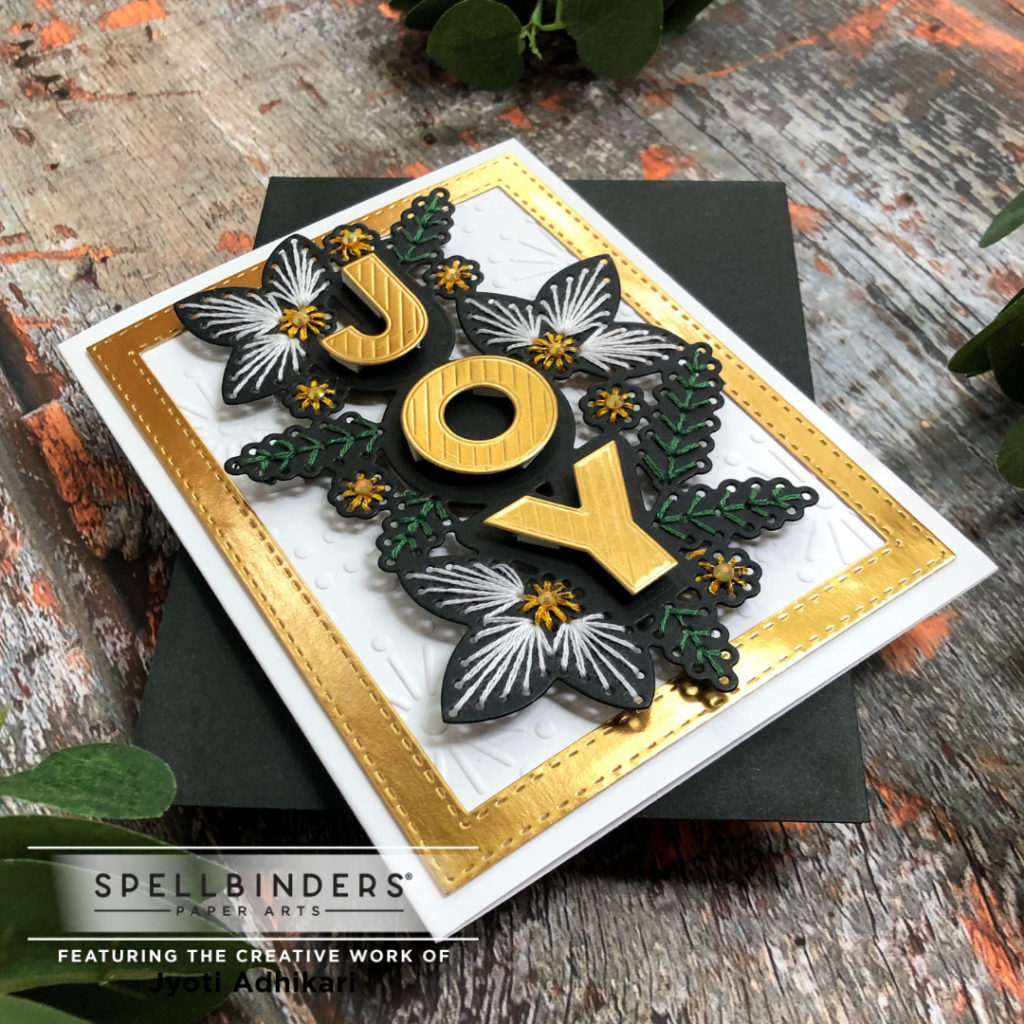 Then started stitching the floral arrangement looking piece behind the joy with a thicker needle and embroidery thread. I wanted the poinsettias to be white and the leaves to be dark green. And obviously the flowers centers to be yellow. The flower part is adhered with foam tape and the the joy is again another layer of foam tape. Which makes this card very dimensional.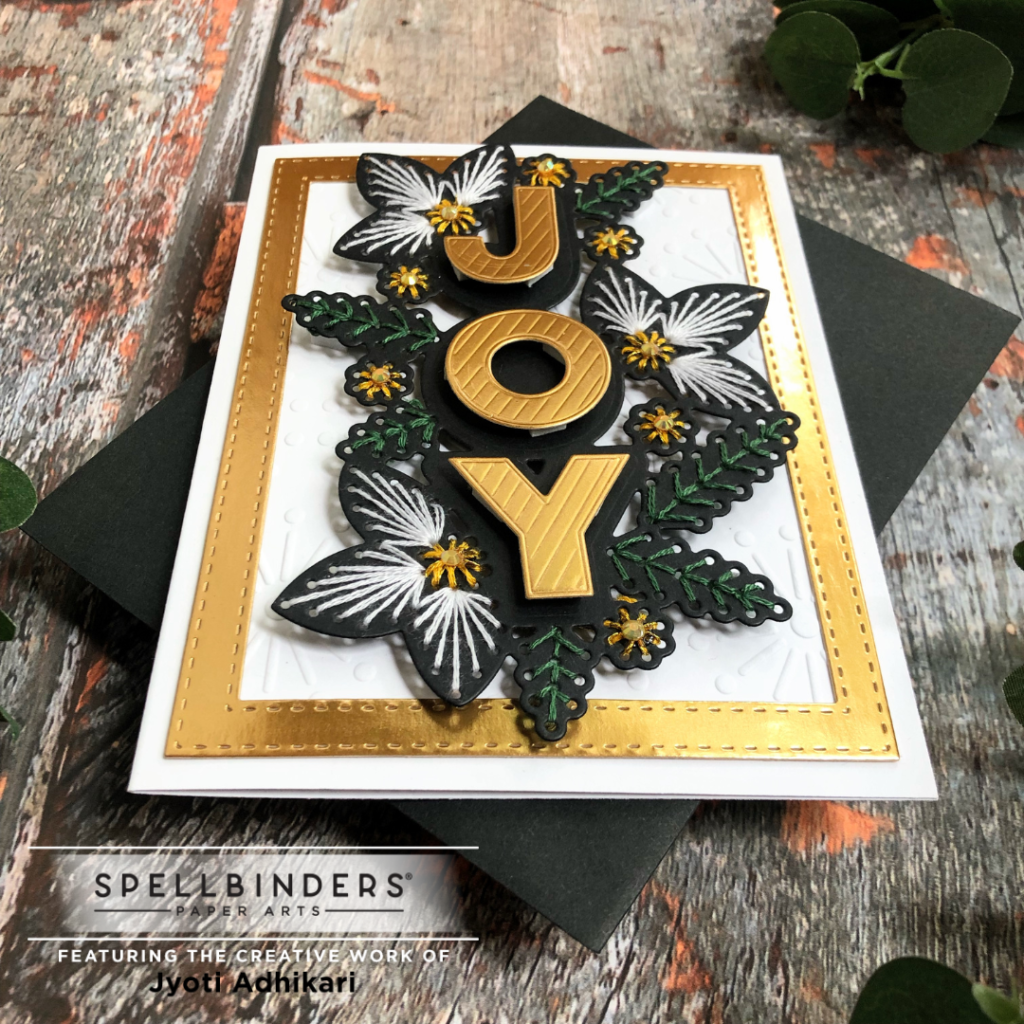 For the background of this card I created an embossed white panel with a stitched gold border around it to tie it with the gold JOY. I finally added some gold jewels on the middle fo the flower centers and called this card done.
My Second Card
I used the same STITCHED JOY ETCHED DIES FROM THE STITCHMAS CHRISTMAS COLLECTION to create this second card but in a different color combinations. More traditional Christmas color, red green and gold.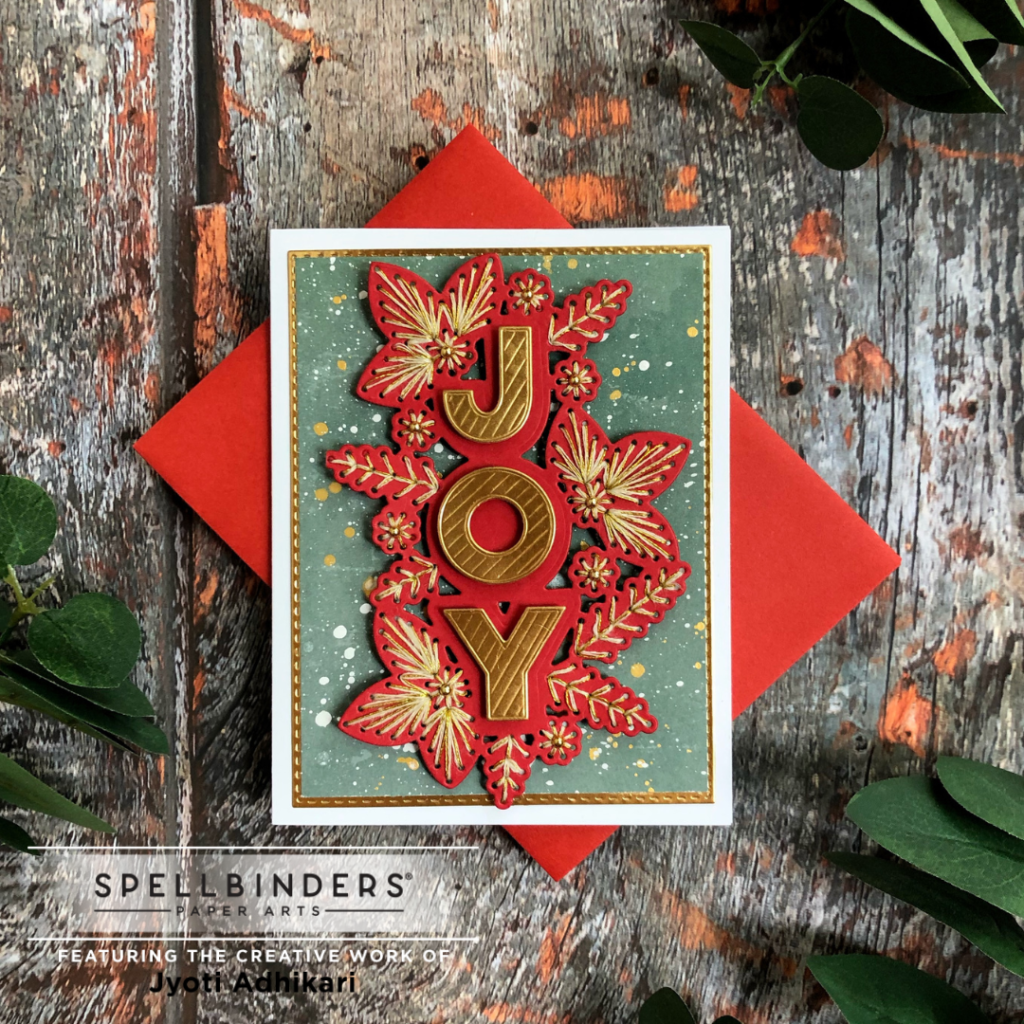 I did the same process like on my first card, only difference is I die cut with red card stock and stitched with gold embroidery thread. The JOY is cut with gold card stock and added with foam tape.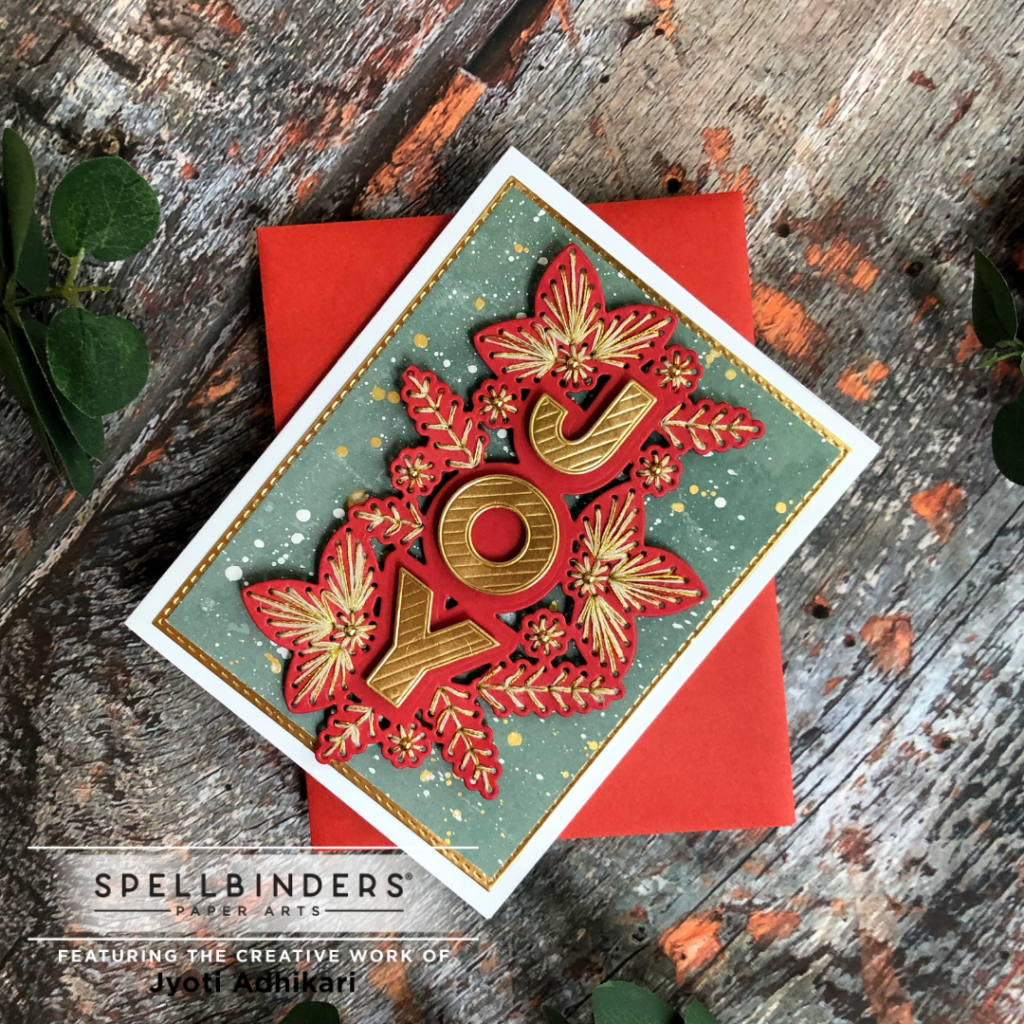 For the background of this card I took a green tone-on-tone pattern paper. This one is a little bit textured but not busy pattern. The dull muted green color makes this combination so rich I think.
I splattered the whole piece with shimmery gold watercolor and white acrylic paint. Doing that added extra interest to my background. Then I added another layer of gold card-stock cut with stitched rectangle die showing just a little stitched border around it.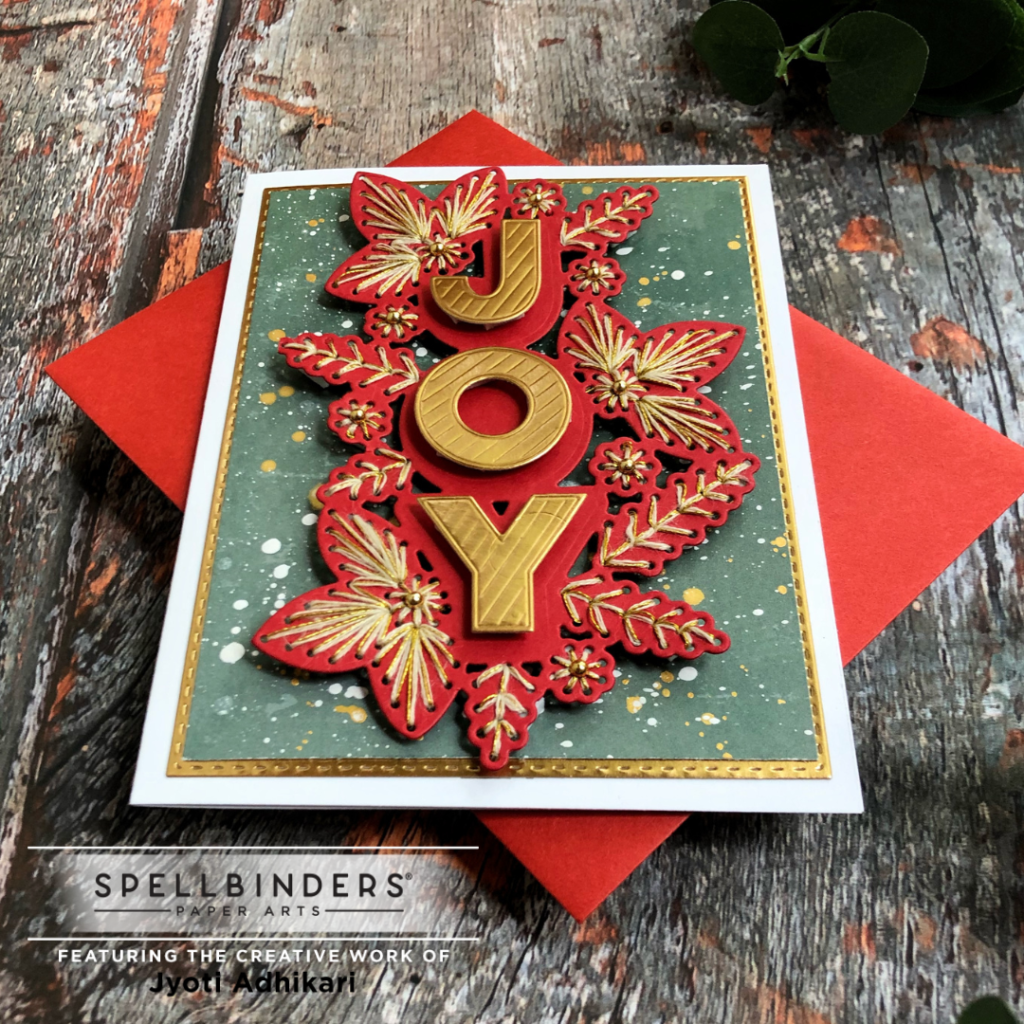 I finished off this card by adding some gold pearls to the center of each flowers and paired it with red envelope ready to send. Now I am ready with a few Christmas cards in hand, even though I don't send out cards for Christmas In July event.
The Third Card
My third card features the STITCHED PETAL DIAMOND BACKGROUND ETCHED DIES FROM THE STITCHMAS CHRISTMAS COLLECTION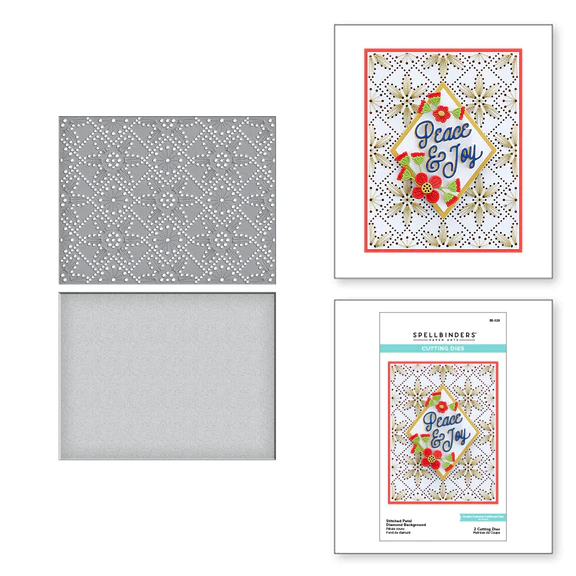 I started by die-cutting a white card-stock with the two dies together that came in this die set. One cuts the patterned hole for stitching and one cuts around it to make it fit perfectly on an A2 card-front. Usually when I know I am going to ink blend on the panel I use Bristol Smooth Card-stock. I think distressed oxide inks blend so well on this paper.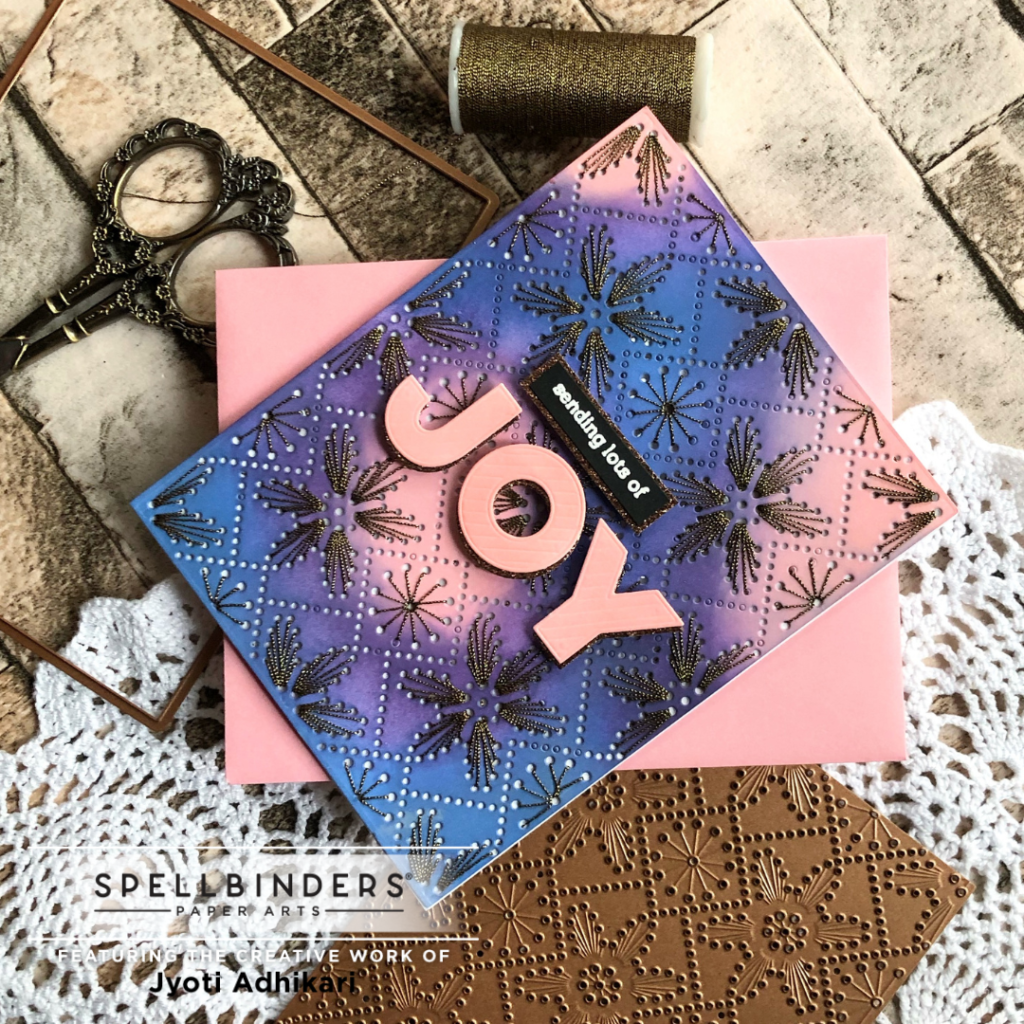 I have a small craft space in my bedroom and not usually I have the energy to pull out all the inks and brushes to create an ink blended background, which are often stowed away to avoid clutter. But every time I create an ink blended background I end up admiring it so much.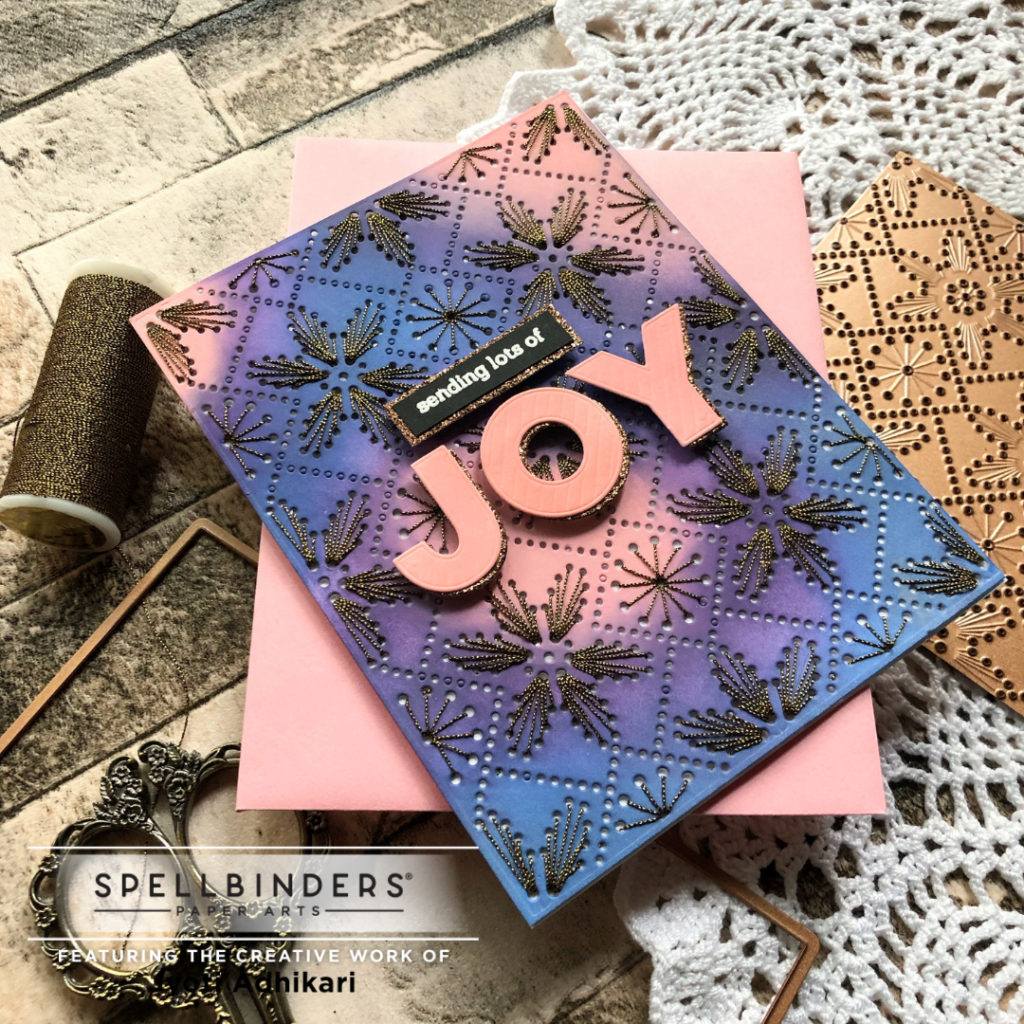 Saltwater Taffy is one of my favorite pinks, this is a new color that recently released. Added some spots of it in three areas of my die-cut panel. I used Vilianous Potion and Prize Ribbon to blend around it to fill the whole background. I love the contrast from bright pink to dark blue and transitioning with purple in between.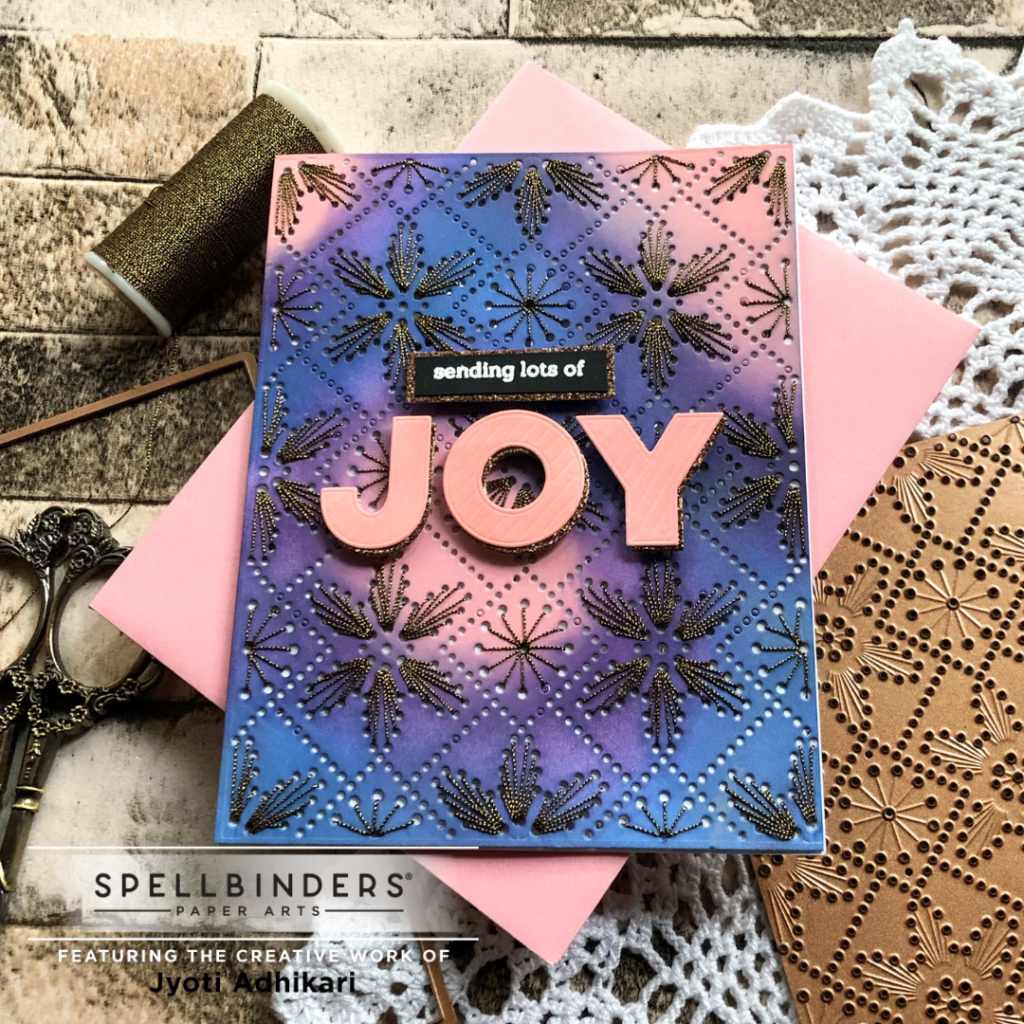 Then the main stitching process came in play. I used DMC Thread in Black Gold from Amazon for the embroidery. It is gold and black combined, such an elegant color.
For the sentiment I used the word JOY that I cut out with the Stitched Joy Die set. Of course, I inked it with Saltwater Taffy to match my project. Adding a little dark gold shimmery card-stock die cut behind it created extra detail. Finally, I added a strip of embossed sentiment above it that says "sending lots of " to complete the message.
Well, this finished my third card. I didn't' add any extra bling on this card as there was a lot going on. Here are some other stitched cards I have created in the past with similar stitched dies if you are interested.
Hope this post inspired you. Thank you for stopping by.
Hugs,