The large die club for the month of September from Spellbinders is such a fun one. It has this tractor truck and some fall elements like pumpkins, gourds, and corn. It is a subscription and you get more than the value of the die. And here's a bonus (cue the drumroll). When you join the subscription club you get the shipping free!
Hello everyone!
Today I am sharing a bunch of cards I have created featuring the LARGE DIE OF THE MONTH FOR SEP '22 and the EMBOSSING FOLDER OF THE MONTH FRO SEP '22.
These dies are so fun that I couldn't stop at just one card. I created not one, not two, not three, but 4 cards and I have tons of other ideas to use this die. If only time was something I had more of just to craft and enjoy.
Here are the cards: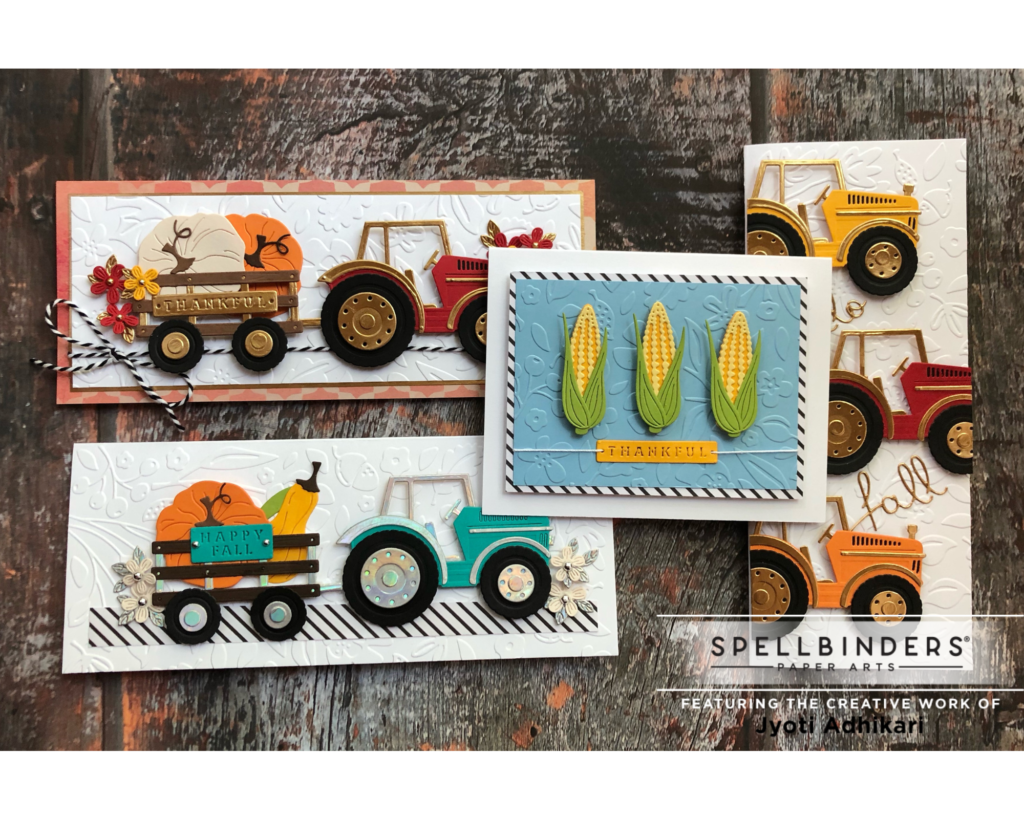 I created three slimline and one A2 size cards. Let's take a look at the first one.
Thankful Pumpkins Card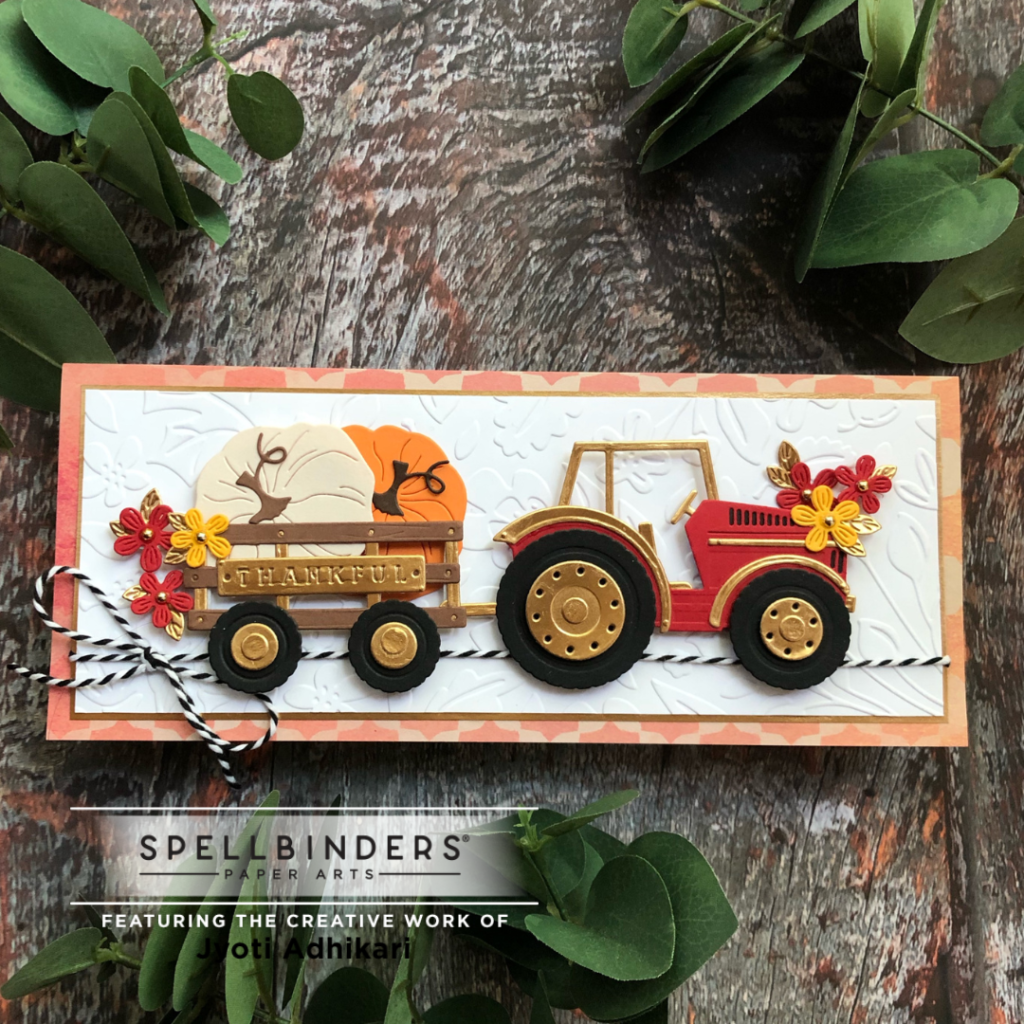 As always, I started by die cutting the pieces of the truck and the wagon behind it with Spellbinders card-stocks. The color palette I picked just screams fall.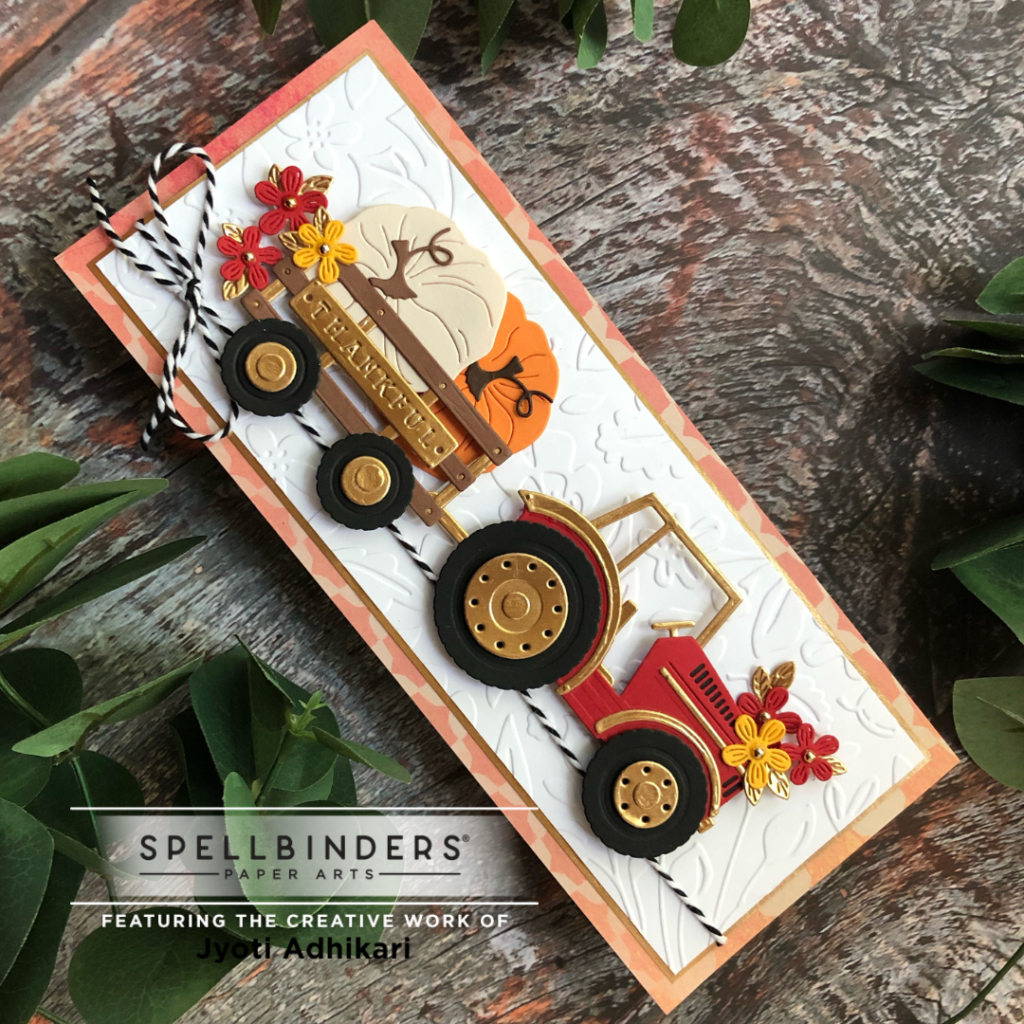 The assembly is always the most tedious part but is almost like putting the puzzle pieces together; the amusement after the puzzle is completed is worth every effort.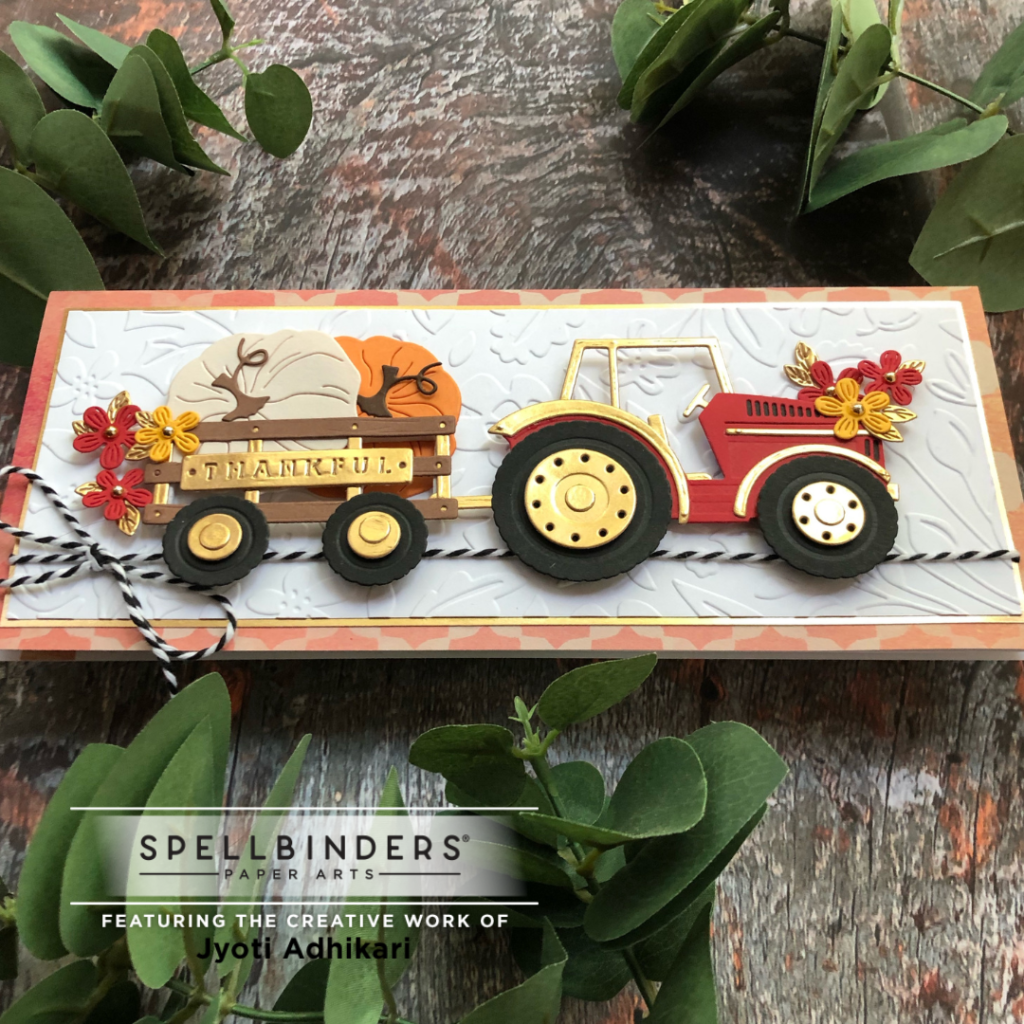 For the background I used the EMBOSSING FOLDER OF THE MONTH FOR SEP '22 and embossed a panel, which I later matted with gold card-stock to match the gold die cuts. I then tied a black and white twine towards the bottom of the panel. On a slimline card-base I adhered a fall colored pattern paper, followed by the embossed panel with a shiny gold border; then finally the die cut truck on foam tape.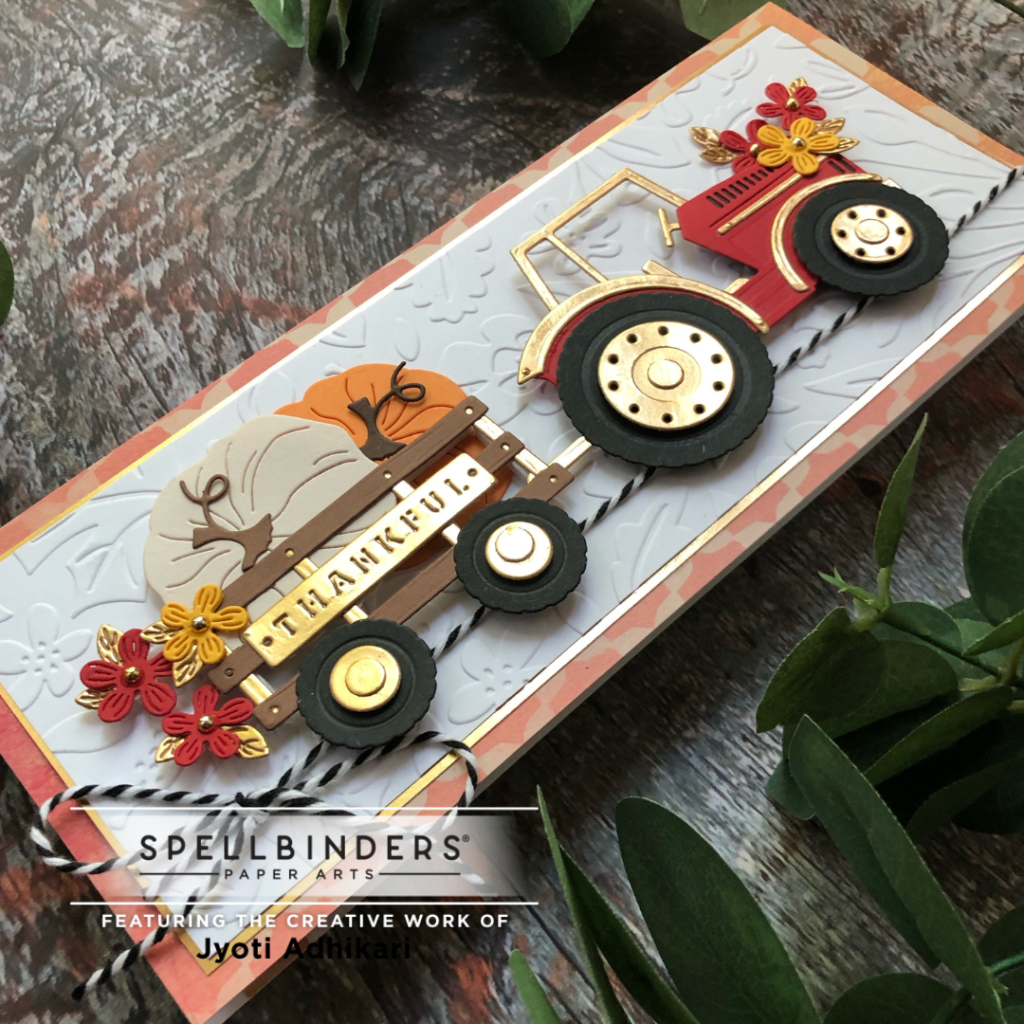 Next come the flowers. I used the MINI BLOOMS AND SPRIGS ETCHED DIES FROM THE SLIMLINE COLLECTION to die cut some red and orange flowers with gold leaves for the finishing touches. I loved how this Thankful Pumpkin Truck card turned out. How about you?
Happy Fall Teal Truck Card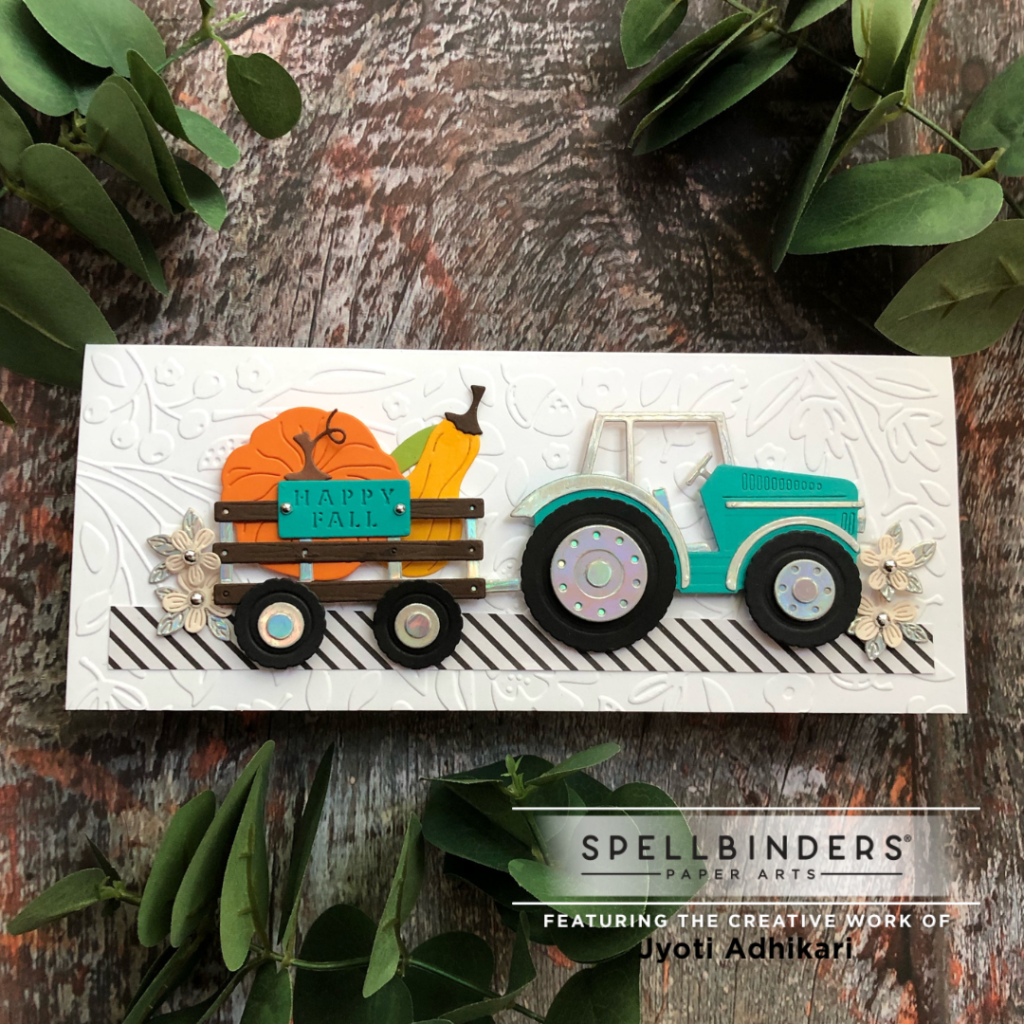 This card is created similarly as the first one. The only difference here is that the background is made up of one whole embossed piece. Instead of the black and white twine, I used a black and white striped pattern paper to ground the truck die cut image.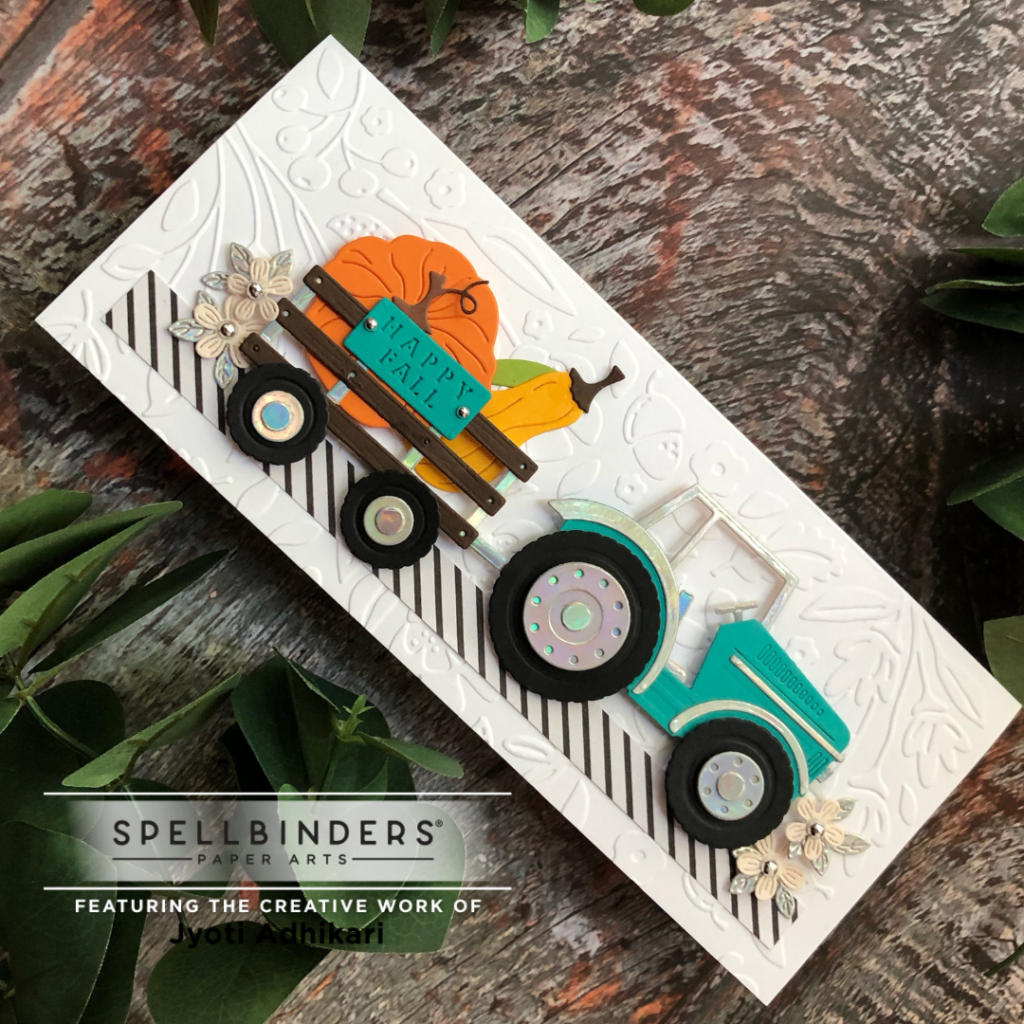 The teal card-stock is also from Spellbinders. I looked at Pinterest for some ideas and saw this teal truck which I loved. There are pumpkin and a gourd on the truck.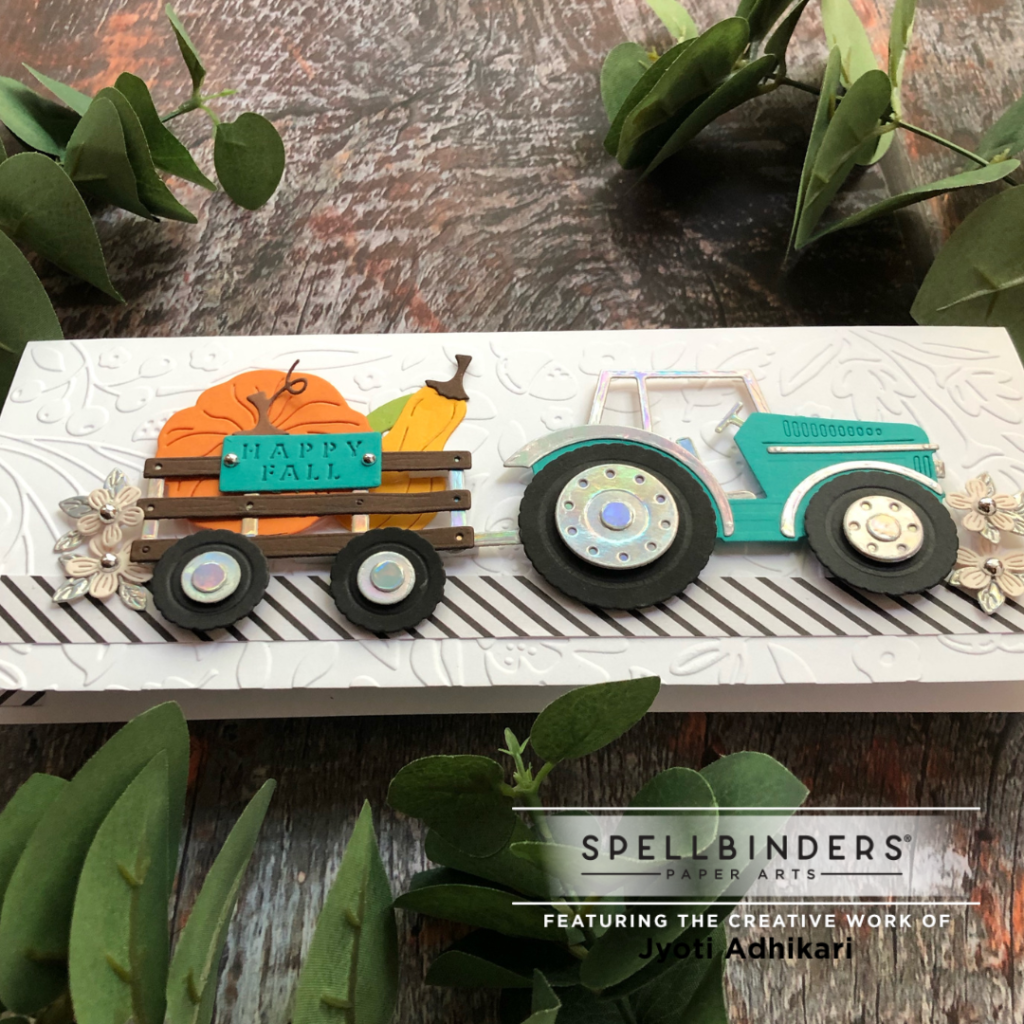 For the decorations I used some blooms and leaves in cream and pearlescent card-stock. This finished my second card.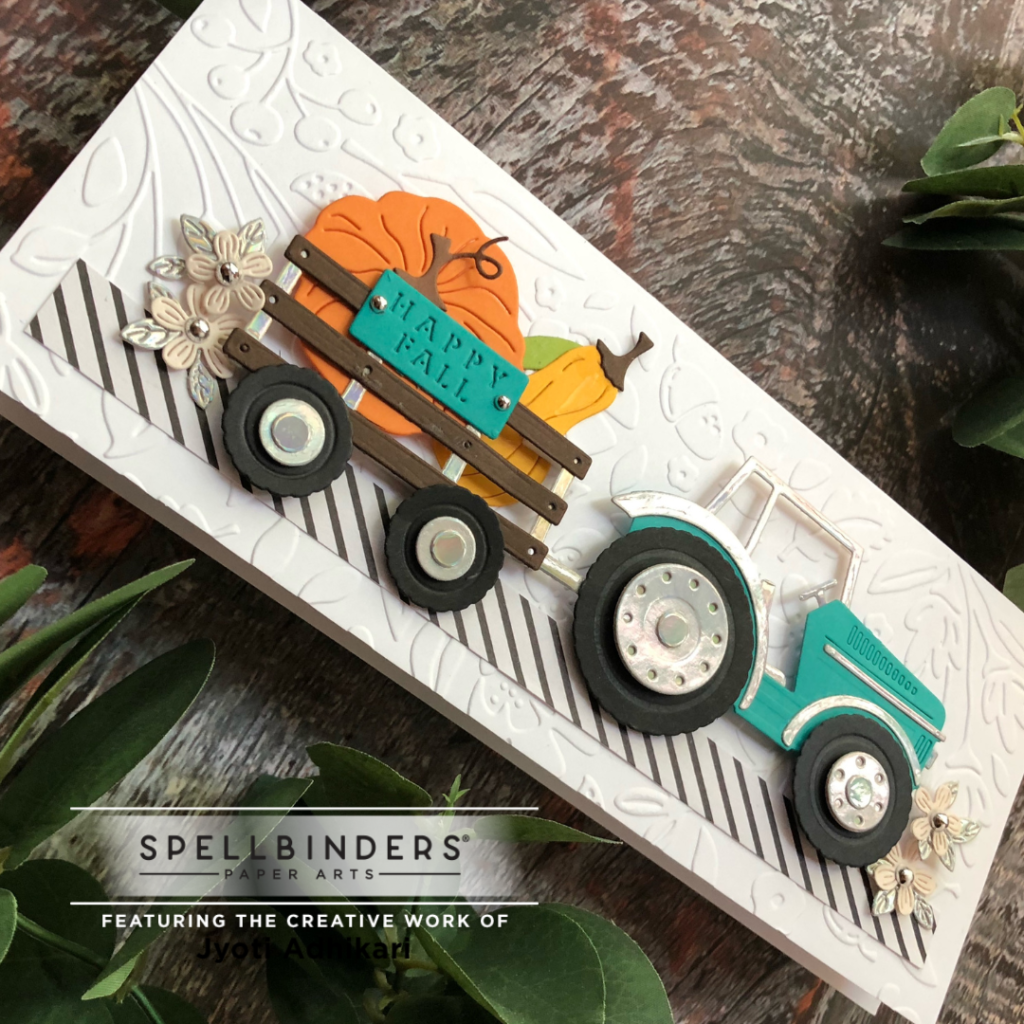 Truck Background Hello Fall Card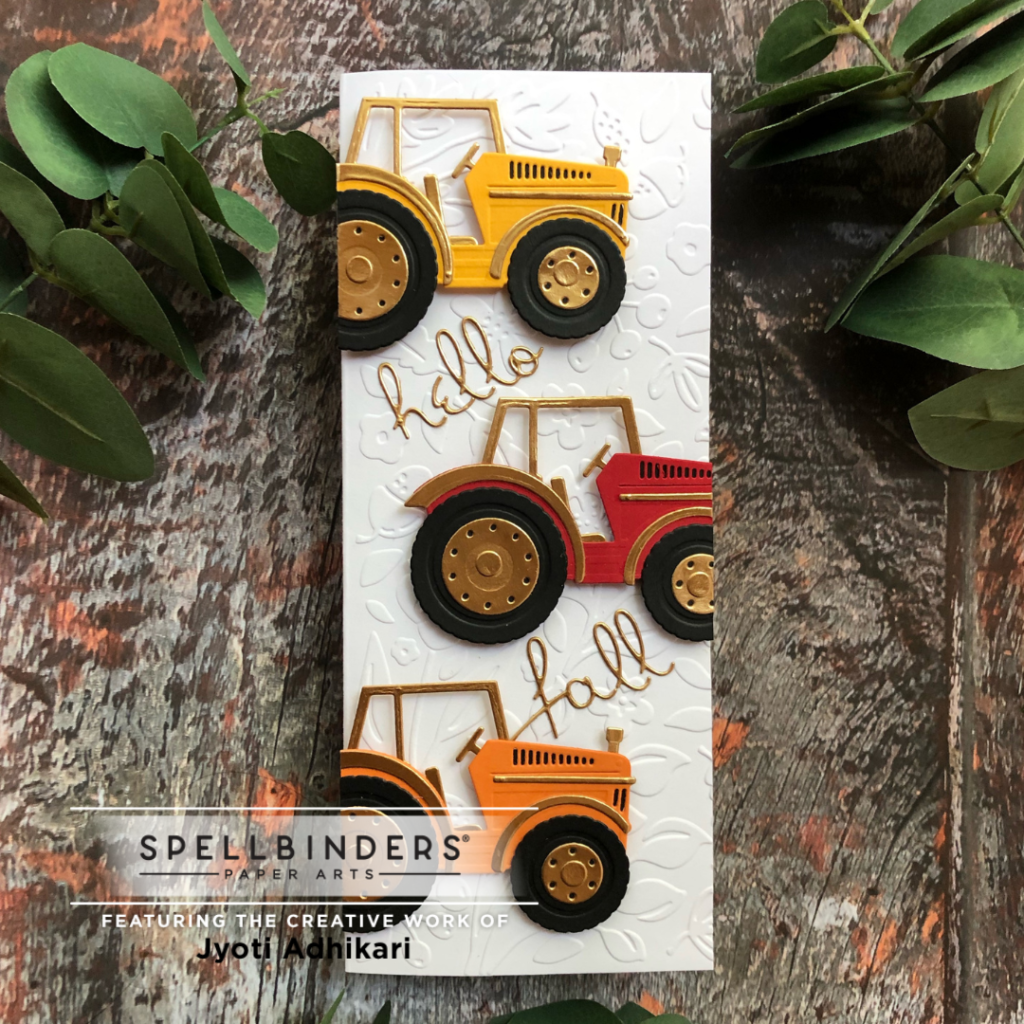 After creating two cards, this idea came to my mind about creating one with just trucks as a background. I created three trucks with red, orange, and yellow card-stock.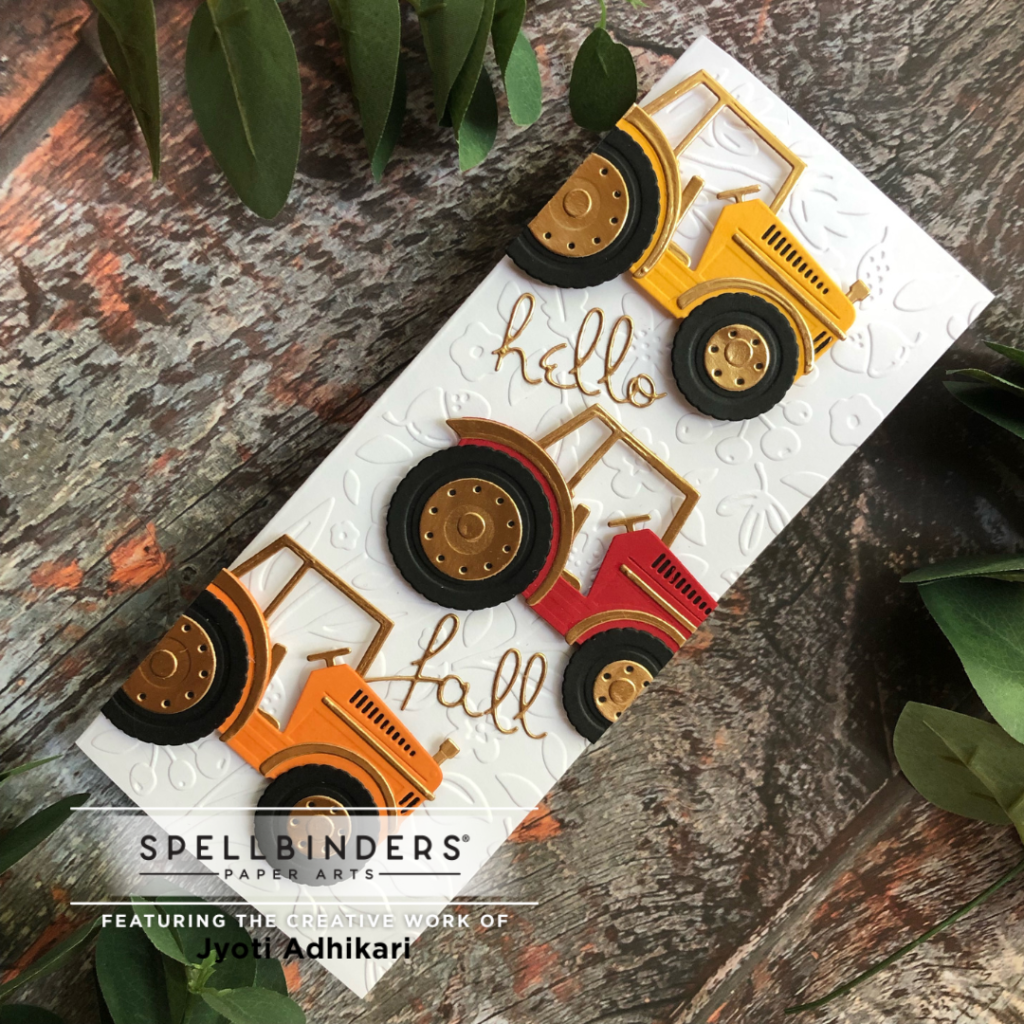 For this one, I embossed the card-base itself, arranging them in rows but alternating their places. This adds the feeling of trucks passing in and out of the scene.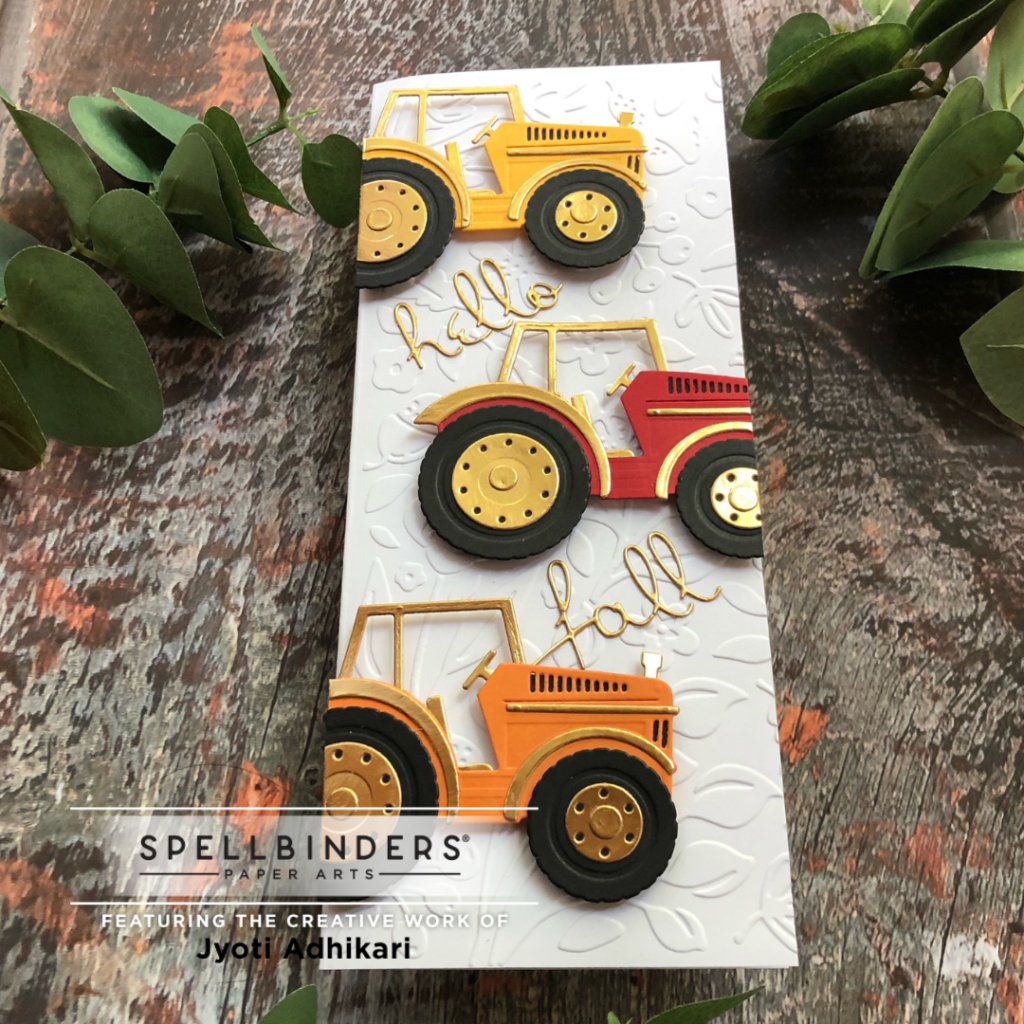 Here you can see the dimension this card has. Lastly, I added the die cut "Hello Fall" sentiment which is from SMALL DIE OF THE MONTH MEMBERSHIP.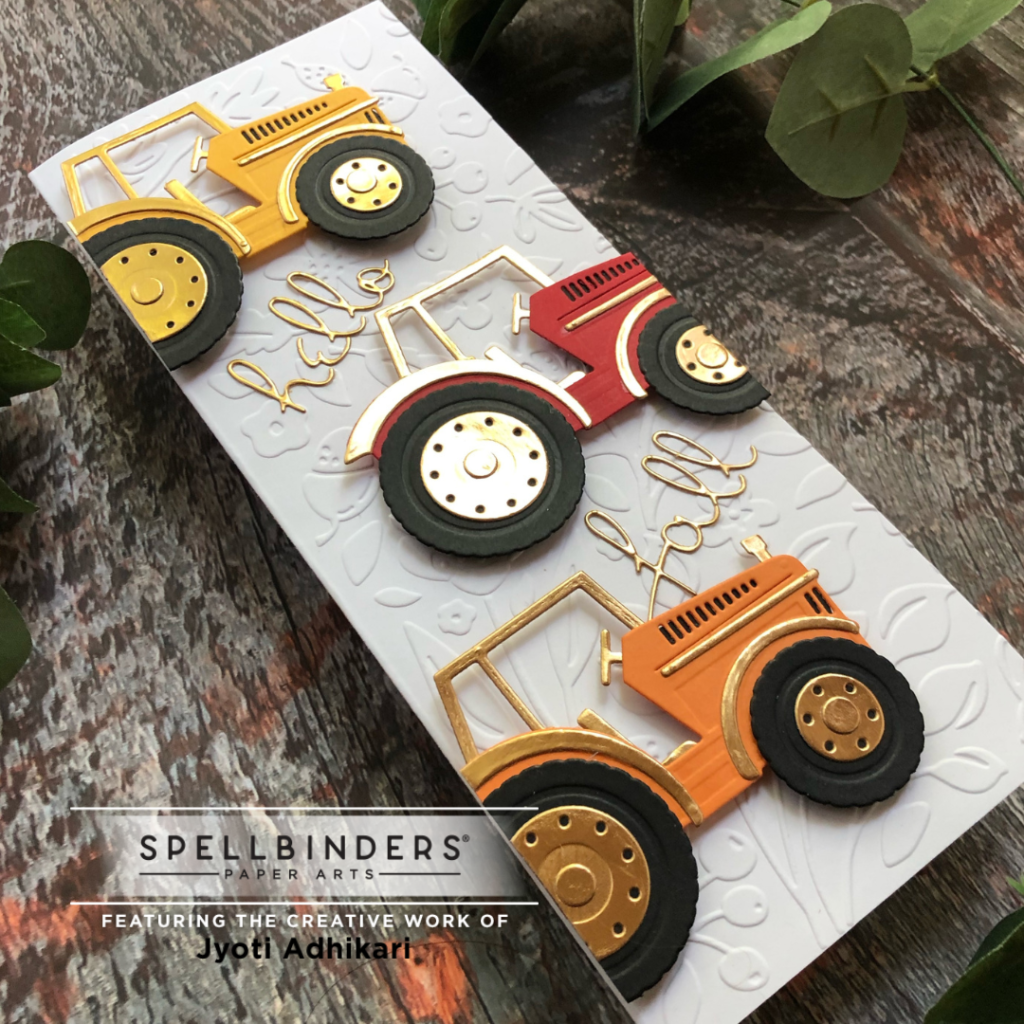 I didn't think this card needed any extra embellishments. What do you think about this one?
Corns In The Cob Thankful Card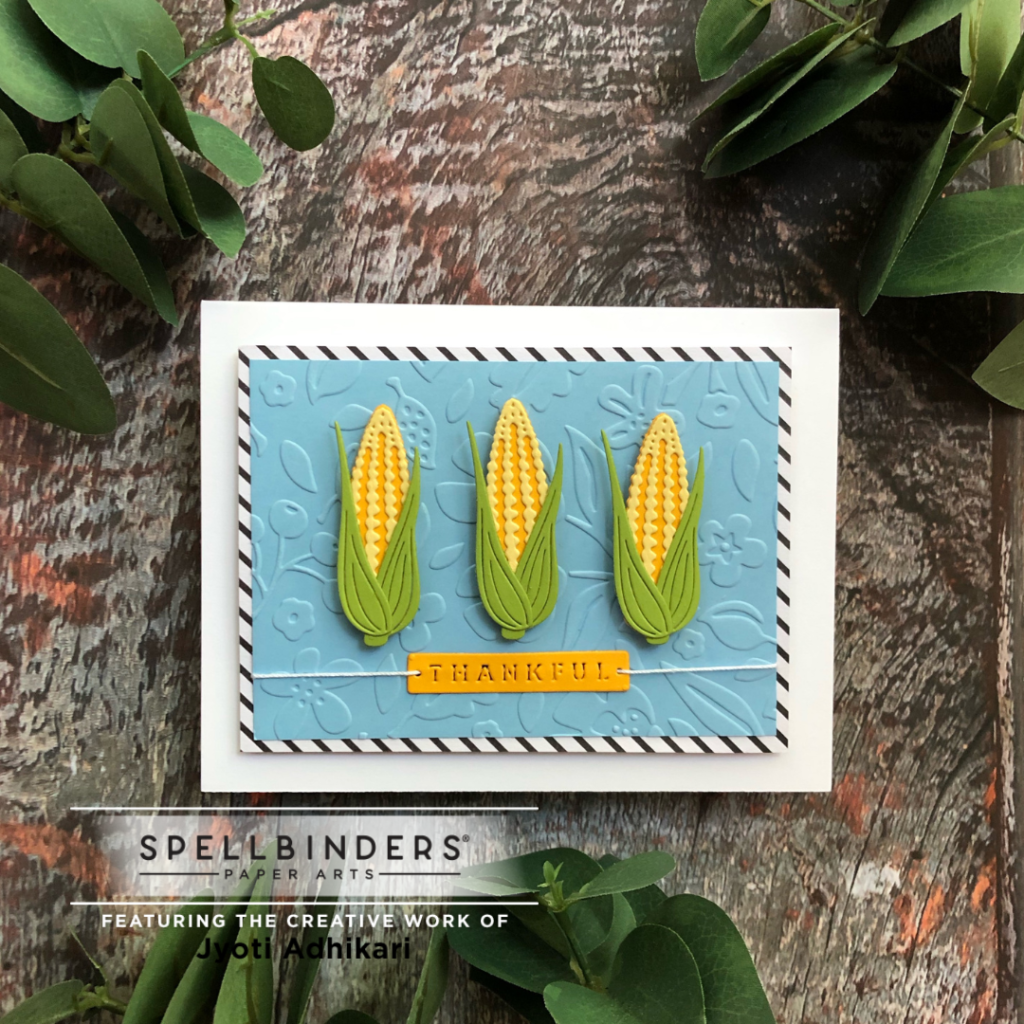 Creativity has this snowball effect. One card inspires another one. When I saw this corn image in this die set, I wanted to create one card with just the corns.
This one is an A2 size card. I die cut and assembled three corns on the cob. These cobs have so much detail in them.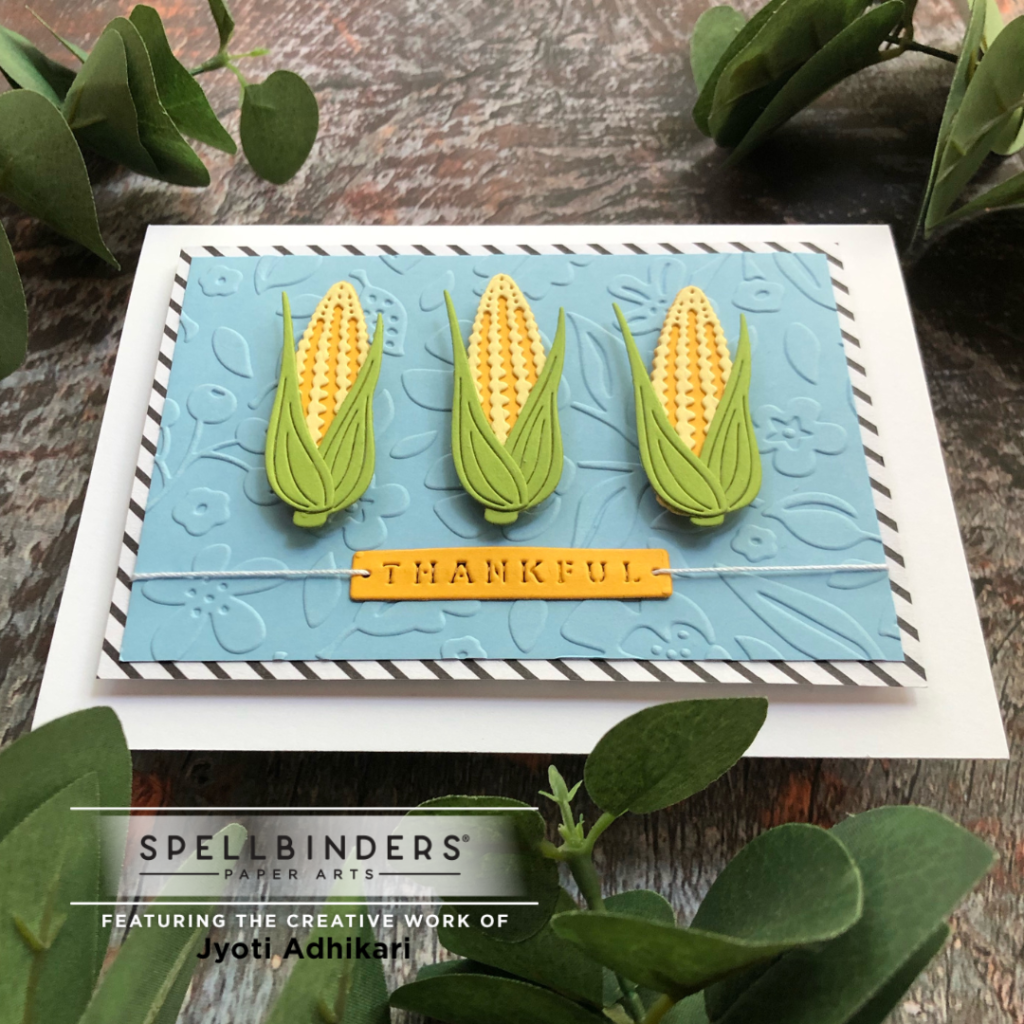 For the background, I took a piece of blue card-stock and used the embossing folder on it. Then I matted it with a black and white striped pattern paper showing a quarter inch of border around it. I added the panel on the card-base using foam tape.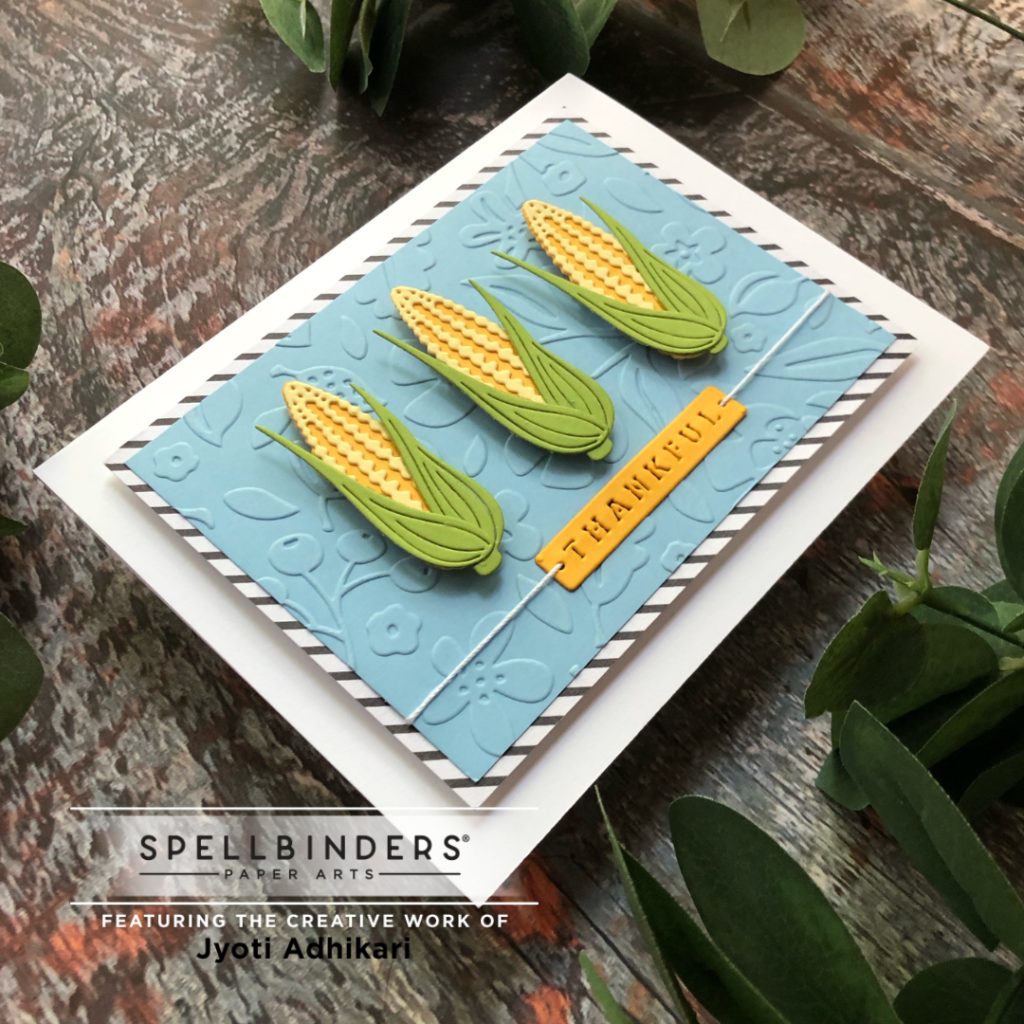 Three corns in a row looks perfect for this card. Then I added a die-cut "Thankful" sentiment from the LARGE DIE OF THE MONTH FOR SEP '22.
This does it for the last card. No extra embellishments needed. I just loved this simple look.
Hope this inspired you to create some fun projects with the Spellbinders dies. If you liked my projects please comment below. I love hearing your thoughts about my makes.
Here are some other Spellbinders cards I have created using their dies.
Hugs,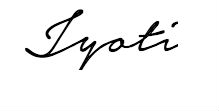 Disclaimer:
Here are some affiliate links to the products I have used to create these cards. If you make a purchase through these links I make a certain percentage of commission which will be helpful to me in creating more inspirations for you.