Spellbinders Large Die Of The Month for Dec '22 is all Valentine's Day and Love themed. It is called the Blooming Heart. This die set is large enough to create a 5 by 7 card or use it as a shaped card. But indeed you can fit it on an A2 card-front. Which is what I have done here for my inspiration.
Hello Everyone!
I am here today sharing my inspiration for the Large Die Of The Month For Dec '22 with a fun twist to a regular die cut card. Here is what the die looks like:
This die cuts this large Heart shape, the floral elements and this beautiful "With Love" word die. The floral elements are layered pieces to create beautiful dimensional flowers.
Here is what I have created with this die.
Focal Image
It's obvious that my main focus is this beautiful heart shaped bloom. I didn't use the heart die for my card today but just the floral part of it. I started by die-cutting all the elements with spellbinders card-stocks. The leaves in Fern Color Essential Card-stock. Then the flowers with Barely Peach Color Essential Card-stock. Then i die-cut some layers with gold glitter card-stock from my stash. I added some shading to the flowers with Tea Die Disstressed Oxide Ink and Detail Blending brush. I love these brushes, they are soft and small enough to blend color in small areas like these flowers. Then I finished adding some flowers with liquid glue and some with foam tape on the leafy die cut. My focal image was now ready to go on a card.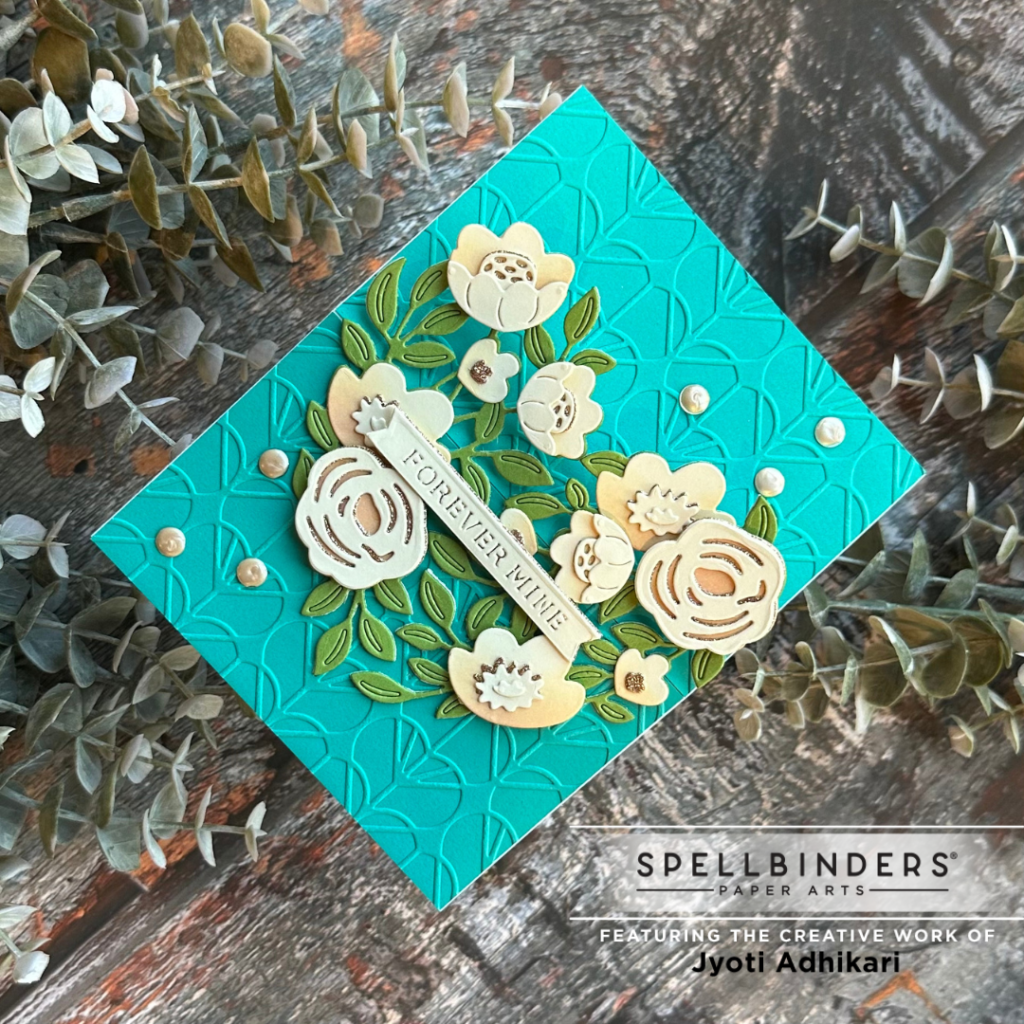 Background
For my background today I wanted to use the Embossing Folder Of The Month For Dec '22. This embossing folder is called Heart Blooms and it looks like this: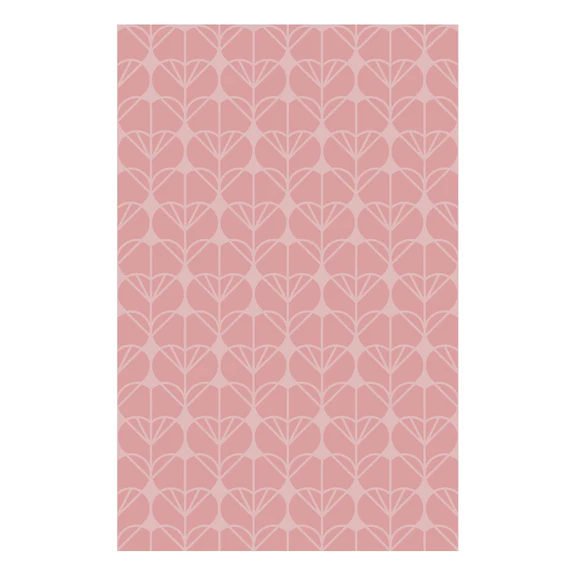 This is a large embossing folder so you can do all card sizes with just one embossing folder. It is definitely a great value and adds just the perfect texture for your cards.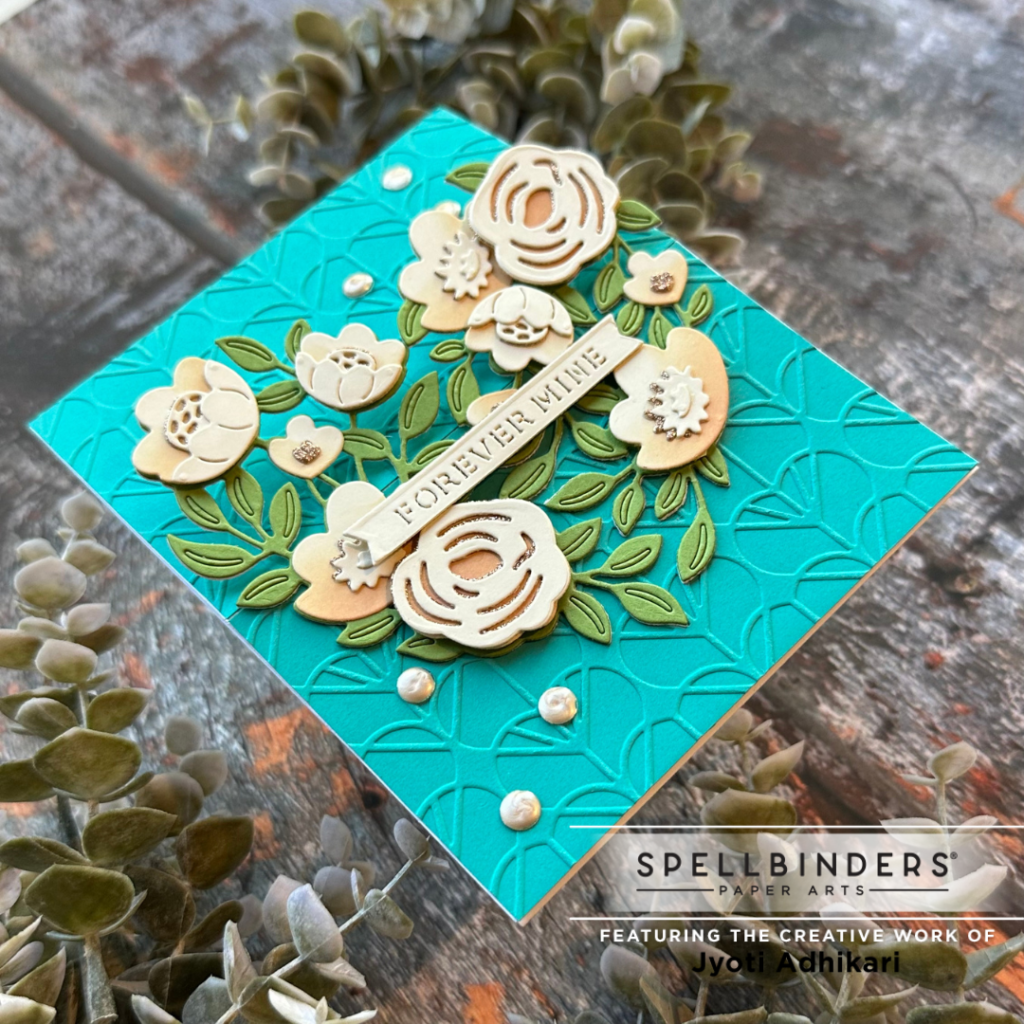 As you can see I have embossed an A2 panel of Teal Topaz Color Essential Card-stock and them cut it in the middle. Because, I wanted to create an easel card. This is what an easel card looks like: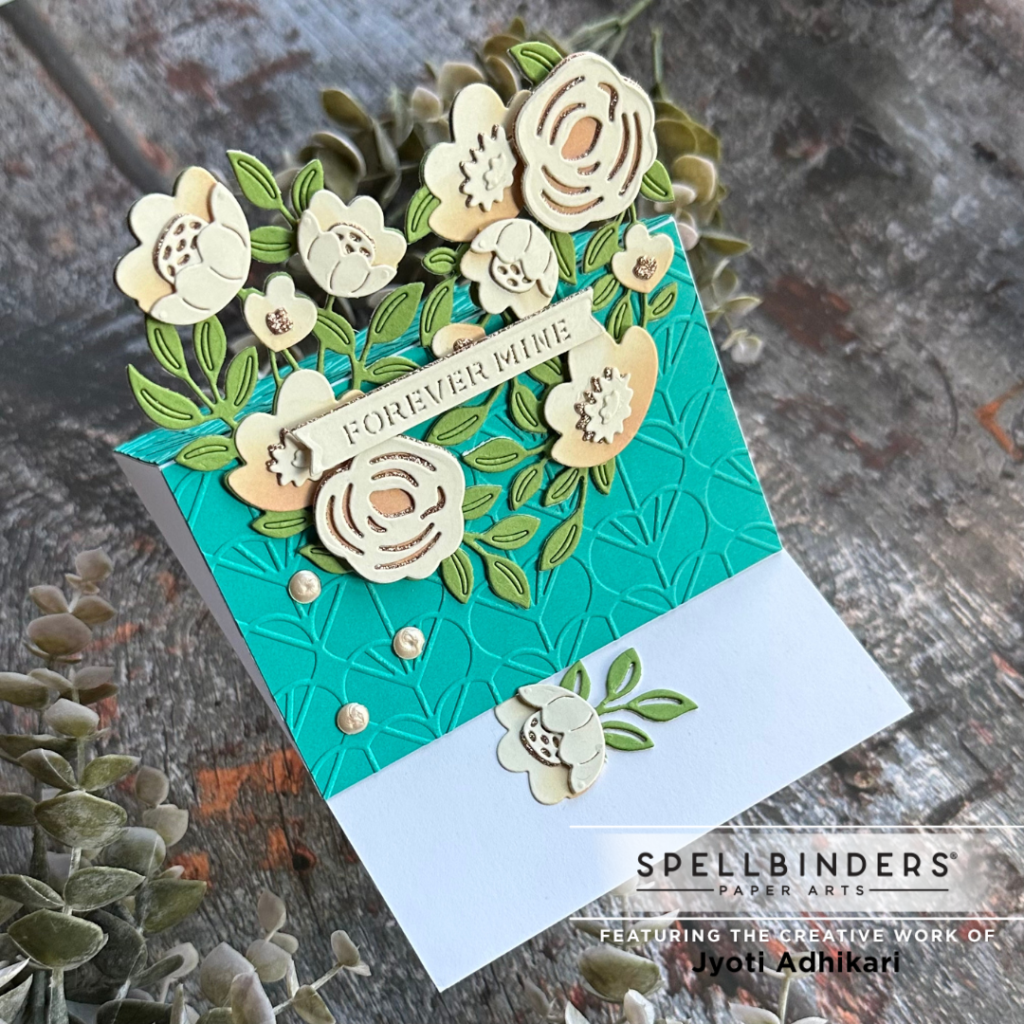 Easel card is a card where the front panel folds but the decorative part of the card design still stays upright and you can display the card with another element stopping it from closing completely exactly like an easel.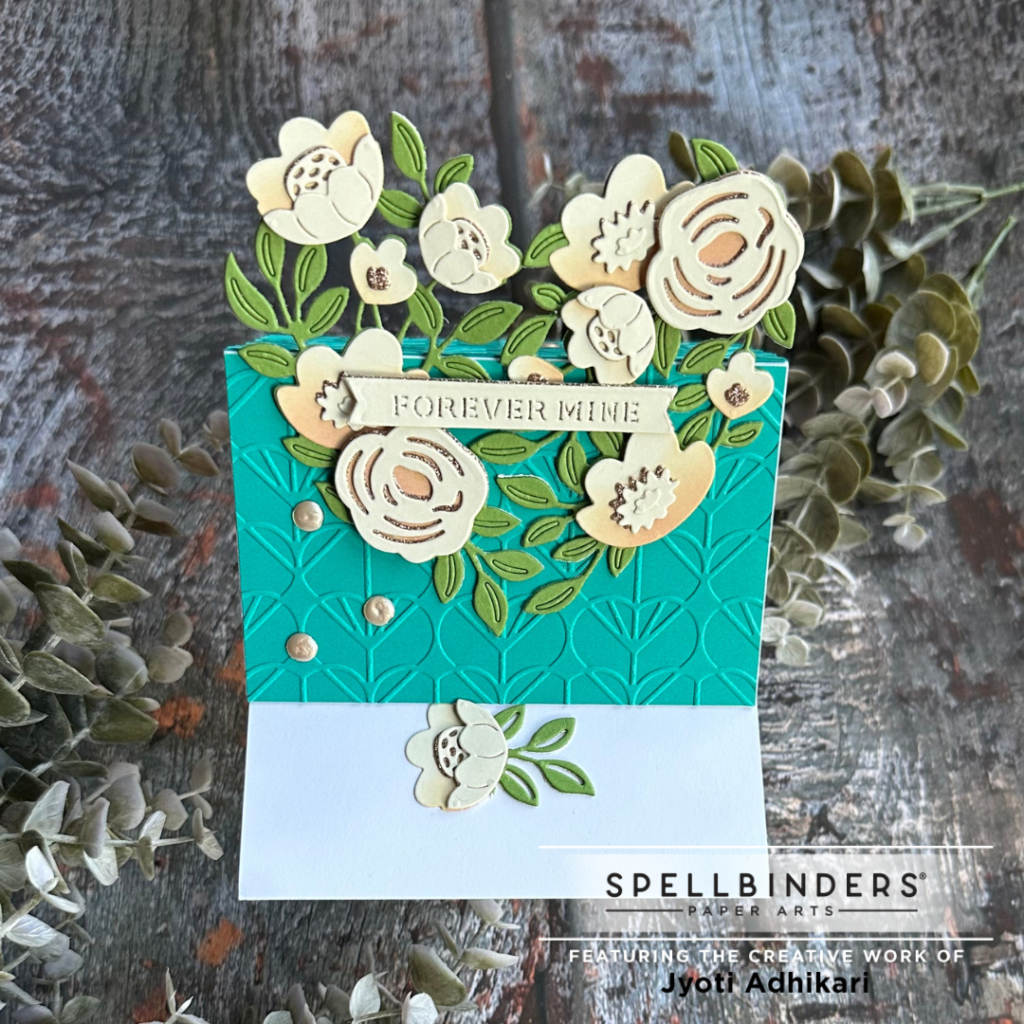 So the reason of cutting the front panel in the middle is to make it easier to fold. I adhered the pieces in the front of the card aligning the cut very close. So it looks like it's just one piece when the card is closed. I created a flower with some leaves for the inside as a stopper.
Card Base
This card-base is created a little differently. It is just a top folding A2 size card base with the front part scored and folded along the middle. You just take a half panel of card-stock cut it along the center lengthwise. Score at 2 and a quarter inch and then 5 and a half inch.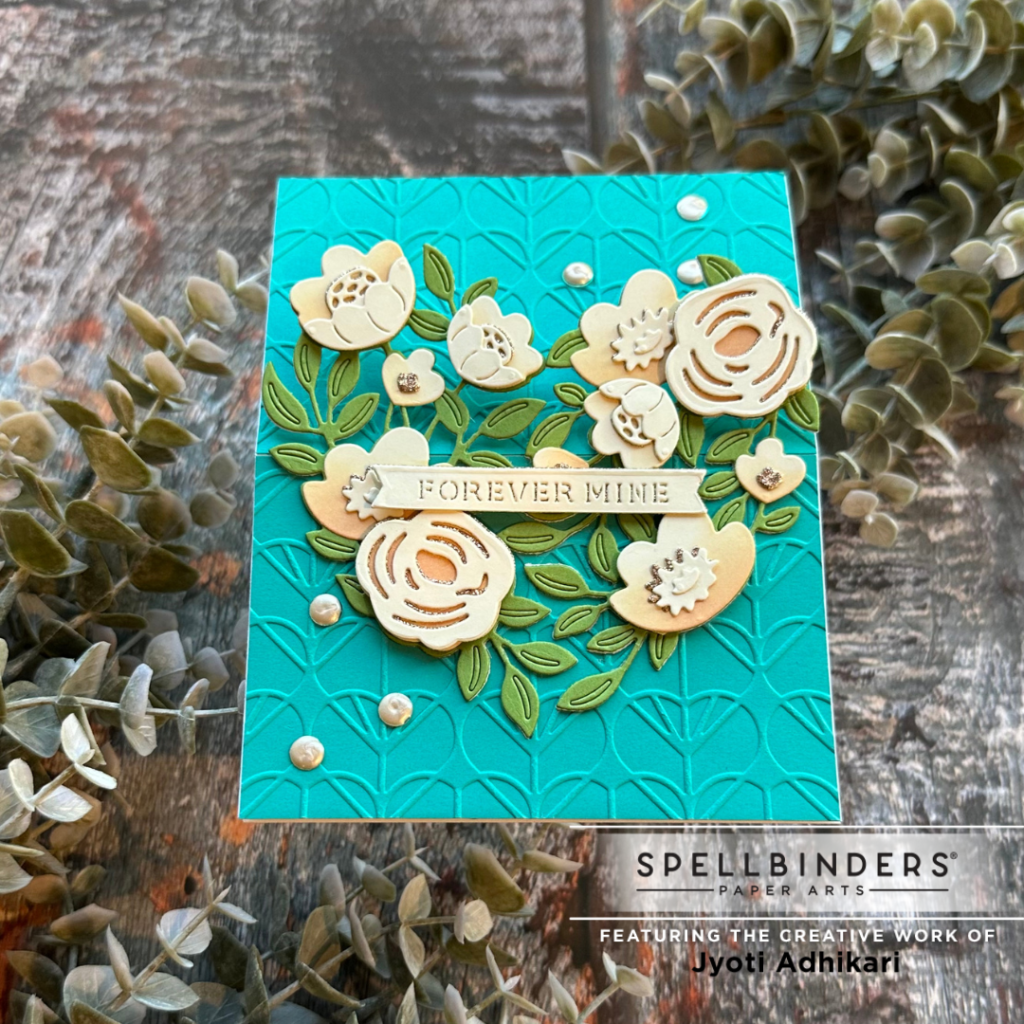 Sentiment
This die set comes with the word die but for my card today I used another sentiment die cut from the Small Die Of The Month For Dec '22. Which looks like this:
I used the sentiment "Forever Mine" for my card today. With this I with some sequin embellishments.
I hope this inspires you.
Hugs,