Spellbinders Small Die of the Month for Dec 2022 is a valentine theme stitching die set. Stitching dies have become so popular among the crafting community lately and Stitched cards are very unique and special.
Hello everyone!
Today I am sharing two cards I created using the Spellbinders Small Die of the month for Dec '22. Here is what the die set looks like: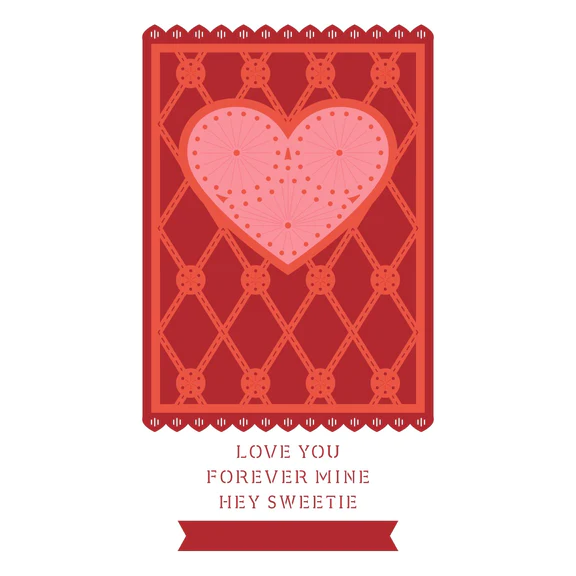 My First Card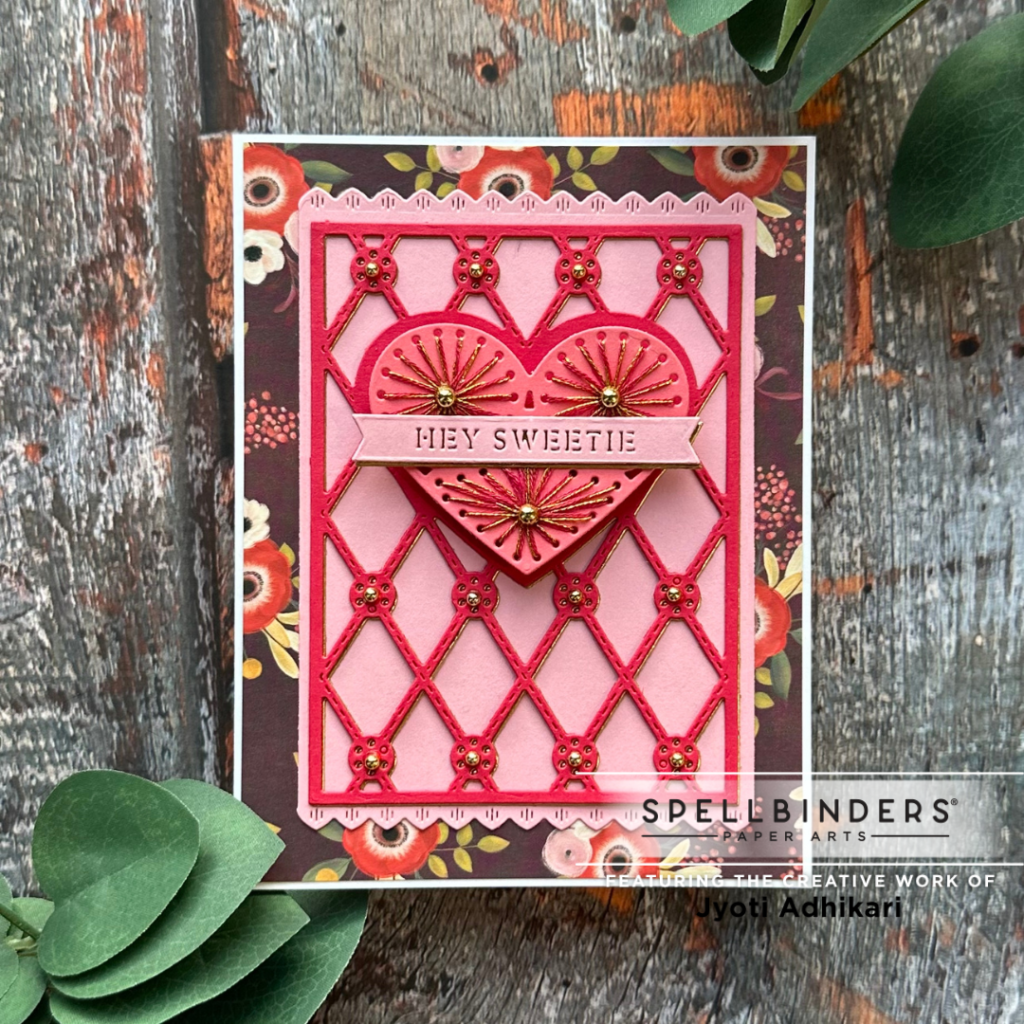 My color palette for these two cards are light pink, dark pink, peach and gold. For my first card I decided to die-cut the pieces in all three shades of my color scheme. Then I did some stitching on the heart with two stands of dark pink and one strand of gold DMC Embroidery Thread. Before stitching I like to add two layers of die-cut so it's sturdy when I do the stitching.
I die-cut the sentiment "Hey Sweetie" with light pink card-stock and layered a gold card-stock behind it. The sentiment banner added on top of the heart is just the perfect placement. I finally added some gold pearls on the centers of the stitching and the background lattice.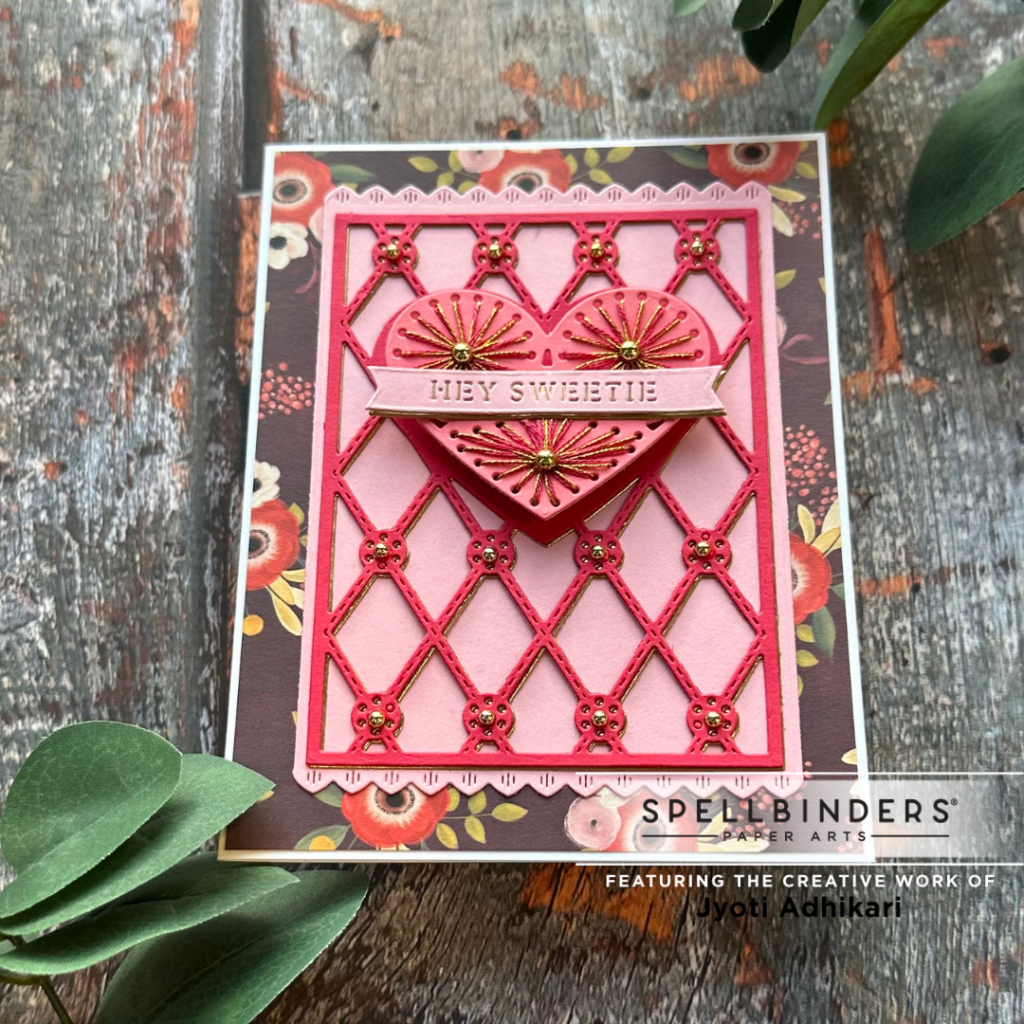 My card is 5 and a half by 4 and a quarter inches in dimension. I added a pretty floral pattern paper that match my color palette as a background for my die-cut focal image. This finished my first card.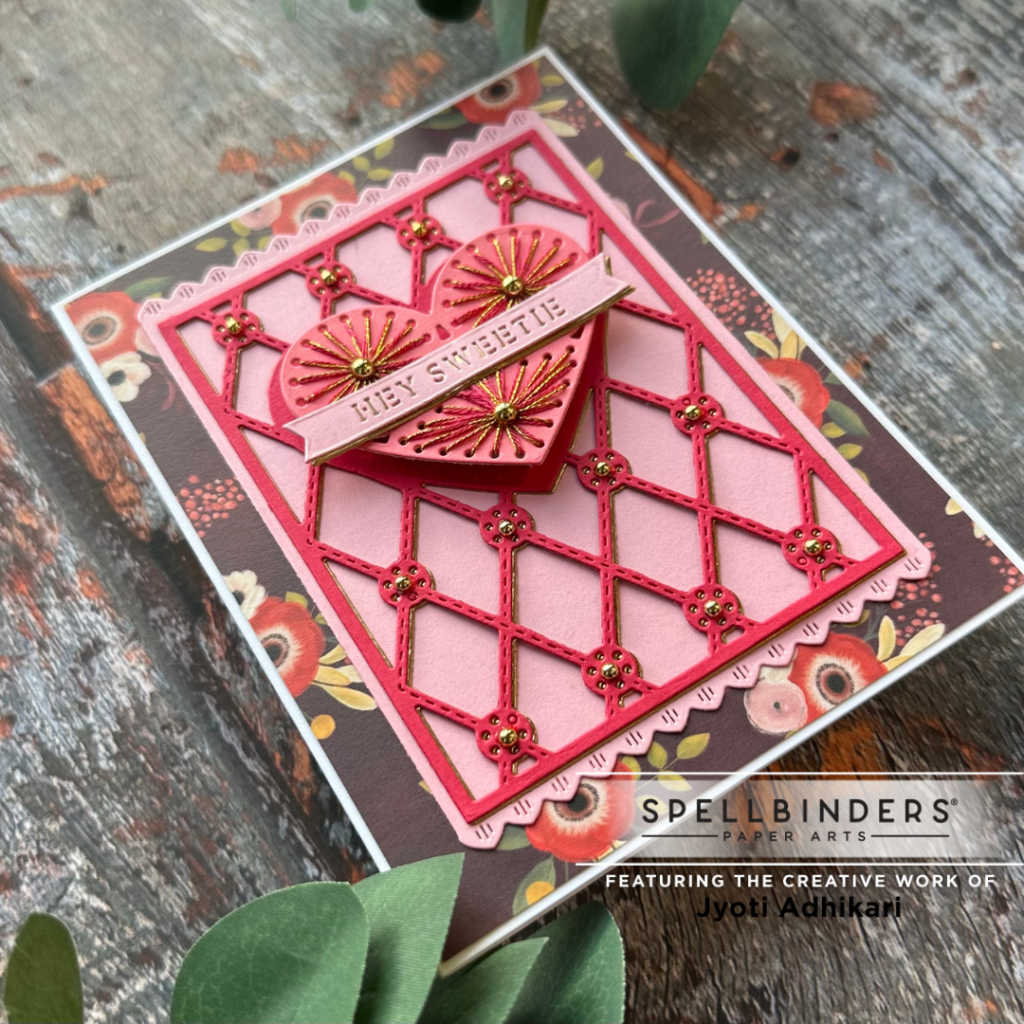 My Second Card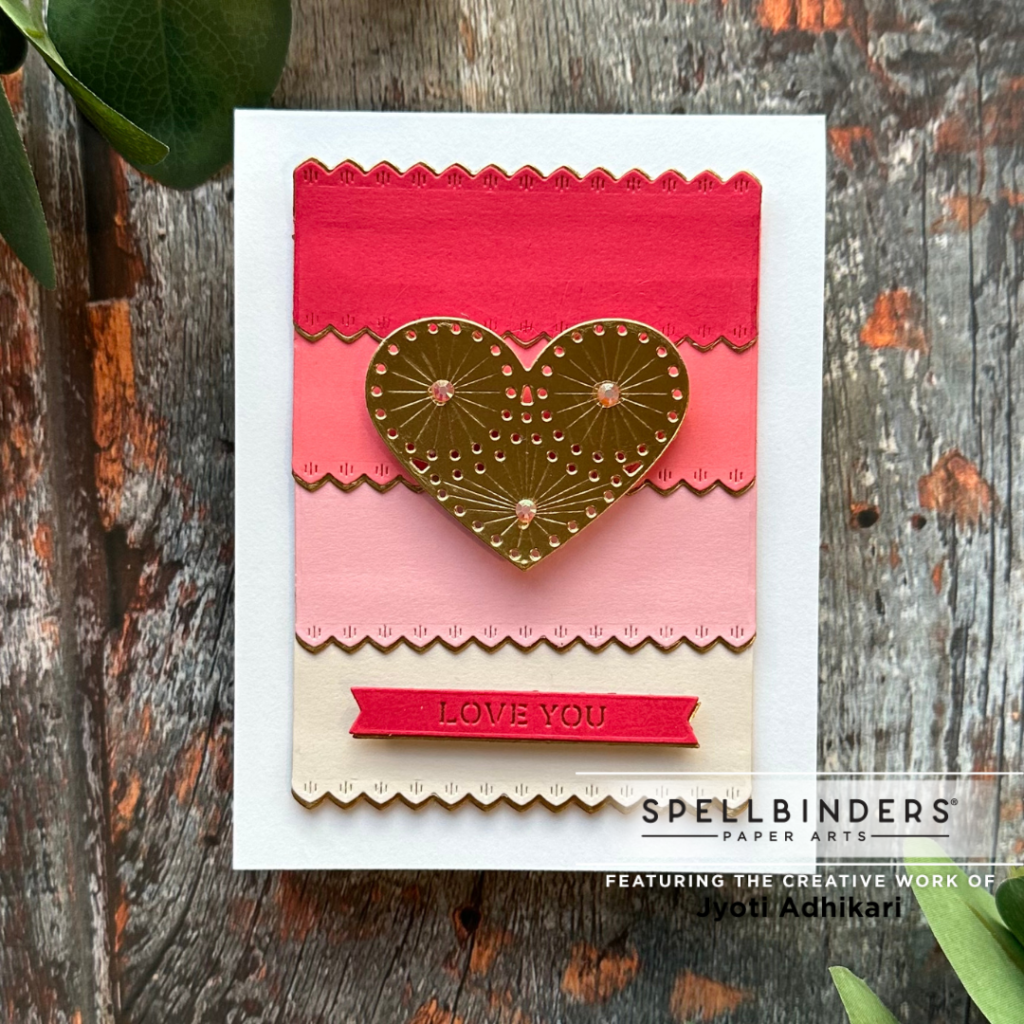 For my second card I had an idea of doing an ombre layered background. The largest piece of the die set is this rectangle which cuts straight on two sides bu there is a fun scallop edge on the top and bottom. I thought it would be cool if i just die cut one edge with this design and layer in ombre fashion.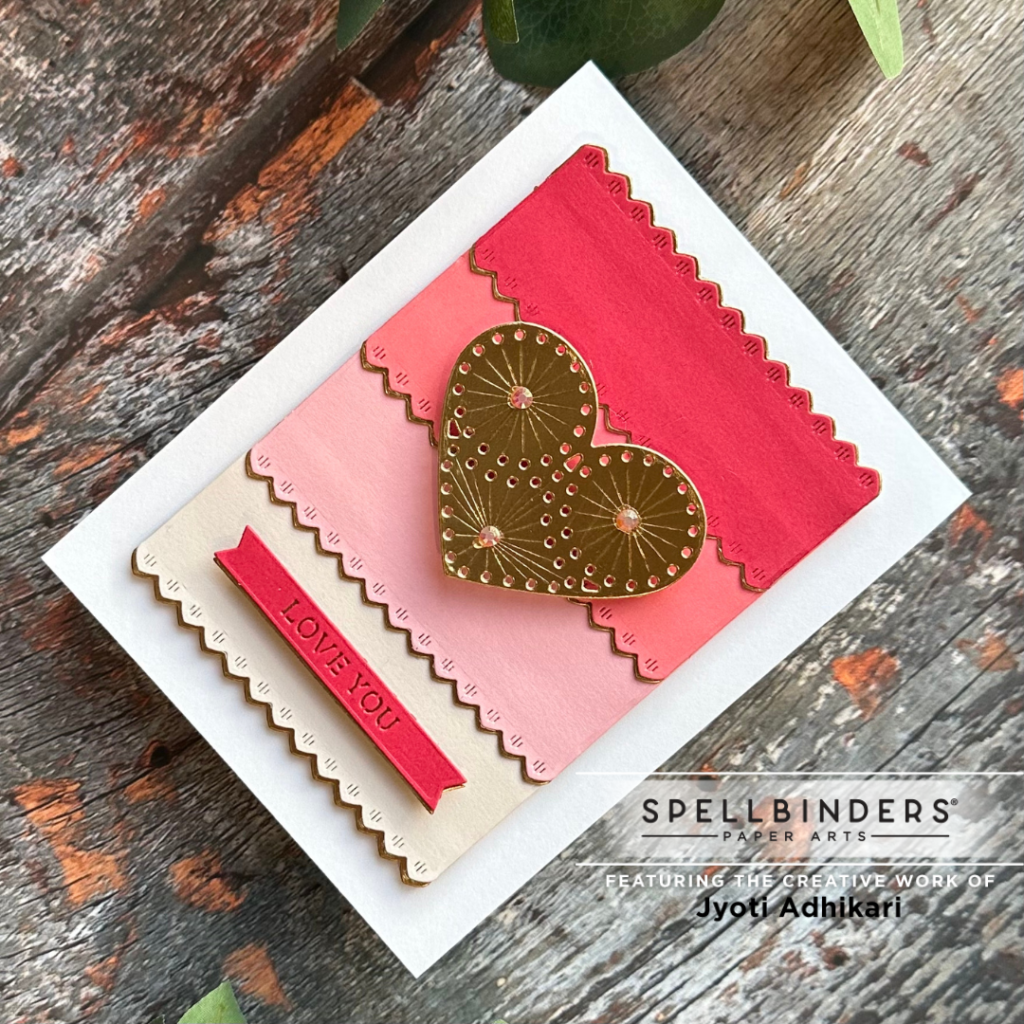 I calculated the height first. The large die is about 4 and a quarter inches tall. So if I die cut each piece to be a little over and inch, it would fit perfectly on my card front. On the top most piece I also die cut the top edge. My ombre starts with darkest on the top and gets lighter as in goes down towards the bottom. The I die-cut a gold heart and added it on the ombre background with foam tape. I settled with a white card-base as the background for my focal image for this card.
For the sentiment i used "Love You" die cut with dark pink card-stock and layered with gold die cut behind it. I used foam tape to adhere the sentiment strip along the bottom of my card. As an embellishment I added some jewels on the center of the designs on the heart die-cut. This completed the second card.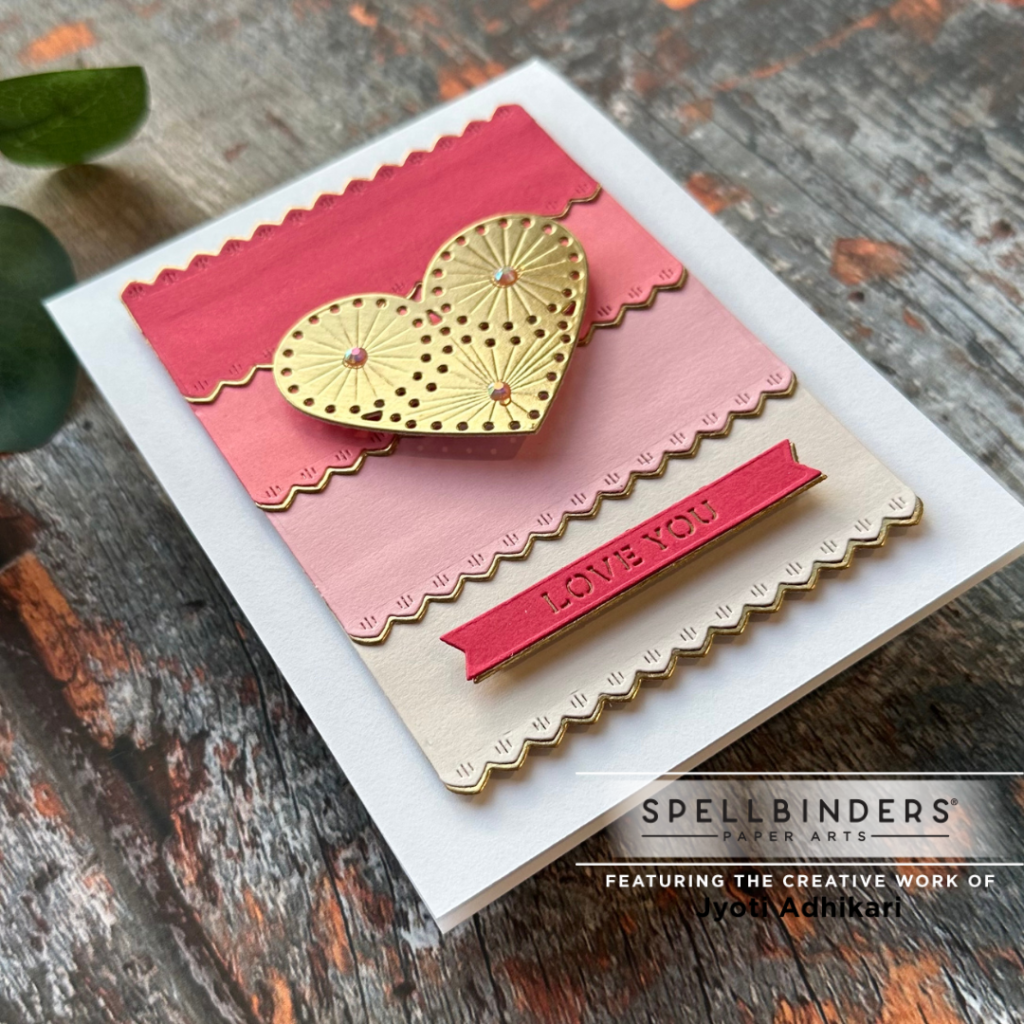 I really loved the sentiments of this die set. I have also used it on another card here.
Hope this inspires you.
Hugs,