Hello everyone. Hope you are all doing great. Today I am sharing a watercolor floral card I made using Karin Watercolor Markers. Ever since I bought these markers I have fallen in love with them.
Me along with some talented cardmakers are celebrating Varada Sharma's August Release Wings and Petals. This beautiful floral image if from one of her digital stamp set Awesome Blossom.
Giveaway
We are giving away THE ENTIRE RELEASE to one lucky blog reader – selected at each stop in the hop. Giveaway closes on Sunday, August 16th, 11:59 pm CDT. in the blog hop post the following Tuesday.
To win simply comment below.
Want one extra point? Subscribe via email to https://VaradaSharma.com.
Want two extra points? Become a member of the FREE Silver Membership subscription at https://varadasharma.com/product/monthly-digital-stamps-silver-membership/
Don't forget to comment on my post and hop along other designers blog post for a chance to win. The full list of artists with their blogs is listed below.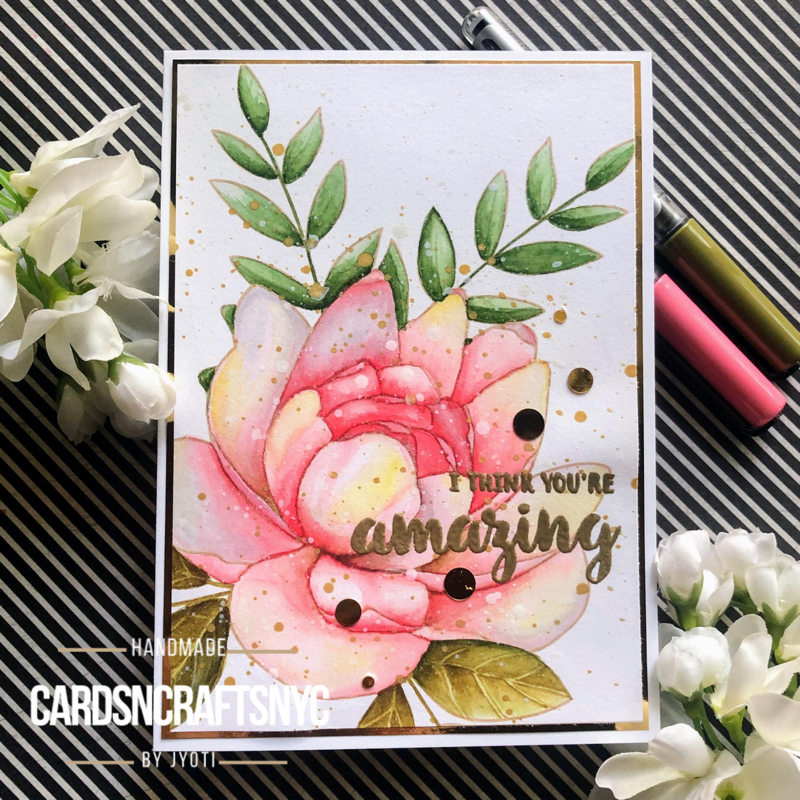 The Focus
Started by printing this stamp set in a floral arrangement on a mixed media paper.
I wanted to create a 5 by 7 card because I preferred to paint a bigger flower not tiny floral clusters.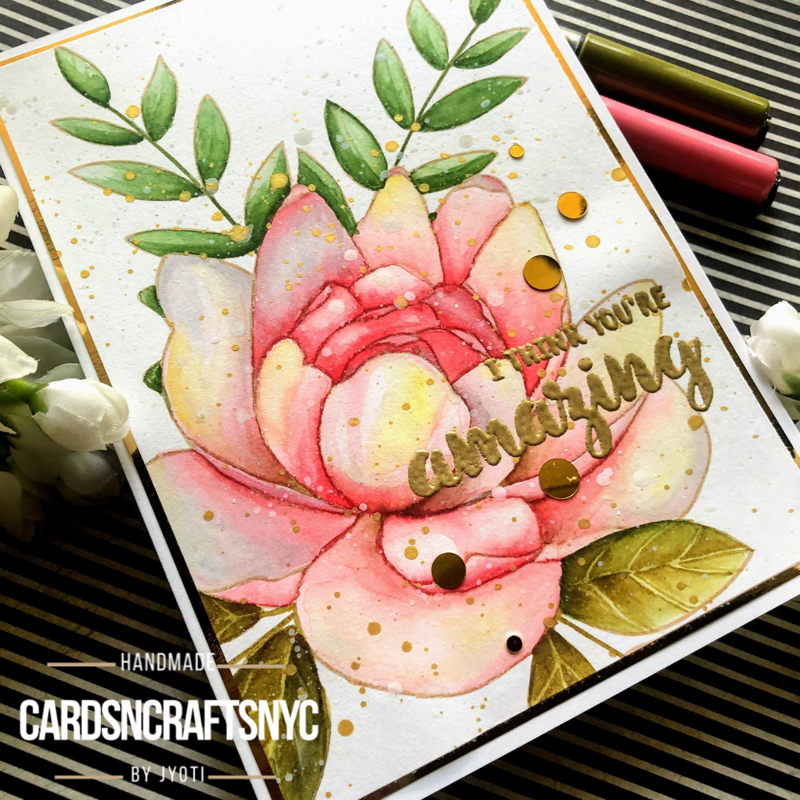 I printed the image in light beige color so I could create a no line coloring effect.
Colors Used
Started water coloring the flower using Karin Watercolor Markers. Pale pink concentrating on the base of the petals and fading towards the tip, leaving a pale wash of color for highlights. After two layers of pink I added a little olive green to the base of some petals and added a light wash of gold on the highlighted areas for a warmth. Finally, I added warm grey wherever it is supposed to be shaded.
The leaves on the top are colored with olive green and the leaves on the bottom are colored with curry.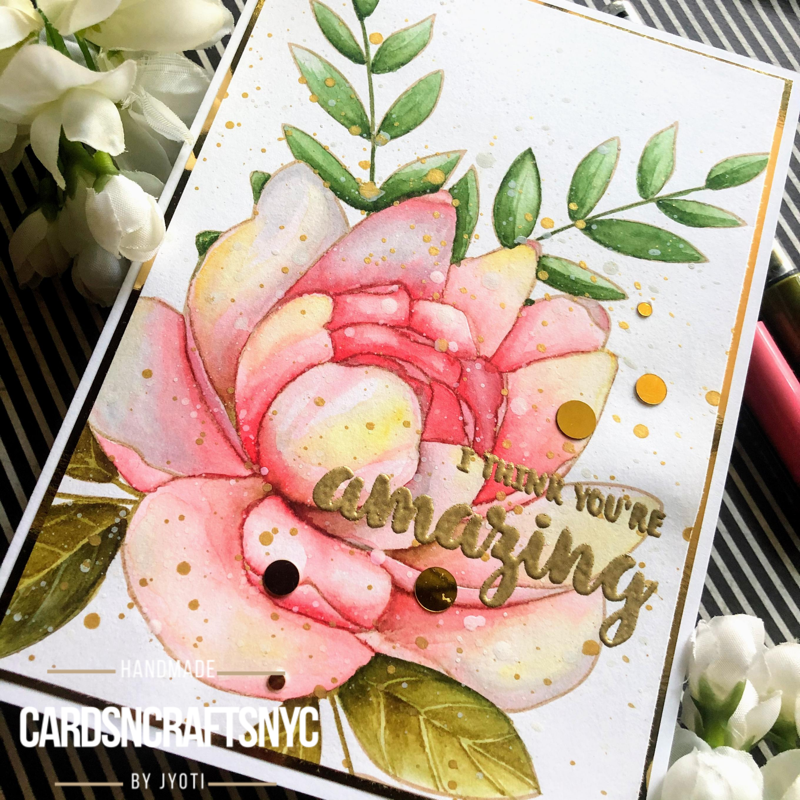 I added some splatters of white acrylic paint and some gold watercolor paint.
Sentiment
And then, I used the sentiment from Wplus 9. It is a very old set of sentiment stamp. I stamped the sentiment directly on top of the colored image with Versamark ink and embossed using wow gold embossing powder.
For embellishment, I added a few gold sequins from my stash. I then layered this panel on a gold foiled cardstock and then adhered it to a 5 by 7 side folding cardbase made of heavyweight cardstock.
That finishes my card.
If you came here from

@anaa975 – https://stacksofcards.com/
Your next stop on the hop will be
@crafty_sistahs – https://thecreativetwins.blogspot.com/
Here is a full list of talented desiners:
@anaa975 – https://stacksofcards.com/
@cardsncraftsnyc – https://www.cardsncraftsnyc.com/blog/ 
@crafty_sistahs –  https://thecreativetwins.blogspot.com/
@itsapreetiworld – https://www.itsapreetiworld.com/
@mugdhagujarathi – https://craftomania123.blogspot.com/ 
@tenianelson – http://jazzypaper.blogspot.com/
@terispracklin &  @varadasharma – we will share our creations together on my blog – https://varadasharma.com/