On my post today I am sharing two cards I have created with the Stamp Of The Month Aug 2022 by Spellbinders.
Hello everyone!
I have been creating with the small and large dies of the month from spellbinders for a long time. This makes me so delighted to have spellbinders send me their stamp of the month to play with.
This month's stamp is a beautiful floral stamp and floral theme is my favorite when it comes to creating cards.
Here's what I've created: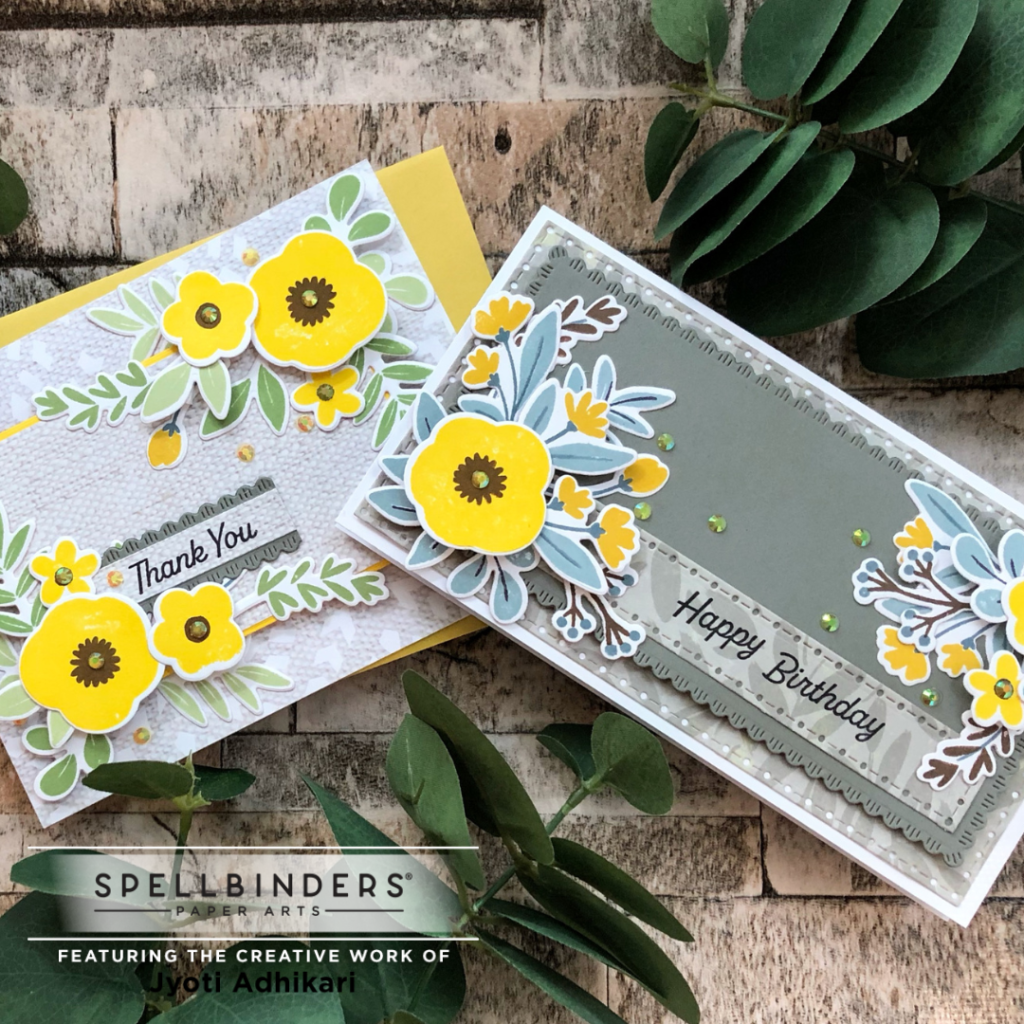 Started off by stamping a bunch of flower images in yellows and leaves in two different shades of greens. I used Altenew Inks for my stamping.
Thereafter, I die cut all of the stamped images with the coordinating dies that came with the stamp of the month.
My die cut bowl was full of flowers and leaves ready to go on cards. Almost like a bunch of cut flowers ready to be arranged on a vase.
Yellow Stamped Flower Thank you Card
My first card is an A2 size card. I wanted it to be in landscape orientation and have the fold on the top.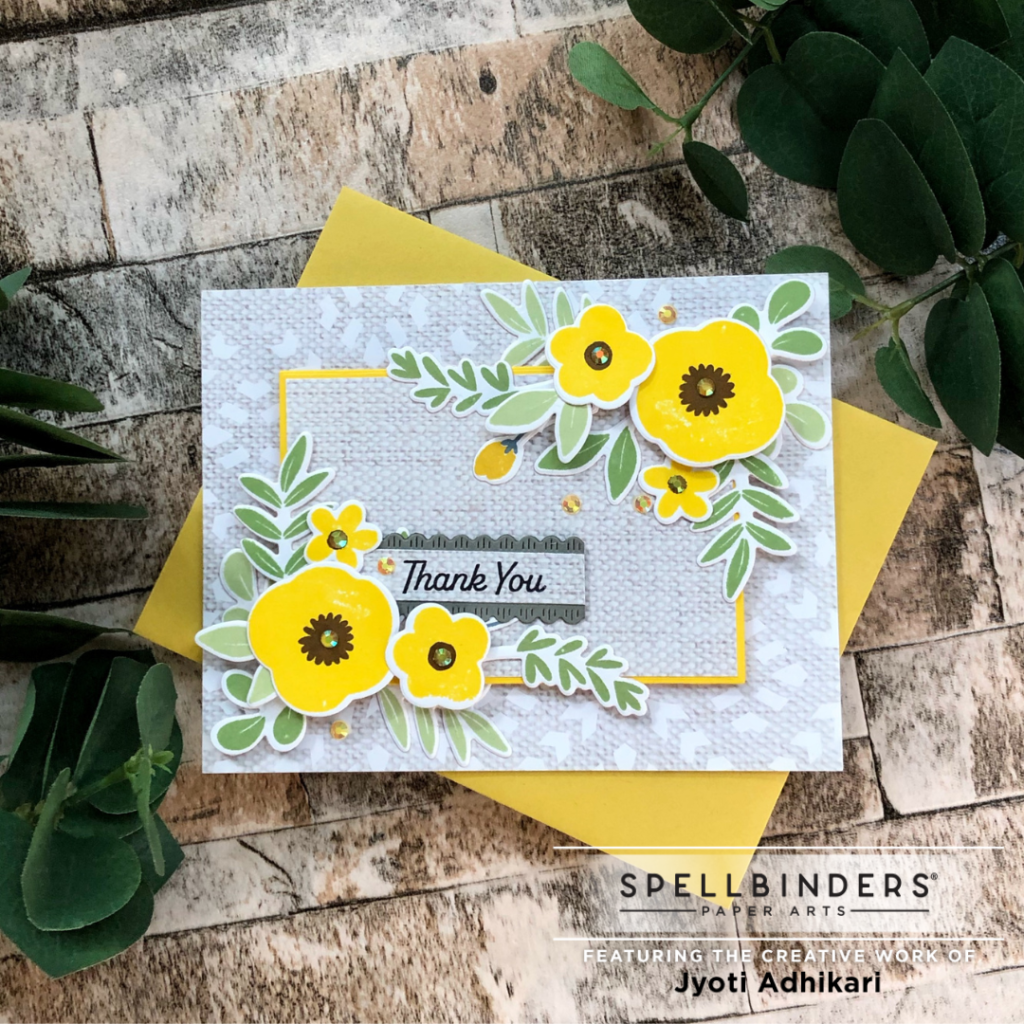 For the background I cut an woven textured pattern paper to fit my A2 card- front. Then I added another piece, slightly different in pattern but similar as it's from the same paper pack. For this piece I added a mat of yellow card-stock behind it to match my yellow flowers. This one is added with foam tape for dimension.
Then I started arranging the flowers in two corners left bottom and right top. Initially by adding a large flower with foam tape and then smaller flowers and leaves around it. It took me a while before deciding on the right arrangement. Once I was happy I went ahead and secured the arrangement with liquid glue.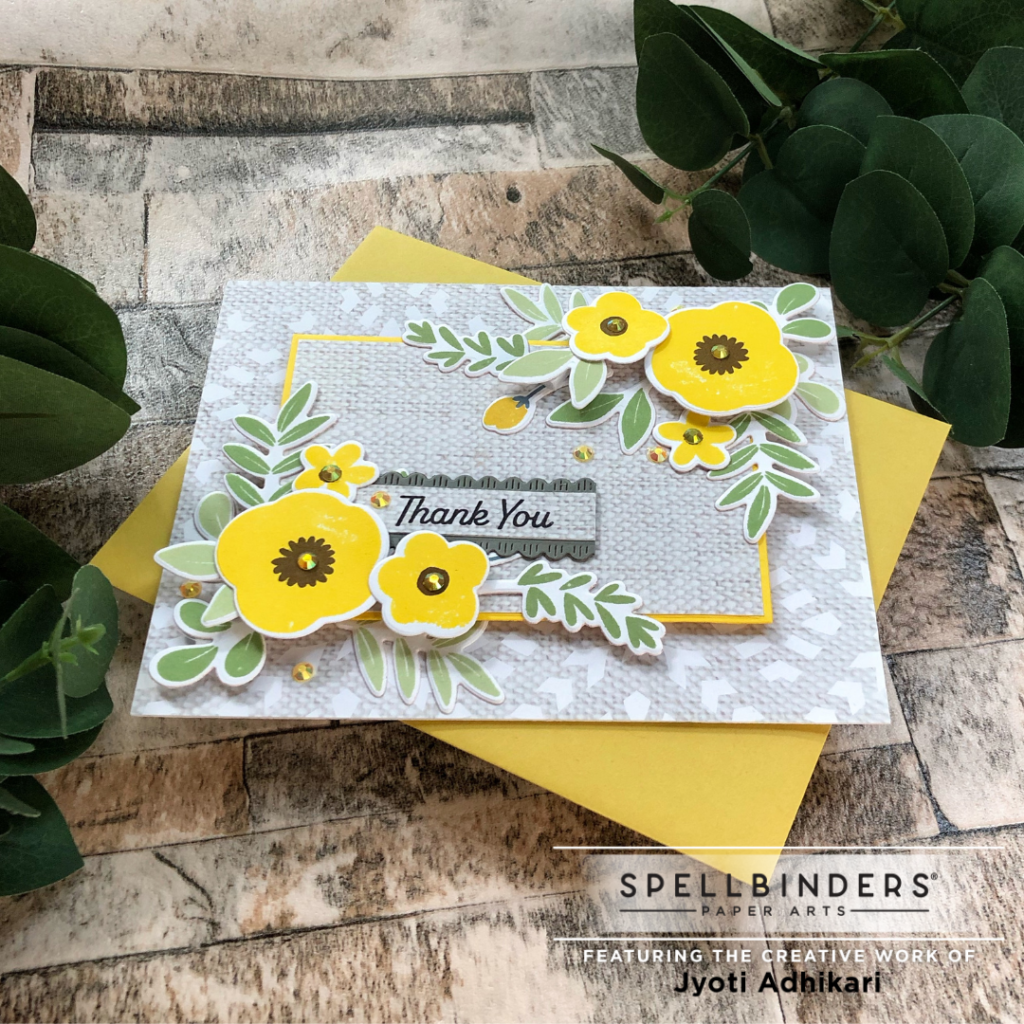 For the sentiment I picked "Thank you" for this card. The sentiment is stamped with black on a piece of leftover scrap of the pattern paper. It wouldn't look like a separate piece if I hadn't added the grey border piece behind it.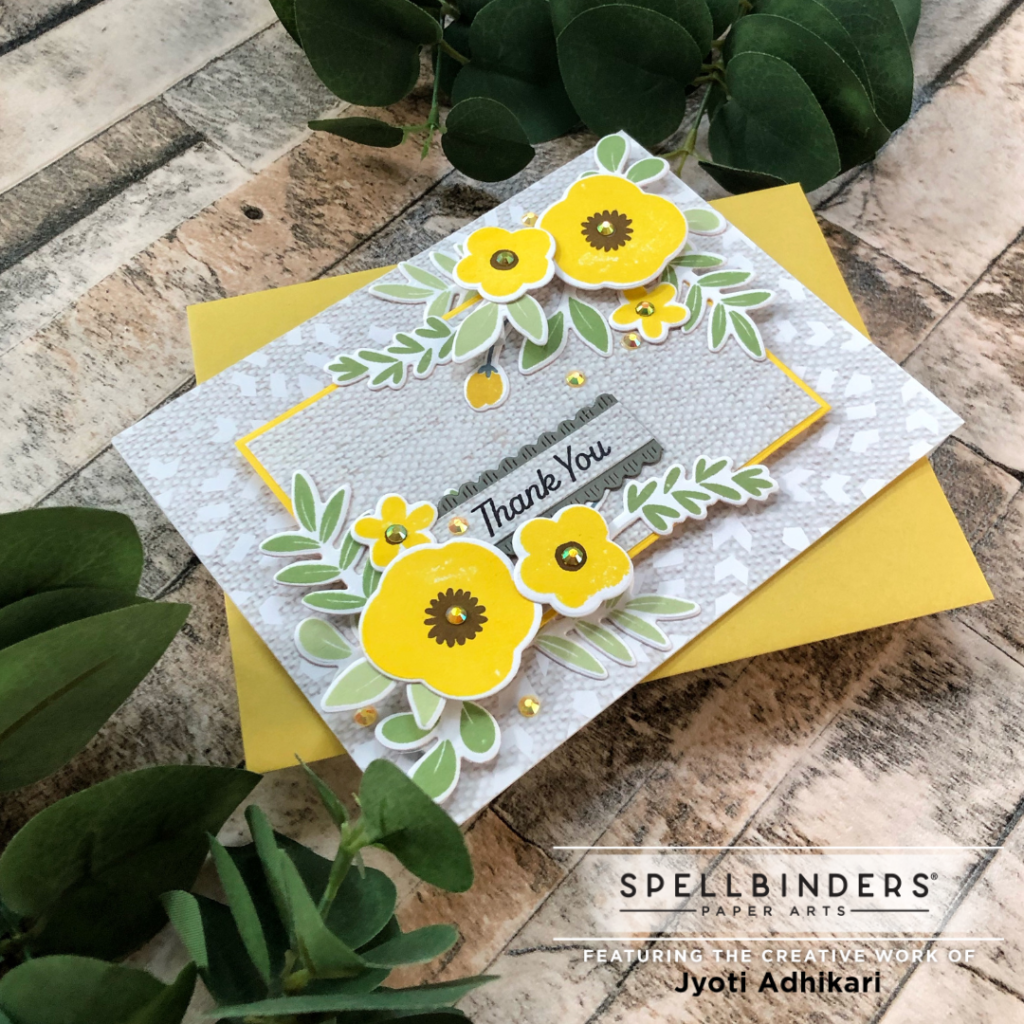 Finally I added some yellow jewels in the center of the flowers and some scattered across the card to finish my card.
Mini Slimline Happy Birthday Card
When I said I stamped and die cut a bunch of flowers I really meant it. As I had enough flowers for a second card. But obviously I didn't want to create a copy of my first one. So I added a little twist to my design on my second card.
This one is a mini slimline card means it measures 3 and a half inches by 6 and a half inches. It also has a fold on top.
I used large die of the month to cut a pattern paper piece that matched my project. For the middle layer instead of a pattern paper I used a grey card-stock. The border of this piece is so pretty.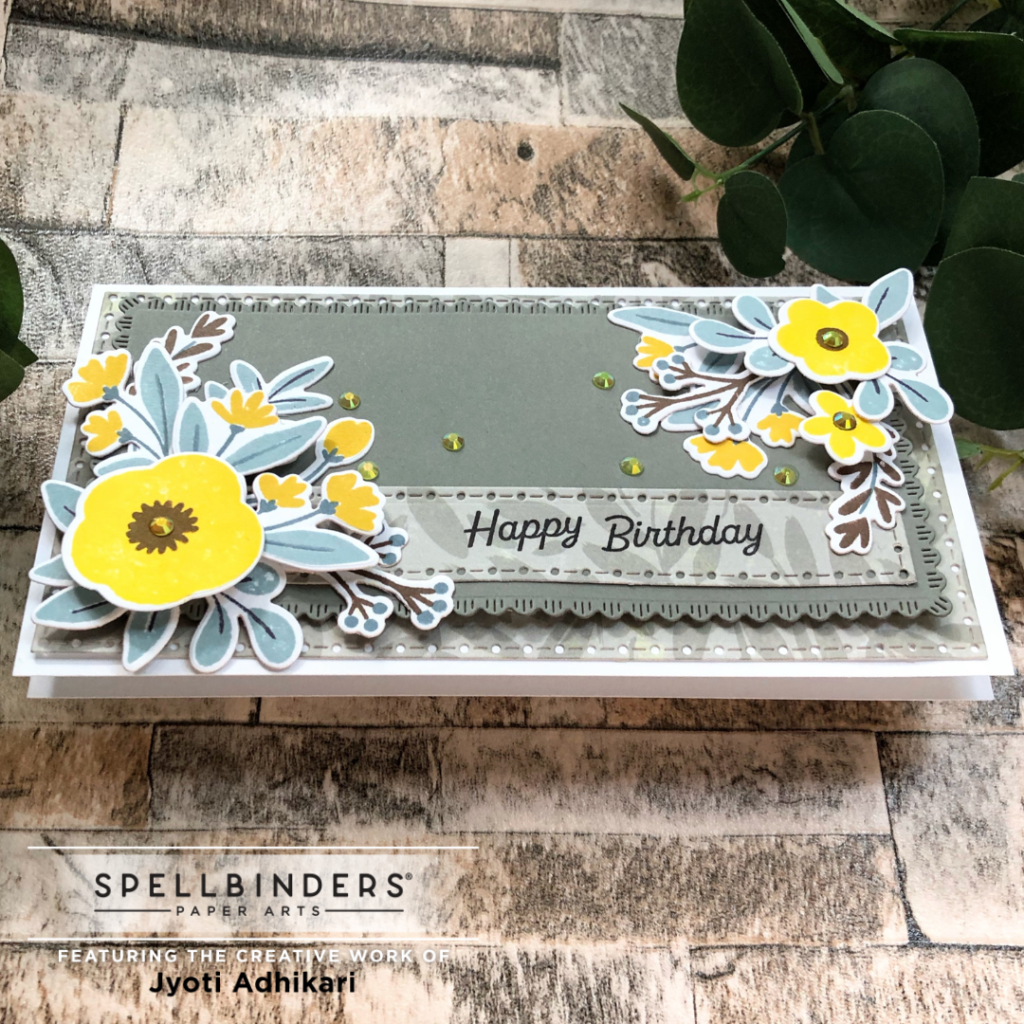 Before adding the flowers on this card I stamped a "happy birthday" sentiment on a strip and added it along the bottom.
Again like before I started arranging the flowers. One cluster on the left bottom, one on the right top.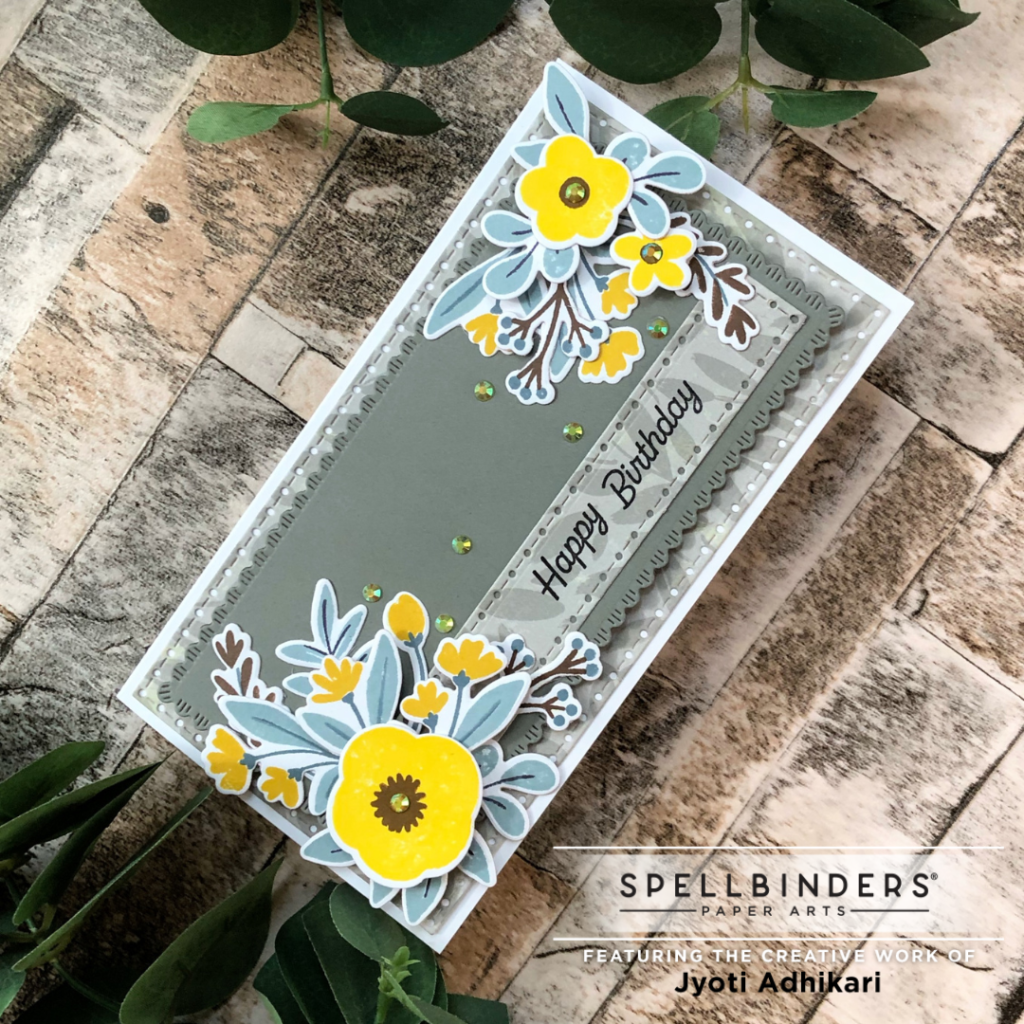 When I was adding the green leaves on this card I did not like how it looked with the grey background. So I stamped more leaves with grey and brown inks. I like how it looked.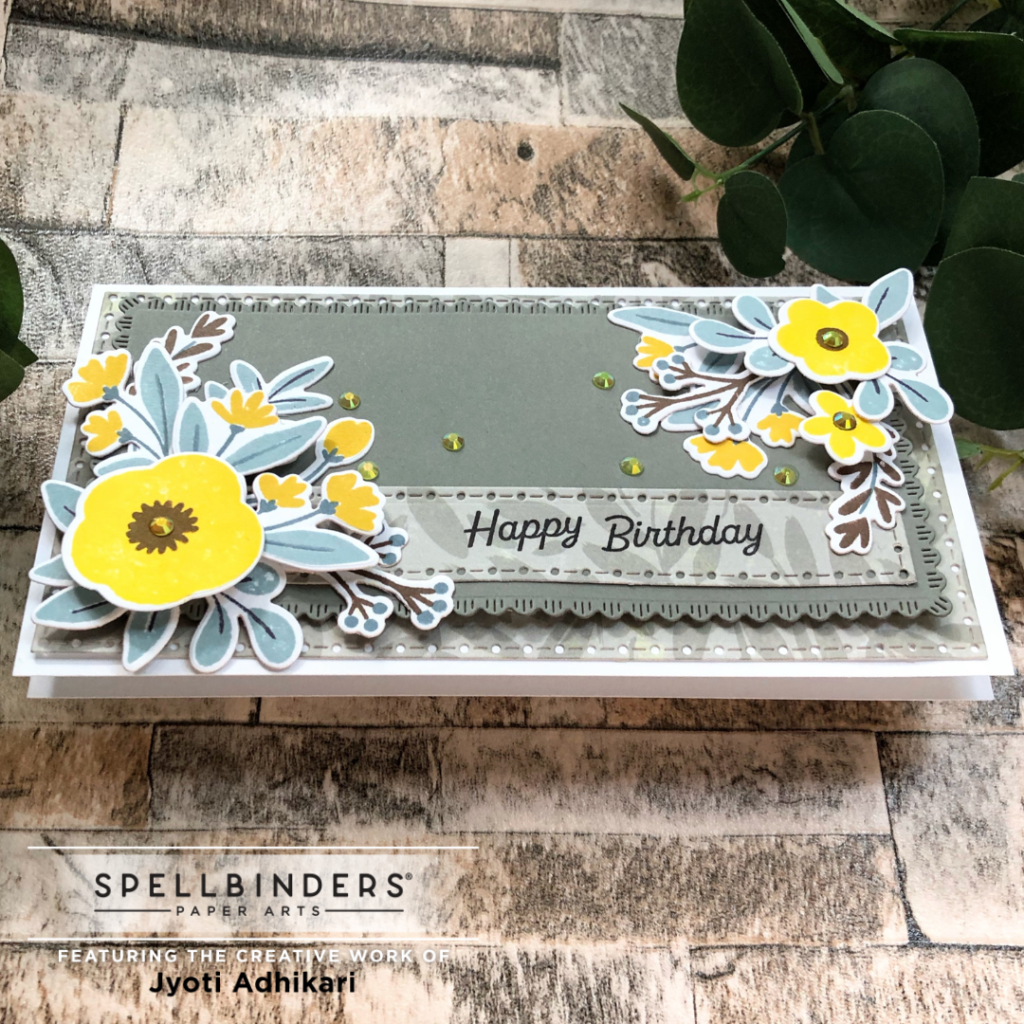 Once my flower arrangement met my expectations I added the final touch with some yellow jewels and called this card done.
It is my first time creating with the Stamp Of The Month from Spellbinders and I had so much fun.
Hope my creation inspires you. Happy crafting!
Hugs